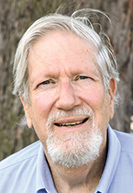 Keller
Decades ago, J. Scott Keller was a pioneer of the downtown residential real estate scene, rehabilitating and renovating hundreds of historic homes and apartment units.
Keller worked on Lockerbie Court, the Harness Factory Lofts, the Dartmouth, the McKay, the Raleigh and dozens more. He wound down his business, Acquisition & Restoration Corp., in the late 1980s after local financing and tax credits that helped make the projects feasible dried up.
Now, Keller is back, building two modular homes on South Arsenal Avenue just east of downtown with architect Terry Bradbury.
Keller, 73, who has been working as a fine arts and collectibles appraiser the last 25 years, said he was tempted to get back into real estate after seeing positive activity in his east-side neighborhood, such as TWG Development's $39 million redevelopment of a former Ford assembly plant on East Washington Street into 130 apartments and retail space.
"When you get a huge project like that, it tends to promote growth of little coffee shops; attorneys and other people buy little buildings and turn them into offices," Keller said. "It attracts stuff like that. It will make a big, big difference."
Keller also said he sees Fountain Square's residential real estate boom extending north to his area, and he wants to capitalize on that momentum while offering buyers something relatively unique and affordable.
"I was driving around and seeing what others were doing, and thought, 'I could do that,'" Keller said. "Today, houses move pretty quickly. But it didn't happen overnight."
Keller and Bradbury, 70, are equal partners in the new Downtown Urban Housing LLC, which is building 1,700-square-foot modular homes at 143 and 147 S. Arsenal Ave.
The two homes just south of Southeastern Avenue—which will each cost less than $300,000—will have what some might think of as an upside-down floor plan. Keller calls it a "Paris town house format": Two bedrooms and bathrooms will be on the first floor, and a staircase will take you up to a second-story kitchen, living and dining space.
Keller said he chose the layout because he wanted to capitalize on the downtown skyline views from the second story.
"With the nine-foot ceilings, the big windows and views of downtown, you're going to get more light," Keller said. "There's something about being up in the air that appeals to a lot of people. Here, you'll be up in the air."
Both houses will have two-car garages; one will have a rooftop deck, the other will have a second story in the garage with flex space that could be ideal for a mother-in-law suite or office.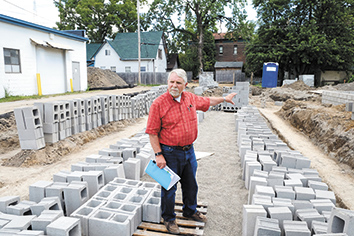 Architect Terry Bradbury shows foundation prep work for lots that will soon receive the pre-built sections of the Arsenal Avenue modular homes. (IBJ photo/Eric Learned)
The design of the homes will be "very similar to all the two-story cottages you see downtown," Bradbury said.
"We wanted to fit in," Keller said.
Today, the sites contain just soil, construction materials and concrete block foundations. But in two weeks, nearly complete homes will be in place.
Keller and Bradbury are working with Ohio-based Unibilt Industries Inc. to produce the homes.
Unibilt says on its website that more than 80 percent of the structures are made within its manufacturing plant, cutting down on the need to rely on subcontractors and reducing exposure to weather-related variables.
During the week of Sept. 15, Keller said, a 100-ton crane will set in place a mostly completed home on the foundations, with just minor finishing work needed.
"They just have to put a little siding on it," Bradbury said. "In 30 days, you're ready to move in."
But, Keller said, "don't be thinking mobile homes."
These homes will have few, if any, similarities to something that looks like it belongs in a trailer park.
Modular homes, often called pre-fabricated homes, differ from manufactured homes—which are often referred to as mobile homes—in one key way: Manufactured homes are often not built on a permanent foundation; modular homes are.
The homes also boast energy-efficient designs and will include landscaping by Indianapolis-based Greenscape Geeks, which specializes in sustainable design and native plants.
Upscale modular homes have become a trend in Indianapolis and nationwide.
Just minutes from the lots Keller and Bradbury are building on are the modular homes built by Ursula David in Cottage Home through her firm Indy Mod Homes.
"It's becoming even more popular—and it will get more and more popular—because of the labor shortages we have," David said. "It's getting harder and harder for people to find subcontractors. This might sound crazy, but I really think one of these days, we won't be building outside anymore."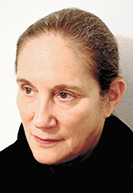 Newman
Architect Marleen Newman, associate director of the Indiana University J. Irwin Miller Program in Architecture, said people think of modular homes as a new type of development, but they've been around a long time.
In the last century, Columbus, Ohio-based Lustron Corp. rose to prominence building prefab homes for GIs returning home after World War II. Lustron homes were made of pre-fabricated enameled steel. The company advertised that they were built to "defy weather, wear and time."
Even earlier, architect Frank Lloyd Wright experimented with prefabricated homes in his quest to build more affordable housing, Newman said.
Prefabricated homes began to gain steam in the mid-2000s, she said, before sputtering out in the Great Recession.
"The economics of 2007 and 2008 put some of those companies out of business," Newman said. "That put a damper on development, but I think there's a resurgence."
Of course, the modular homes of today are much different than the Lustron homes.
"I think people have a prejudice because they have been sort of cookie-cutter, but it doesn't have to be that way," she said.
The main downside is that decisions have to be made months in advance, so the process is not typically as flexible as traditional construction.
"You can't return it," Newman said. "It doesn't go back to Target."
Keller and Bradbury say they're excited by the impact their homes will have on the neighborhood.
"There were those that said you can't do something on the south side of downtown," Keller said. "There were those that said nobody would want to be there. They were wrong. We are closer here [to the Mile Square] than most of the houses in Herron-Morton."
The two are starting to think bigger. They also own an adjacent lot, at 1511 Southeastern Ave., that they plan to turn into a three-story live-work environment, with commercial space facing Southeastern, Keller said.
But they're still thinking that through.
"We're trying to get a handle on what the market looks like," Bradbury said.•
Please enable JavaScript to view this content.