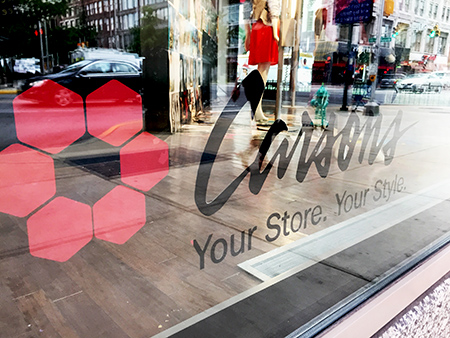 An Indiana-based company has reached a deal to acquire the intellectual property of Bon-Ton Stores Inc. and is planning to revive some of the bankrupt retailer's department stores, including Carson's.
Whether that includes resurrecting the three-story location in downtown's Circle Centre mall that closed about four months ago is uncertain, but the company told USA Today that it was in "advanced discussions with landlords about reopening stores in Colorado, Illinois, Indiana, Wisconsin and Pennsylvania."
According to bankruptcy court documents, an affiliate of Merrillville-based CSC Generation Holdings Inc. agreed to pay $900,000 for Bon-Ton's trademarks, websites, private-label brands, customer lists and other data. It outbid apparel retailer Christopher & Banks Inc. by $50,000.
In response to a question about the Circle Centre store, a spokesman for CSC Generation told IBJ on Thursday that the company couldn't comment on specific plans until the deal was approved by the bankruptcy court.
Bon-Ton, the parent of Carson's, Elder-Beerman, Boston Store, Younkers and other department store brands, filed for bankruptcy in January. The 160-year-old company was operating 260 stores in 24 states when it filed for bankruptcy.
The company had already announced plans to close several of its 15 stores in Indiana, including the Carson's store that served as an anchor for Circle Centre mall. The 145,000-square-foot store began a liquidation sale Feb. 1 and closed April 29.
All remaining Bon-Ton stores closed last week.
CSC Generation Holdings, founded by tech entrepreneur Justin Yoshimura in 2014, is an e-commerce marketplace company previously owned online jewelry store ice.com and owns membership buying service DirectBuy and menswear seller Killion. The company, backed by Chinese private equity investors, had $150 in revenue in 2017.
In bankruptcy papers, Yoshimura said he intends to operate Bon-Ton as an e-commerce and bricks-and-mortar business "under the same nameplates" and "selling many of the same categories of goods."
CSC Generation's acquisition includes the names and mailing addresses of 24.5 million Bon-Ton customers, including 8.3 million who've been active in the past two years, plus 5.6 million email addresses of Bon-Ton customers.
In addition to the deal with CSC Generation, beauty products company L'Oreal USA Inc. made a successful $312,900 bid for data on customers who went to Bon-Ton stores for cosmetics.
The filing said Bon-Ton customers would be able to opt out of receiving marketing materials from CSC and  L'Oreal.
Please enable JavaScript to view this content.