An Indianapolis medical-software firm is expanding its reach into the fast-growing areas of opioid prescription management and precision medicine, in which treatment is determined in part by genetic testing.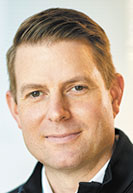 Bostic
Hc1.com recently raised $10 million in venture funding and is launching two cloud-based products this month that will "transform and personalize the way health care is delivered," said Brad Bostic, who founded the firm in 2011 and is chairman and CEO.
The new software offerings will help physicians better choose and manage prescriptions and should also fuel explosive growth for Hc1, Bostic said.
"We think this is a major breakthrough in the way drugs are prescribed," he said. "The impact of this is going to be tremendous."
To stay laser-focused on precision medicine and opioids, Hc1 has spun off its post-hospital division into a wholly-owned subsidiary.
It's also signed a deal with a national health technology company—Louisville-based Appriss Health—that could put one of its new products into the hands of public health officials and health care providers in 43 states.
Hc1.com offers a suite of cloud-based products that enable health care organizations to process business and clinical data into information that helps deliver personalized care. The newest products will enhance some of those offerings.
Toxicology Advisor will help health care providers track patients' consumption of controlled substances—prescribed and otherwise—by integrating prescription data with up-to-the-minute diagnostic test results. It will also assign overdose risk scores to patients and helps doctors detect overlapping prescriptions and doctor-shopping.
RxView will help physicians identify which medicine a patient needs based on his or her genetic makeup. It also will give physicians the ability to manage and identify which drugs interact negatively with one another or are outdated.
RxView can screen for more than 236 FDA-published drugs that are used to treat an array of maladies from depression to heart disease.
The new offerings are the sixth and seventh software packages created by Hc1 to run on its cloud-based Precision Health Platform.
The first four offer services such as integrating patient data to personalize care, managing health care relationships, compiling business analytics, and administering urgent and critical alerts.
The fifth product—the Opioid Dashboard, launched in 2017—has earned special attention. It aggregates anonymous national test results and prescription-drug-monitoring data to give public health officials and health care practitioners a real-time view of opioid abuse and misuse by state, county and ZIP code.
High praise
Some health care experts called Hc1's two newest offerings groundbreaking.
"For us, what Hc1 is doing is huge, and I don't think we're alone in that," said Mark Ballard, chief information officer for Indianapolis-based Mid-America Clinical Labs, which manages 23 hospital labs and has been an Hc1 customer since 2013.
One of Hc1 software's biggest advantages is that it compiles and updates data from multiple sources in real time to "put the data in a usable form," Ballard said.
"These are tools doctors have never before had to analyze patients and their needs," he said. "They're helping health care providers think about doing things in new and better ways, so I think the demand for these solutions will be very high."
Over the last decade, precision medicine—personalized care based on data and DNA—has become a hot topic, said Rick Cooper, an attorney and co-chair of the national health care practice group for the McDonald Hopkins law firm in Cleveland.
"Hc1 is definitely ahead of the curve," said Cooper, who represents pathology groups and labs nationwide.
"These guys are building products from the ground up," he said. "They don't take an existing product and try to make it fit health care. Their [software] is tailor-made, and that's a big reason why I think the demand for these new solutions will be significant."
The nation's opioid crisis makes Hc1's software—particularly Toxicology Advisor—especially timely, Ballard said. RxView can help detect when an opioid isn't the right drug for a person based on his or her condition and makeup.
"The opioid issue is among the biggest challenges facing the health care industry today," Ballard said. "These solutions, especially Toxicology Advisor, take direct aim at that."
Pharmacogenetics—the branch of drug science concerned with the effect of genetic factors on reactions to medicines—is also a burgeoning area in health care, Cooper said. Hc1's software, he said, "fits nicely into that growing segment."
"The first emphasis was on the right [medical] test for the right person," Bostic said. "Now it's on the right prescription for the right person as well."

Projected growth
Hc1.com last month shed 20 employees as it spun off its division focused on software for post-hospital care. That new firm is owned by Hc1, although much of the work will now be outsourced, Bostic said.
The spinoff was done in part to allow Hc1 to focus on and grow its core business—precision health. Revenue from the post-acute division, Bostic said, made up less than 10 percent of overall business.
Today, Hc1 has 68 employees—with 45 working out of its expansive office on the city's far-northwest side. Hc1 is housed in the former Suros Surgical Systems at West 96th Street and Zionsville Road.
The company does not divulge revenue, but Bostic told IBJ it's in the eight-figure range. He predicted that, within two years, the company will double revenue and employee count. And he said it's possible Hc1 could even surpass those projections.
Bostic added that the company "has very strong gross margins" and that, on a "unit economic basis, is very profitable."
Last month, Hc1.com announced that existing investor Health Cloud Capital exercised its option to provide $3 million in additional capital, bringing the company's most recent venture capital round to $10 million. In April, the company announced it had secured $7 million in a Series B round led by Health Cloud Capital and included participation from Elevate Ventures, a longtime Hc1.com investor.
In total, Hc1 has raised $50 million in venture capital since its launch, Bostic said.
The newest investments, he said, will be used to accelerate growth.
With the hiring of pharmaceutical-industry veteran Reed Richardson to lead prescription-optimization development, Hc1 plans to double its precision health business over the next 24 months, primarily adding data science, account management and sales positions, Bostic added. Richardson has more than 12 years of experience building and operating retail, automation and multi-dose packaging pharmacy-related businesses, having worked for Prairie Stone pharmacy—a 21-store chain in Minnesota—as well as DailyMed, Walgreens and Capstone Consultants LLC.
Hc1 signed the deal with Appriss Health in August, a move Bostic said will speed adoption of its newest offerings.
Appriss provides software that gives state governments, pharmacy boards, health care agencies and others the ability to monitor prescriptions of controlled substances and allows prescribers and pharmacists to see real-time information that can affect health care decisions. The software is used in 43 states.
Hc1's Toxicology Advisor integrates with the Appriss prescription-drug monitoring program to provide additional information to help prescribers and pharmacists. The products will be marketed together.
In addition, Appriss and Hc1 are also making the Opioid Dashboard available to states, Bostic said, to help public health officials determine how to "best allocate resources to combat the opioid epidemic."•
Please enable JavaScript to view this content.