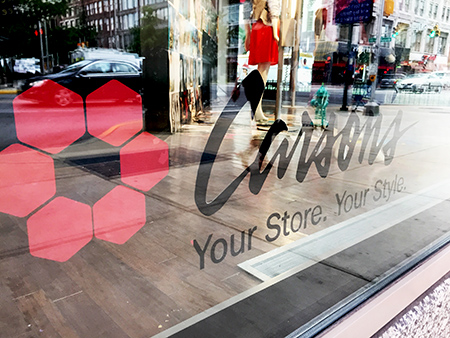 The new owner of Bon-Ton Stores Inc. does not have any immediate plans to resurrect the Carson's store in Circle Centre mall, the company said early Monday.
Merrillville-based CSC Generation Holdings Inc., which acquired Bon-Ton's intellectual property in bankruptcy court, said Indiana was not part of its initial plan to reopen stores.
Bon-Ton, the parent of Carson's, Elder-Beerman, Boston Store, Younkers and other department store brands, filed for bankruptcy in January. The 120-year-old company was operating 260 stores in 24 states when it filed, including about 15 in Indiana.
All of its stores have since ceased operations, including the three-story Carson's store that served as an anchor for Circle Centre mall in downtown Indianapolis. The 145,000-square-foot store began a liquidation sale Feb. 1 and closed April 29.
Circle Centre mall landlord Simon Property Group has failed to find a replacement tenant in the wake of the Carson's closure.
"We do not have immediate plans to re-open Circle Centre," Fred Hulls, director of public relations for CSC Generation, told IBJ in an email.
Word of CSC Generation's acquisition emerged earlier this month, when the company told USA Today that it planned to reopen some stores in "Colorado, Illinois, Indiana, Wisconsin and Pennsylvania."
At the time, the company said it would provide more information after the bankruptcy court gave final approval to the acquisition.
CSC Generation said Monday that the acquisition has been finalized and Bon-Ton's status as a web retailer has been revived. Indeed, the new Bon-Ton is already offering merchandise online.
But the company's plan for physical stores eliminates Indiana as an initial candidate and replaces it with Minnesota.
"CSC Generation will provide customers a seamless transition to an improved online storefront," the company said in a statement. "The company is also in advanced discussions with landlords about reopening stores in Colorado, Illinois, Minnesota, Wisconsin, and Pennsylvania, and will be recruiting former Bon-Ton associates, from customer service to merchandising."
CSC Generation agreed to pay $900,000 for Bon-Ton's trademarks, websites, private-label brands, customer lists and other data.
"The new Bon-Ton is a department store tailored to the expectations of the modern customer," Jordan Voloshin, co-president of CSC Generation, said in written comments. "Stores will serve as an extension of e-commerce, with extended hours from Thursday to Sunday and fewer hours during the workweek."
CSC Generation's acquisition includes the names and mailing addresses of 24.5 million Bon-Ton customers, including 8.3 million who've been active in the past two years, plus 5.6 million email addresses of Bon-Ton customers.
Please enable JavaScript to view this content.