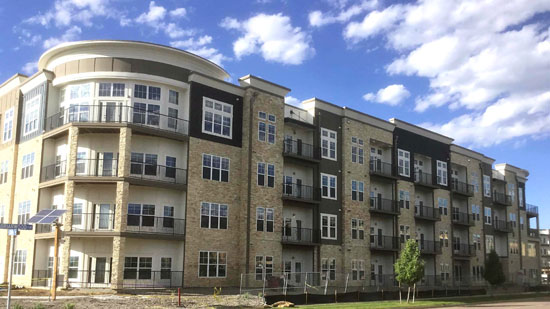 The fastest-growing private company in the Indianapolis area is about to start work on a $20 million apartment complex just a stone's throw from its headquarters in Greenwood.
The Garrett Cos., which develops and manages multifamily housing projects in more than a dozen states, has staked out six acres just south of the intersection of County Line Road and Interstate 65 for the 180-unit project, to be called Echelon at Greenwood Springs.
The site is somewhat unusual. It's located in Greenwood Springs Business Park, which includes office buildings, a hotel, a gun shop and a Goodwill outlet store.
It also is home to the Garrett headquarters at 1051 Greenwood Springs Blvd. Garrett executives will have a clear line of vision to Echelon at Greenwood Springs as it's being developed at 764 Greenwood Springs Blvd.
"We can all peek over there and keep it operating smoothly," said Matt Griffin, chief operations officer for Garrett.
Founded in 2014, Garrett was the top-ranked firm on IBJ's "Fast 25" list in July with a 1,284 percent growth rate over three years.
The vast majority of its developments so far have been located out of state. Current project include a $90 million, 288-unit project in Boulder County, Colorado; a $75 million project in Castle Rock, Colorado, outside Denver; and $50 million to $70 million ventures in Orlando and Fort Myers in Florida.
The firm moved to its current headquarters in March 2017. Executives took notice of the vacant six-acre site around the corner and started drawing up plans, Griffin said. The project received proper residential zoning from Greenwood officials late last year.
Having Echelon within a short sprint could come in handy for Garrett officials when trying to illustrate aspects of Garrett properties to lenders, equity partners and even subcontractors, Griffin said.
"It could be available for tours," he said. "And it's really convenient for our construction managers to have the project being built right here."
Echelon at Greenwood Springs will consist of two main buildings with 120 and 60 units, respectively. The primary structure will be four stories and U-shaped, curving around a large swimming pool and courtyard at its center. The smaller building—also four stories—will be directly to the south and shaped like a capital "I."
The unit sizes will range from 775 square feet to 1,400 square feet. About 90 percent of the units will be split evenly between one- and two-bedroom apartments. The remaining 10 percent of units will have three bedrooms.
Garrett is setting aside about 300 parking spaces for the development. It common-area amenities will include a clubhouse with a pool table and coffee bar; a fitness center with on-demand classes; a large outdoor kitchen with grill station; a gas fire pit; and a dog park.
Construction is expected to begin in November, with the first units becoming available in fall 2019, Griffin said. The entire complex should be finished in the first quarter of 2020.
Please enable JavaScript to view this content.