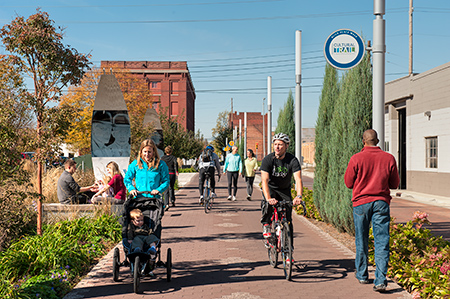 The schedule for conventioneers tends to be packed. With trade-show floors to traverse, meetings to manage, and business cards to swap, downtime can be at a minimum.
Which is why, when downtime miraculously does appear, advantage must be taken.
Of course, any earnest local or up-to-date guidebook can steer you toward obvious offerings for a uniquely Indy experience—a harrowing two-seater ride around the Indianapolis Motor Speedway, a sinus-clearing St. Elmo shrimp cocktail, an eyeball-to-eyeball visit with the personality-packed orangutans at the Indianapolis Zoo, for example.
But those surefire picks are just the tip of what the environs around downtown have to offer. If you have a window of time–or if you have a tagalong hankering for something to do while you tend to your business—consider these options: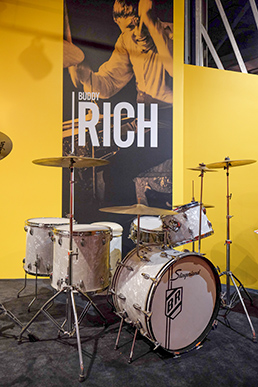 Rhythm Discovery Center
For an attraction with a prime downtown location, this celebration of all things percussive still isn't on everyone's radar. Tucked into the basement of Claypool Court, it's a prime place to go if you have music fans in your entourage. Founded in 2009, it mixes artifacts and interactives. An 8-foot gong, sound-isolating practice rooms and more exotic instruments than you can shake a marimba at all add to the experience. Notable visitors have included Wilco drummer Glenn Kotche, Andres Forero from the "Hamilton" orchestra, and Kenny Aronoff, best known from his work with John Mellencamp. 110 W. Washington St., 317-275-9030. (IBJ photo/Eric Learned)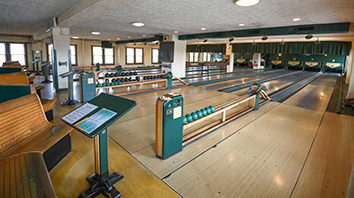 (IBJ file photo)
Action & Atomic Duckpin Bowling
Fountain Square is just a short Uber, Lyft, cab or scooter ride beyond downtown. And anchoring this active, funky neighborhood is the Fountain Square Building, opened in 1928. Then, as now, a prime attraction is bowling, specifically duckpin bowling. The variant features orbs that look more like bocce than bowling balls, shortened alleys, and three shots at completing a frame. Although both locations in the building are fun and nostalgically cool, the upstairs Action wins out over the basement Atomic. 1107 Prospect St., 317-685-1955.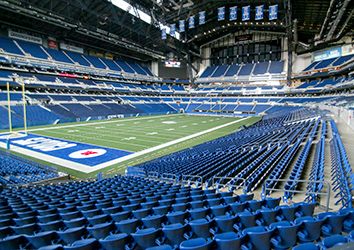 (IBJ file photos)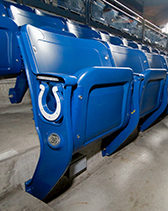 Lucas Oil Stadium Tour
Sure, you can grab tickets to a Colts game if one happens to coincide with your convention. But you can also take a 90-minute tour Mondays through Fridays that provides access to the locker room and the press box as well as the field itself. It's a walking tour—wear comfortable shoes—but accommodations can also be made for those in wheelchairs or pushing strollers. With two weeks' notice, you can schedule a private tour. 500 S. Capitol Ave. (It's a big building. You can't miss it.) 317-262-8600.
(Photo courtesy of Lavengood Photography)
Public art tour/Indiana Pacers Bikeshare/Indianapolis Cultural Trail
That path you see wrapping around downtown and beyond? That's the Indianapolis Cultural Trail. And with the help of the multiple Pacers Bikeshare stations, it's simple to navigate and create your own Indianapolis public art tour. Sticking to the trail will take you past Julian Opie's "Ann Dancing" and Jamie Pawlus' "Care/Don't Care" while also giving you a great view of many of the 46 murals in conjunction with the city's hosting of the 2012 Super Bowl. Far from strictly sports-minded, these include Pamela Bliss' multi-story portrait of Indianapolis native son Kurt Vonnegut Jr. and Carl Leck's "Trivergence" (look under the bridge). For a guide to Indianapolis public art, visit www.indyartsguide.org/public-art. For bikeshare info, call 317-653-1947.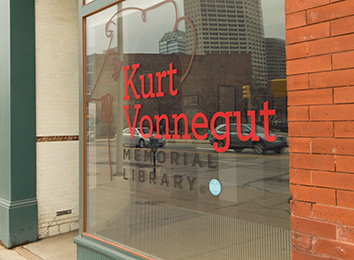 (IBJ file photo)
Kurt Vonnegut Museum and Library
Speaking of Vonnegut, a short stroll from the Indiana Convention Center takes you to this celebration of his work and legacy. Check out his doodled drawings, rifle through his rejection letters, and peruse first editions of his books. 340 N. Senate Ave., 317-423-0391.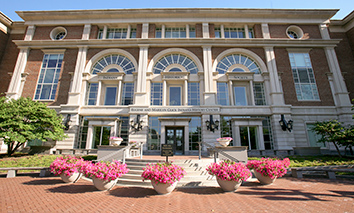 (IBJ file photo)
Indiana History Center
Known for its "You Are There" interactive exhibitions featuring costumed actors, the Indiana History Center is also home to a deep collection of materials to help you track down your roots. Zero in on photos of your hometown as your grandparents knew it, search through Civil War diaries, and participate in genealogy and programs. The center also has one of the best gift shops in town if you want to go beyond the standard Indy T-shirt. 450 W. Ohio St., 317-232-1882.
(IBJ photo/Eric Learned)
ComedySportz
Indy's improvisation comedy scene has experienced a growth spurt recently with the training ground for many of these talented seat-of-the-pants performers being this Mass Ave club. Its central program is a refereed, family-friendly battle between two teams of "act-letes" who use audience suggestions as laugh fodder. 721 Mass Ave., 317-951-8499.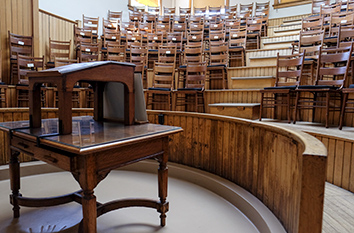 (IBJ photos/Eric Learned)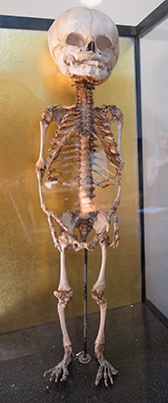 Indiana Medical History Museum
Sometimes, you might just want to try something unusual. And there aren't too many places in Indianapolis as engagingly unusual as this west-side spot. Located on the grounds of what used to be Central State Hospital, where research was done into the causes of mental illness, the attraction includes visits to the laboratories, autopsy room and an anatomical museum that includes displays of, yes, brains. 3045 W. Vermont St., 317-635-7329.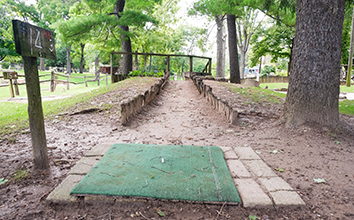 (IBJ photos, Eric Learned)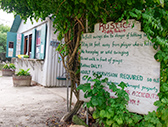 Rustic Driving Range & Miniature Golf
Think you know what a miniature golf course looks like? Well, these shrunken links didn't always have the shape and scale of modern-day putt-putt and resort golf courses. This east-side anomaly, which dates to the 1930s, features real grass, natural obstacles, long fairways and the go-ahead to swat your ball off the tee with just a putter. You've never played mini-golf like this. 5955 Terrace Ave., 317-353-6493.•
Please enable JavaScript to view this content.