In its second year, the Disrupt Indy—Midwest Tech Diversity Conference has expanded its agenda and grown its attendance, organizers say.
The event has grown from two days to three and attendance has grown from 150 last year to more than 200 expected for this year's event, which runs through Saturday.
The conference, which kicked off Thursday, will include a Student Tech Day held at Union 525, with a number of events aimed at immersing students of all ages in tech. Part of that will be giving students information needed to become involved in the tech sector and find mentors.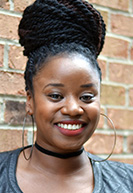 Kelli Jones
Kelli Jones, the conference's co-founder, said while many young minorities are consumers of technology, most of them don't see it as a career path.
"The goal of this conference is to not only discuss the importance of diversity and inclusion in tech, but to come up with actionable conclusions," Jones said. "We want to be able to do something about the issue rather than just talking about it."
The scope of the conference goes far beyond women in tech to include issues and challenges facing all minority groups including racial minorities, LGBT and disabled individuals, Jones emphasized. 
"Not to say that women and women's issues aren't important. Of course, they are. But women are way over-represented compared to other minority groups,"  said Jones, who is also co-founder and CEO of locally based Be Nimble Ventures.
On Friday, the conference will include a career day for attendees and a full-day schedule that includes fireside chats and 15-minute presentations by companies and speakers. Friday's events take place at VisionLoft Events.
In all, there will be two dozen speakers at this year's event, including Founder Gym's Mandela SH Dixon, Hillman Accelerator's Candice Matthews, Trident Systems' Rupal Thanawala, Indianapolis Deputy Mayor Angela Smith Jones, High Alpha's Hope Williams and PowderKeg's Matt Hunckler.
Kelli Jones, an Indianapolis native, has worked in the tech industry for nearly a decade. After spending several years working in Los Angeles, Jones decided to come home to Indy early last year.
"I could see Indianapolis was becoming a tech hub of its own," said Jones, who graduated from Tennessee State University and the Indiana University Robert H. McKinney School of Law. "And I wanted to contribute to that and give back to my hometown."
Jones said she has spent the last year living off her savings while "working on a blueprint for how Indianapolis would lead in the realm of diversity and inclusion in tech."
Because Indianapolis has just started to bloom as a tech hub, Jones said the city has unique opportunities to grow and incorporate minority viewpoints in tech issues. 
Established tech hubs—including Silicon Valley—have been criticized for their lack of diversity, and many in the industry say it's a tougher problem to tackle once a hub has matured.
"I saw that since we are an emerging tech hub, we could get out in front of this," Jones said.
Among the topics that will be addressed at this week's conference are how to discuss diversity in the workplace and the advantages of a diverse workforce; making sure minorities have a safe place to work and that employers foster a sense of inclusion; how employers can find qualified minorities, and how venture capitalists can find quality minority startups and entrepreneurs; and challenges minorities face in accessing venture capital and the movement of minorities to launch their own incubators, accelerators and venture funds.
"This has to be a two-way conversation," Jones said. "There are challenges that people looking for jobs face and issues facing employers looking to diversify. This isn't about placing blame; it's about identifying issues and challenges and coming up with corrective measures to assure we have a broad spectrum of diversity and inclusiveness in tech. If we do this right, it benefits everyone."
Please enable JavaScript to view this content.