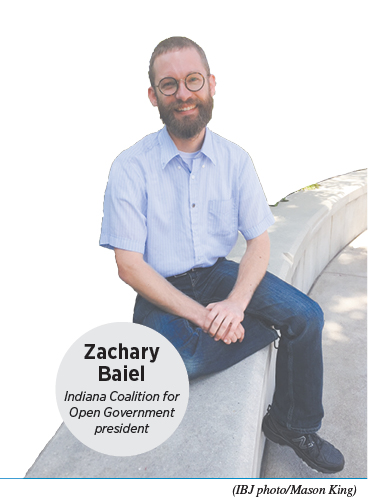 Zachary Baiel likes to know what's going on. He attends countless public meetings every year and spends hours listening online to the ones he missed. That passion led him to join the Indiana Coalition for Open Government in 2015 and become its president last year. The not-for-profit promotes open government and freedom of information. Baiel, 35, lives in West Lafayette and works for an agricultural technology company.
Would you call yourself a public-records nerd?
Oh, definitely yes. It's part of my everyday life. There's a running joke at work that I usually end sentences with, "You should make a public-records request on that."
What's the value of public records?
It's about being informed—knowing what's going on and not having to wait for the city to make an announcement or hope that some journalist in the area is going to cover it. We know the question. We know who holds the data. So just ask for it.
How many public-records requests do you file in an average year?
Maybe a few dozen. It's not a ton, but when certain things happen in the area, and I'm trying to get more information, I'll make some requests.
How would you describe the helpfulness of Indiana public officials in complying with open-records laws?
It seems like public officials and institutions take the position: "How can we not release this information? OK, lawyers, find an exemption for us. Do we have to give this document to them?"
Was there one issue in particular that got you started as a public-records advocate?
We live in a neighborhood called New Chauncey [in West Lafayette]. It was going through a land-use plan. And there's a lot of secrecy surrounding that. I just tried to poke around, learn some more, get some information, so neighbors can actually make informed decisions about what was happening in our neighborhood. I think I made some one-off requests here and there when things weren't available on the web and I wasn't always able to go to meetings. West Lafayette wasn't posting audio online. So anytime I wanted audio, to catch up on the meeting, as opposed to reading the minutes, I always had to make a request for it. … I kept pushing, and since then, they started posting audio of the meetings online regularly.
How many hours a month would you say you follow meetings on audio or video online?
I'd say a dozen or so. I don't listen to every committee or board. But if there's something I'm trying to catch up on, I'll spend the time. I'll usually have it on in the car. I can do audio at home with the kids, while we're playing Legos, and listen in the background. We have a lot of C-SPAN going in the morning.
Some people might wonder, what kind of person wants to spend their time listening to audio of some zoning board or planning commission?
That's how you stay informed. If people wonder what's actually going on in their town, I recommend they listen to their local board of public works. They're short, but you find out every road that's going to be repaved, new signs going up, things involving infrastructure in or around the community.
Are most public meetings pretty cut and dried?
No, they're not all boring. Some of them can be very entertaining. I laugh a lot.•
Please enable JavaScript to view this content.