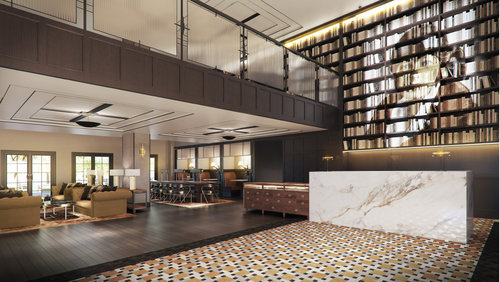 Purdue University will renovate its Union Club Hotel and add a restaurant and bar using a $30 million gift from hotel mogul Bruce White, his wife, Beth, and the Dean and Barbara White Foundation.
Purdue announced the gift Saturday during a homecoming event in the Union Club Hotel courtyard. The event was also part of the kickoff of Purdue's year-long 150th anniversary celebration, which is themed "Take Giant Leaps."
Officials said the gift will allow a "transformative renovation" of the hotel, which is part of the Purdue Memorial Union, and provide a laboratory that will offer training and internship opportunities for Purdue students.
 "I am pleased to be able to put our resources to work for the renovation of the Union Club Hotel into a first-class facility that the students, faculty and staff can be proud to call their own," Bruce White said in a statement released by the university.
The school has not set a timetable for the renovation, but Purdue President Mitch Daniels called the project a "long-needed modernization" of the historic building.
"We know our alumni, our future guests, and our faculty and staff will be equally thrilled to see the all new Union Club Hotel come to life," he said in a statement.
The Union Club Hotel was built in 1929 as an addition to the Purdue Memorial Union, which opened in 1924 to commemorate Purdue students who served in World War I. The hotel has not received significant upgrades in recent years, and Purdue officials say it lacks features and amenities that are now necessary to compete.
The renovation will include what the university calls a dramatic change to its entry that will include an atrium meant "to capture the spirit of Purdue's innovations and to celebrate alumni who have had an impact around the world."
The project will also update the hotel's overall look—including new furnishings and fixtures—as well as upgrade its amenities. Some of the rooms will be renovated into "suite-type lodging." A new restaurant and bar will be added as well (see photo at right).
Bruce White, who graduated from Purdue in 1975 with a degree in management, is the founder and CEO of Merrillville-based White Lodging Services Corp., which owns more than 170 hotels in 21 states, including the JW Marriott in downtown Indianapolis. He served on the Purdue board of trustees from 2011-2015.
Bruce White's father, Dean White, was a hotel and billboard magnate who died in 2016 at age 93 years. He had his wife, Barbara, formed a foundation in 1997 that has supported a wide variety of causes, including education, arts, disability services and economic development.
The White family has donated repeatedly to Purdue, including contributions that helped Purdue Northwest expand its hospitality and tourism management program, which is now named for the family.
In addition, Bruce White helped establish an endowment fund for future Hospitality and Tourism Management students at Purdue's West Lafayette campus.
Please enable JavaScript to view this content.