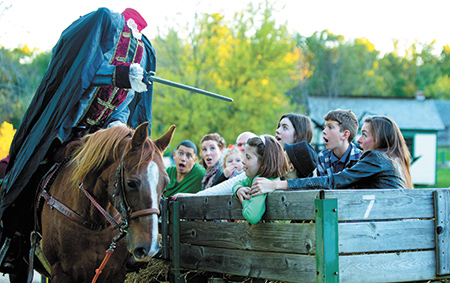 Haunted house attractions might get more attention this time of year, but there are plenty of other fall activities for families (and the weaker of heart) that don't involve minimum-wage kids jumping out of the dark and scaring the apple cider out of you.
Here are just some of the places where flannel and fun come together.
(Photo courtesy of Anderson Orchard)
U-pick fruits and vegetables
There's something decidedly Tom Sawyer-ish about u-pick produce operations. At Anderson Orchard in Mooresville, for instance, picking up a peck of apples in the barn store will cost you the same as if you take the handle of a rickety cart and head into the orchards to do the farmhand work yourself.
Of course, the cost doesn't take into account all the straight-from-the-tree, doesn't-get-any-fresher-than-this fruit you'll sample while you are out in the field. And the point isn't bargain hunting, anyway. It's to get out on a cool fall day for a brief, romanticized experience of life in the country.
Plenty of similar options are within a short drive of Indy. In addition to Anderson, the local choices include Spencer Farm in Noblesville, Stuckey Farm Orchard and Cider Mill in Sheridan, and, within city limits, Waterman's Family Farm on Raymond Street. (No apples at Waterman's, but you can still find greens, tomatoes and peppers.)
Whatever orchard you visit, make sure to pay attention to its guide to which varieties are ripe and ready. On the apple front, Cortland—terrific for cooking—usually are ripe through late October. If you prefer sweet over tart, Jonagold and Red or Golden Delicious are prime for picking through mid-November.
And, of course, you'll want to stock up on pumpkins.
Corn mazes
If the kids in your life tell you to get lost, consider taking them where you can have fun actually getting lost. Corn mazes seem to have cropped up all over central Indiana, some with artistic aspirations that go above and beyond the norm.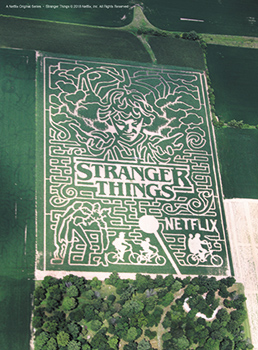 (Photo courtesy of Exploration Acres)
Consider the eight-acre Circle City Sports Corn Maze at Beasley's Orchard. The Danville spot features four miles of paths woven through a puzzling set of sports imagery (if seen from above, of course). The added twist here is that your answers to a series of questions could determine the speed of your exit. Answer correctly and you'll be guided in the right direction. Answer incorrectly and you'll spend more time exploring. Total time averages about an hour.
For an even wilder time, Exploration Acres in Lafayette has created a national-attention-getting maze themed to the hit Netflix show "Stranger Things." Ten miles of path swerve through 20. It's not as simple as just mowing a design. GPS equipment is used to strategically plant the field, with seeds dropped where they'll need to grow into the imaged paths.
Beware: Some corn mazes are gentler than others. The Mike Kaiser Poor Farm Haunted Corn Maze in Franklin includes strobe lights and fog machines to creep out thrill-seeking visitors.
Hay rides
Of course, you could get a bumpy, uncomfortable ride from an Uber or Lyft driver any day of the week. But a bit of discomfort—plus finding straw in your pants when you get home—is just a natural side effect of a horse-drawn or tractor-pulled wagon ride, a staple at most farm attractions and fall festivals.
Unlike amusement-park rides, there's usually little beyond nature to see along the way during a hay ride. That is, unless you take Conner Prairie's Headless Horseman ride, where the anticipated appearance of Washington Irving's famous character creates playful tension along the journey.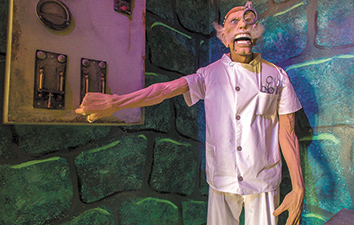 (Photo courtesy of Holiday World)
Festivals and attractions
Holiday World takes the Halloween season seriously—although management promises the only scary screams will come from the roller-coaster riders. Its 12-acre corn maze is supplemented with a smaller one for young children. Pumpkin-spice funnel cake makes an appearance on the menu, and musical shows take on a slightly spooky bent. Costumes—without masks—are encouraged.
A friendly witch (with adoptable cats, craft activities at the Pumpkin School and a reverse-spinning merry-go-round) are all part of the Indianapolis Zoo's ZooBoo events. Five treat stations ensure that trick-or-treaters are tended to.
If you get excited when the cheer crew pulls out the T-shirt cannons at a sporting event, you should get an even greater jolt from the apple cannons that can be fired at Stuckey Farm's Harvest Festival, which runs weekends through Oct. 21 (10 shots for $5 on top of festival admission). The festivities also include pig races, a 60-foot slide and a corn maze.
There are family-friendly offerings, as well, at the 72nd Annual Historic Irvington Halloween Festival, a series of events in a neighborhood that takes the haunted holiday very seriously. This year, the Oct. 27 Pleasant Run Vampire Run includes a Little Bat Dash for children. It's held on the same day as a new, sure-to-be-a-spectacle event, the Indy Grimo Coffin Race, where four pushers and one rider compete for prizes and glory.•
Please enable JavaScript to view this content.