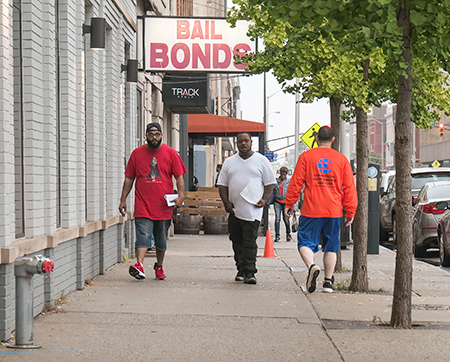 The $572 million Criminal Justice Center won't open until 2022, at which time scores of city and county employees—working for the courts, public defender, prosecutor, sheriff and other agencies—will move from downtown's Market East Cultural District 2-1/2 miles east to the Twin Aire neighborhood.
But city officials and businesses are already thinking about how both neighborhoods will be changed by the shift.

Downtown, city leaders see potential for redevelopment that builds off recent successes near the City-County Building, including the opening of Cummins Inc.'s $30 million divisional headquarters and the $120 million Market 360 apartment tower.
They envision that the subtraction of the nearby Jail I and Jail II, and the relocation of a slew of bail bonds businesses, will liven up the area.
"The things we're moving, specifically the jails, have been both physical barriers and emotional barriers to the economic development here," said Andy Mallon, corporation counsel for Mayor Joe Hogsett.
And in Twin Aire, neighborhood and city leaders are gearing up for development fueled by the influx of new workers and visitors.
Brenda McAtee, a longtime Twin Aire resident and chairwoman of the Twin Aire Neighborhood Coalition, said neighbors are excited about what the foot traffic could bring.
The justice center will sit on the site of the former Citizens Energy coke plant on Prospect Street, which had been in operation for nearly a century when it closed in 2007, dragging down the neighborhood.
"We do want the retail and all of that," McAtee said. But she's also hoping for new development that could lift up residents—like a community center, improved health care facilities, a school, and "something fun to do."
"We hope to have positive stuff for everybody, all ages," McAtee said.
Construction of the justice center gives the Hogsett administration a rare opportunity to consider drastic changes to Market East at a time developer interest in the corridor is high.
In addition to the City-County Building, the city in that area owns Jail I, as well as Old City Hall and an adjacent parking lot. One option city officials are exploring is selling the 750,000-square-foot City-County Building and moving employees to a smaller space such as Old City Hall.
In Twin Aire, the city bought 120 acres but needs just 50 to 60 for the criminal justice project—leaving lots of land available for other uses.
Paul Babcock, director of the city's Office of Public Health and Safety, said the goal is to create "a critical mass to not only provide economic development, but services to keep people from coming back into the criminal justice system."
Toward that end, the Metropolitan Development Commission on Sept. 17 issued a notice of public offering for the development of an office complex at the intersection of Pleasant Run Parkway and Southeastern Avenue, next to the justice center site.
Proposals are due inMmid-October for a 300,000-square-foot complex with three buildings, capacity for 1,000 legal professionals, and 5,000 to 15,000 square feet of retail or restaurant space per building, along with a 1,200-space parking structure, according to the legal notice.
The city plans to sell the property and lease space in the complex for the offices of the public defender, prosecutor and probation. Lawyers, social service agencies and other firms also are expected to lease space.
Possible other uses for the land include moving Indianapolis Animal Care and Control there, building an Indianapolis Fire Department training facility, or creating a new Indianapolis Metropolitan Police Department district.
Market East 'momentum'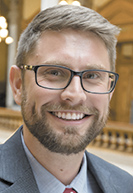 Nicolini
Market East already has seen a flurry of projects—from apartment complexes to the $26 million Julia Carson Transit Center—and developers are keen on even more.
The private sector has shown a lot of interest in "backfilling unique spaces on important corridors that are close to the Transit Center downtown," said Develop Indy Vice President Ian Nicolini.
The Delaware and Alabama Street corridors are particularly desirable, he said, "ones we're going to work really hard to ensure will have high-quality uses that make sense and can serve downtown."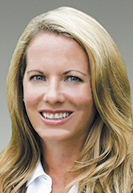 Barnett
Jenna Barnett, executive managing director of the local office of New York-based Newmark Knight Frank, said the relocation of criminal-justice-related businesses creates "a lot of momentum" for Market East.
"It creates opportunities for more redevelopment, changing over what type of retail we see in the area, and some great opportunity to renovate some office buildings that have served a very steady client base of the last several decades," she said.
It's also possible that not every business that deals with the courts or criminal justice will leave downtown.
Barnett said she believes larger law firms that do multiple types of work might retain their downtown offices but open smaller, satellite offices in Twin Aire. Small firms that primarily practice criminal law and whose lawyers are in and out of the courts for hearings multiple times a day are more likely to move, she said.
Mallon said an increase in bus service between the transit center and Twin Aire will allow lawyers to easily commute.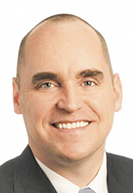 Mallon
"It will be interesting to see what the lawyers decide, if they want to get a bus or if they want to up and move their offices," Mallon said. "We're working on making sure there's connectivity and access to Wi-Fi and things like that [at the criminal justice center] so the folks who are hustling around from court to court don't necessarily need to be back at their offices."
No rush to move
Several business owners told IBJ they are waiting to see more progress on the justice center before deciding whether to move, in part because they're nervous that, if political winds change, the project might yet not move forward.
That's despite the significant progress already made. The city broke ground in July and is awaiting bids, due in mid-October, on the jail and courthouse project.
It hopes to select teams and obtain council approval in November, then negotiate contracts and issue bonds next spring. Crews currently are constructing the building pad and installing stormwater infrastructure.
Tony Widgery, manager of AAA Bail Bonds, 155 N. Alabama St., said the company will likely move to Twin Aire, but not until the justice center opens, "politics being what they are."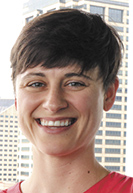 Martin
"I'd hate to get out of this place prematurely," Widgery said. "Once they've got the courthouse over there, we'll probably move closer so that people, if they need us, can be within walking distance. There's a little time to figure these things out."
Brian Barton, manager of Track Group, which provides offender-monitoring services from its office at 22 N. Delaware St., said proximity to the courts and jail is important, but it wouldn't move before its recently signed four-year lease expires.
Defense attorney Monish Patel said he doesn't plan to leave his 151 N. Delaware St. office. "I don't think the move is worth it just to be closer to the courts," Patel said. "It's a pain to move. It's not hard to drive out there and park."
Scarlett Martin, the mayor's administrator of community and economic development, said Twin Aire has underused commercial properties that could benefit from an influx of workers and visitors.
"Large parking lots, half-vacant buildings. There's ample opportunity for private commercial investment," she said.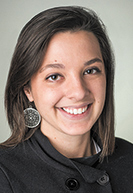 Higgins
For example, the Kroger-anchored Twin Aire Shopping Center is 20 percent vacant, according to locally based Veritas Realty.
"Anytime you increase the daytime population like it will be increased, it will create some great opportunities for some new retail to come in," Barnett said. "Gas stations, restaurants, coffee shops—all those types of conveniences everyone wants close to their office."
City leaders expect social service agencies will move to Twin Aire, in part to support the mental health assessment and intervention center that will be part of the criminal justice project. Hogsett wants to keep ex-offenders out of jail by providing better re-entry services, education, and job-training services.
Currently, those involved in the criminal justice system have to "traverse half the city multiple times" trying to access different services, said Mackenzie Higgins, policy adviser for Hogsett.•
Please enable JavaScript to view this content.