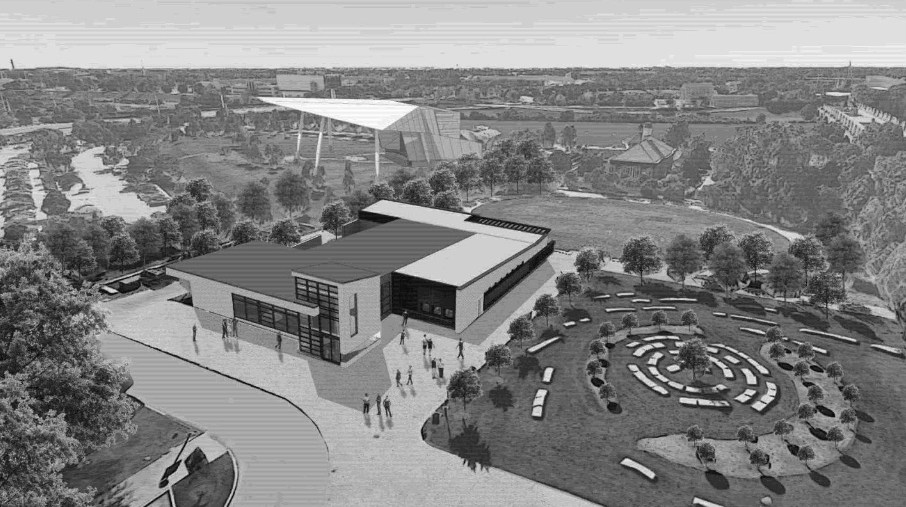 The White River State Park Development Commission is moving ahead with plans for a $27 million permanent concert venue downtown adjacent to White River in the area where concerts are currently performed.
The project, the cost of which is to be split between state government and private sources, would include permanent seating, a stage house, two sets of restrooms, a VIP building with additional restrooms, an artist amenity building and other unspecified site improvements.
The first phase of the project would include new restrooms at the existing visitor's center, the stage house and other infrastructure. It would be completed between 2018 and 2019, according to project documents. The rest of the project would be included in a second phase due to be completed by 2020. A rendering of the concert venue shows a canopy over the stage and seating areas. Project documents didn't include the seating capacity of the new venue.
The existing concert venue, the Farm Bureau Insurance Lawn at White River State Park, has a capacity of 7,500 and has hosted concerts since 2004. It's shown at right with the temporary concert rigging removed.
Managed by Live Nation, it does not include a permanent structure or have any permanent or covered seating. The Lawn ranks 71st in a list of amphitheater venues worldwide ranked by ticket sales, according to music trade publication Pollstar. The list said the venue sold more than 78,000 tickets in 2017.
The state is expected to pay for one-third of the project, and Live Nation and philanthropic sources are expected to cover the rest of the costs.
The State Budget Committee is expected to vote on the project at its Oct. 16 meeting. The 2017-2019 state budget included $12 million for construction projects for the White River State Park Commission.
State and local officials have discussed establishing a permanent concert venue along the White River for years. Most recently, Carmel-basd REI Investments had proposed a $30 million, 10,000-seat amphitheater at the former General Motors stamping plant site on the west side of the river. But in 2016, that project was called off after REI Investments could not secure funding for it.
Additional details of the project were not immediately available. When asked about the project, White River State Park Development Commission Executive Director Carolene Mays-Medley referred to minutes from the commission's meeting last month. Mays-Medley did not immediately respond to follow-up questions.
Please enable JavaScript to view this content.