A big chunk of the former General Motors stamping plant site near downtown will go back on the market July 1 now that the city's plans to build a criminal justice center there have fallen through.

The City-County Council early this month voted against considering a scaled-down plan for a $390.5 million center that would have been built on 55 acres on the west side of the 102-acre property.

But the entire site isn't going back to being a blank slate. Locally based REI Investments Inc. still wants to develop a $30 million, 10,000-seat concert amphitheater on the eastern portion of the site, company President Mike Wells told IBJ. The venue, on 35 acres, would be built by White River State Park and operated by Live Nation and veteran concert promoter Dave Lucas.

Wells
"I'm feeling very confident," Wells said of the amphitheater's prospects. "I'm close to getting White River to say that they'll work to make that happen, and then it's probably going to take until the first quarter of next year for the whole plan to unfold."

The City-County Council's refusal to back the criminal justice center has prompted the entity charged with selling the site, the Michigan-based Revitalizing Auto Communities Environmental Response Trust, to find another buyer.

"We're not going to lay back and wait," said Bruce Rasher, RACER's redevelopment manager. "We're confident we will attract one or more viable proposals for the west parcel because the market is so strong right now."

REI agreed in August 2014 to buy the entire property from RACER for about $80,000 an acre, or $8.2 million. REI subsequently gave the city an option to acquire 55 acres.

REI's agreement with RACER to buy the entire site in two sections expires at the end of June. The developer then will relinquish control of the 55 acres to RACER but is in discussions with the trust to extend its option on the eastern parcel.

IBJ early this year was first to report that REI was nearing a deal with White River State Park to build an amphitheater that would replace The Farm Bureau Insurance Lawn. The Lawn, operated by Live Nation, uses temporary staging and provides temporary seating forabout 5,000.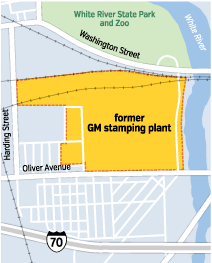 The latest plans for the amphitheater are smaller than REI's original pitch for a 15,000-seat venue that would rival Klipsch Music Center in Noblesville, which also is operated by Los Angeles-based Live Nation.

The smaller downtown amphitheater would appeal more to newer musical acts unable to sell out larger venues, Wells said.

Wells said White River State Park likely would seek financial backing for the project from the General Assembly next spring. He said construction could begin next summer, with the venue opening in 2017.

Bob Whitt, White River State Park executive director, said the parks commission is ready to take the next step.

"The stamping plant, of course, will allow us to spread out and put all of our parking on that site," he said.

Abbe Hohmann, president of Site Strategies Advisory LLC, said the RACER Trust likely will see less developer interest in the stamping plant property than it would if it were again trying to sell the full 102 acres.

When RACER began marketing the entire site in 2013, it drew interest from a host of local developers, including Ambrose Property Group, Buckingham Cos. and Keystone Group.

Proposals ranged from mixed-use developments with office, residential and retail to Keystone's plans for a soccer stadium where the Indy Eleven would play.

Options are more limited for just the 55 acres, she said.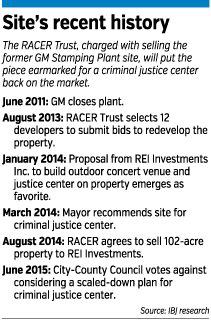 "My guess is that the most likely users would be industrial-related to go along with what's happening on the other side of Harding Street, which is all industrial south of the railroad tracks," she said.

The stamping plant site is bounded by the railroad tracks to the north, Harding to the west, Oliver Avenue to the south, and White River Parkway to the east.

Rasher said he isn't sure how RACER will market the western parcel, but he said it might be via an invitation-only request for proposals—the same approach it used two years ago.

"We think the property's location is very strong," Rasher said. "So we are not concerned about attracting a different proposal that will satisfy the criteria."

The original criteria RACER considered in selecting developers to submit proposals included: the price they were willing to pay for the property, how many jobs their proposals might create, and their reputations.

The stamping plant, which in its heyday employed 6,000, closed in 2011. Since RACER issued the first RFP, workers have demolished the factory and completed some environmental cleanup—factors that could help spur a sale, Rasher said.

Soil contamination issues have been resolved; however, it could take three to five years to rid the site of groundwater contamination, he said.

A few developers have expressed interest in the parcel to city officials, though the city won't be involved in the selection, said Adam Collins, Mayor Greg Ballard's deputy mayor of economic development.

He agreed the property is best-suited for an industrial use, though he said he would have much preferred seeing the criminal justice center built there. The location seemed ideal, he said.

"I think the council's decision not to move forward shows not only how naive they are about the process, but the politics that played into it," Collins said.

RACER was established during GM's bankruptcy to prepare former company sites for redevelopment. RACER took title to 341 parcels in 89 locations in 14 states and has completed sales on 45 properties, Rasher said.•