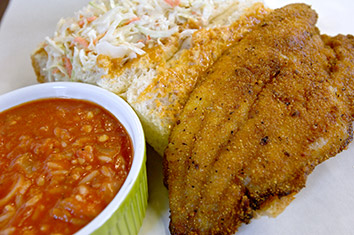 Cajun and Creole restaurant Papa Roux is scheduled to close, 11 years after opening at Post Road and 10th Street on the city's east side.
Owner and co-founder Art Bouvier said the restaurant's final day of operations will be Oct. 13.
The restaurant at 8950 E. 10th St. has operated primarily as a lunch spot specializing in mainstream Cajun and Creole cuisine, such as po-boy sandwiches, red beans and rice, etouffee, catfish nuggets and hush puppies. It is open during dinner hours only on Friday.
In a lengthy Facebook notice posted Sunday, Bouvier explained the closure while making farewell references to sayings and songs associated with George Burns ("Say goodnight, Gracie"), Bob Hope ("Thanks for the Memories"), Carol Burnett ("I'm So Glad We Had This Time Together") and 1990s rock group Semisonic ("Every new beginning comes from some other beginning's end.")
"We simply don't have the energy to keep going," he said in the post.
Bouvier said running the restaurant has drained life savings and left substantial business loans still to be paid.
The post cited rising taxes and fees, employee issues, late deliveries, building code compliance costs, technology issues, major equipment failures and product shortages among myriad problems plaguing the business.
Vendor problems and employee shortages caused repeated full-day closures for the restaurant.
"Our only realistic option for dry beans notified us over a month ago that they will no longer carry the beans we've been purchasing since we opened in 2007," he said.
"For now, we ask for your understanding, for your compassion, and for your farewell visits as often as you can in our final two weeks," he said.
Bouvier sparked some controversy in 2015 after his restaurant was robbed, when he began offering a 25 percent discount to concealed-carry gun permit holders.
Please enable JavaScript to view this content.