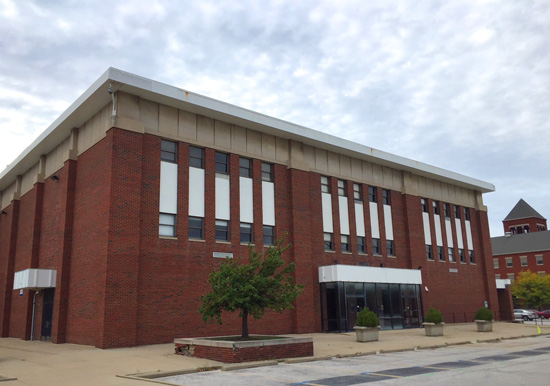 The owner of a 53-year-old gymnasium in the middle of a corporate campus on downtown's south side plans to demolish the four-story structure and replace it with open green space.
The 40,000-square-foot gym at 625 S. Meridian St. has been mothballed for years and is essentially obsolescent. Its electrical, plumbing and HVAC systems are beyond their useful lives, and upgrading the facility would cost tens of millions of dollars, according to city filings on the demolition.
"The building is a special purpose building with neither use for the current owner nor market need for a gymnasium and classroom space," the owner told city staff. "The cost to carry the building (maintenance, utilities, taxes, security, etc.) is more than the value of the building."
The gymnasium was built in 1965 for the former Harry E. Wood High School, located directly to the north at 525 S. Meridian St. The latter structure is now known as Union 525, a 122,000-square-foot multitenant office building pitched for tech startups.
The gymnasium is part the 405,000-square-foot Rolls-Royce Meridian Center, leased by Rolls-Royce Corp. and owned by VEREIT Inc., a Phoenix-based real estate investment trust.
The Meridian Center includes more than 320,000 square feet of office space, the gymnasium, and a cafeteria and conference center. It has more than 2,000 parking spaces, mostly in a multistory garage.
As part of its long-term lease, Rolls-Royce agreed to pay for upkeep of the gymnasium, including utilities.
"We found that with the investment and upkeep needed for the property, it would not be useful for us," said Rolls-Royce spokesman Joel Reuter.
Rolls-Royce requested that the gymnasium be razed. The owner sought approval from the city, and received the go-ahead from the Metropolitan Development Commission on Sept. 19.
The timeline for demolishing the building is unclear. A spokesman for VEREIT declined to comment on the company's plans.
Reuter said Monday that there were no immediate plans to redevelop the property beyond its use as green space.
Eli Lilly and Co. owned the Rolls-Royce Meridian Center and leased it to the international aircraft engine maker until 2013, when it sold the complex to American Realty Capital. Sources told IBJ at the time that the acquisition price was $90 million.
When Lilly owned the gym, the fitness facilities were available to employees. But the gym was closed after the building sold and Rolls-Royce took over responsibility for its upkeep.
In 2015, American Realty Capital Partners rebranded as VEREIT.
Please enable JavaScript to view this content.