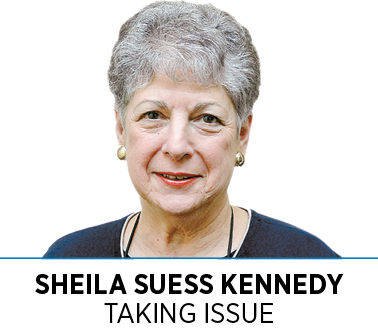 By the time this column is published, the Senate will have voted on Brett Kavanaugh's nomination to the U.S. Supreme Court. As a woman, a lawyer, a former Republican, and someone who has taught law and public policy the past 20 years, I want to share my perspective on the unprecedented and deeply disturbing Senate "hearing" on that nomination.
There was a reason the nation's founders created an independent judiciary. They reasoned that removing judges from the political process, from the need to respond to the "passions of the majority," would allow them to rule dispassionately on the matters before them. Their judgments wouldn't always be correct, but they would be rendered in good faith—based upon their reading of the law and facts.
We have three branches of government: Two were intended to be responsive to the will of the voters; one was created to safeguard the rule of law.
When our elected representatives are asked to "advise and consent" to a judicial nomination, they need to recognize the difference between a conservative or liberal judicial philosophy and partisanship. We should be wary of a jurist who approaches the Constitution without a well-developed belief in his or her proper interpretive role, and we can agree with that philosophy or not, but such disagreement is not disqualifying.
Partisanship is another matter entirely. A judge who is committed to the fortunes of a political party, who will approach the issues from the perspective of a "team player," poses a danger to the rule of law and undermines respect for the judicial process.
Lawyers talk a lot about "judicial temperament," because it matters. We The People are entitled to have our disputes adjudicated by sober, thoughtful people who can put aside their own prejudices and emotions, and fairly weigh the relevant facts. Many years ago, when I was active in Republican politics, I was asked whether I would consider being a candidate for a local judicial position. I explained that I lacked a judicial temperament—I tend to be an advocate, and advocacy in my view (then and now) is inconsistent with the judicial function.
These observations—plus, inevitably, my experiences as a woman—were the lens through which I viewed the Kavanaugh hearing, and the basis of my conclusion that he does not belong on the Supreme (or any) Court.
This hearing was not a trial. Kavanaugh was interviewing for a job. Would you hire him?
Ignore his refusal to submit to an FBI investigation, or to a polygraph. Ignore his highly partisan past behavior. Ignore the committee's refusal to provide over 90 percent of his work product for the Bush administration, or to call the people who were identified as witnesses to Dr. Christine Ford's assault. Ignore the fact that there is irrefutable evidence that Kavanaugh lied about his history of drinking to excess.
Just focus on his demeanor. And ask yourself if you would want this hostile, petulant, entitled man to rule on a case involving your constitutional rights.
There is a reason the American Bar Association called for an FBI investigation and a delay in the confirmation vote.
Increasingly, Americans have come to realize that both Congress and the administrative branch are broken and dysfunctional. Kavanaugh's nomination constitutes an assault on the remaining legitimacy of the judicial branch. Together with the shameful refusal in 2016 to grant Judge Merrick Garland even the courtesy of a hearing, it represents a surrender to toxic partisanship and a virtual civil war.•
__________
Kennedy is a professor of law and public policy at the School of Public and Environmental Affairs at IUPUI.
Please enable JavaScript to view this content.