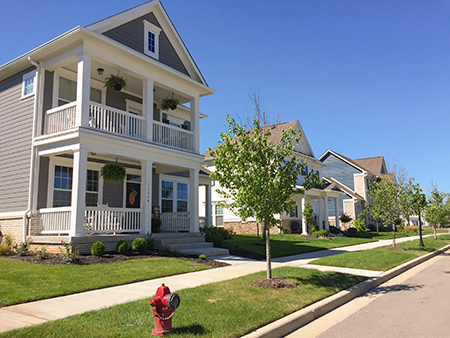 Housing costs in Hamilton County are among the highest in central Indiana, with most homes selling for $160,000 to $320,000 and renters paying an average of $1,000-plus a month.
That makes finding affordable housing a challenge for low- and middle-income earners, officials say. Projects are underway in Fishers, Westfield and Noblesville aimed at addressing that concern, but they will only make a dent.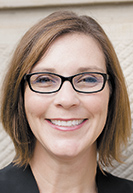 Miller
"We're finally beginning to see a diversity in housing type and price point, and that is something we can't ignore," said Jennifer Miller, executive director of the not-for-profit Hamilton County Area Neighborhood Development.
Still, she said, much more work is needed.
In August, the latest month for which data is available, the average selling price of a home in Hamilton County was more than $313,000. The average rent for a two-bedroom apartment was $1,168.
County leaders acknowledge that's too much for many members of the county's workforce. Those working in the hospitality, retail and restaurant sector, for example, and even entry-level municipal employees, teachers and public safety officers can't afford those mortgages or rents, forcing them to commute from outside Hamilton County.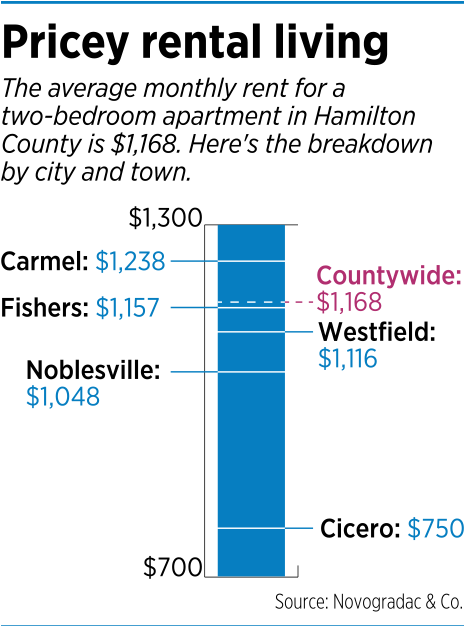 Data presented during a recent housing conference showed 63 percent of Hamilton County workers who earn less than $1,250 a month (or less than $15,000 a year) live outside the county, while 46 percent earning $1,250 to $3,333 (about $40,000 a year) live elsewhere.
That number drops to 28 percent for workers earning more than $3,333 a month.
With the lower-income workers in mind, county officials and developers have introduced a handful of residential projects that could offer more attainable housing.
The city of Fishers and apartment developer RealAmerica Development LLC announced in July that the latter would build a 70-unit, income-based apartment complex near the Nickel Plate District downtown. The city has agreed to waive $100,000 in fees associated with the project, making it more affordable for the developer, but Fishers-based RealAmerica is still relying on competitive tax credits—if it wins them—to build the complex.
In Westfield, the city has been working with developers to incorporate moderately priced housing options within the proposals they take before the city.
A project introduced last month would result in 403 houses built east of Grassy Branch Road, between 191st and 196th streets. Plans call for 300 of the homes to start at $150,000 to $200,000, far below the current average selling price of a home in Westfield.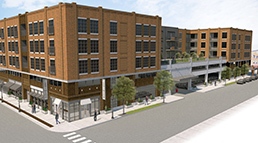 A mixed-use development to be built in Noblesville's downtown will include 10 affordable units for low-income residents. (rendering courtesy of Rebar Development)
And in Noblesville, the first mixed-use development to be built in the city's downtown in more than a century will include 10 affordable units reserved for lower-income residents. City spokesperson Robert Herrington said the idea to include affordable housing came up during planning for The Levinson, a $24 million mixed-use development. Now, the city is considering making affordable units a requirement for all multifamily projects built there in the future, he said.
Making progress
Miller—whose organization HAND was founded in 2003 to find housing options for low- and moderate-income individuals, families and senior citizens—said the county has started moving the needle on its affordable-housing problem.
Still, a HAND-commissioned study shows Hamilton County needs 10,000 more rental units that low- to moderate-income earners can afford. It would take more than 100 years to meet that demand at the current pace of construction, the study shows.
Add in owner-occupied units and the shortage grows to more than 25,000.
Altogether, the projects planned in Fishers, Westfield and Noblesville would add 80 affordable apartments and as many as 300 homes.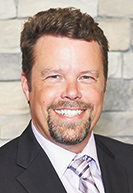 Ryan
RealAmerica Development applied in July for rental housing tax credits for its project at Lantern Road and Apple Drive in Fishers. The project, called SouthPoint Village Apartments, would include 70 one- or two-bedroom apartments that would rent to residents with an average income of $27,703 to $41,700.
Generally, affordable housing is reserved for people earning less than 60 percent of the area's median household income. In Hamilton County, the median household income in 2016 was about $88,000.
RealAmerica's project is contingent on the developer's receiving those tax credits, said Jeff Ryan, the company's vice president of development.
The biggest challenge facing developers building so-called workforce housing is the competitiveness of those credits, he said. This year, more than 50 applications have been submitted, and he expects no more than 20 projects to be selected.
Generally, building affordable housing costs about the same as market-rate housing, Ryan said. So RealAmerica relies on tax credits to fill the gap.
The state will announce next month which projects will receive those credits. RealAmerica has yet to decide whether it will scrap the project if it isn't selected or try to apply again next year, he said.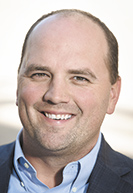 Fadness
Recognizing that a portion of people who work in Fishers can't afford to live there, the city has supported RealAmerica's proposal.
During HAND's annual conference last month, Fishers Mayor Scott Fadness said apartments in downtown Fishers rent for $1.50 per square foot today, up from $1.13 when Fishers proposed its first mixed-use development in downtown several years ago.
"It's going up and up and up," he said.
New houses near downtown are selling for $600,000 to $800,000, he said.
The affordable apartments RealAmerica has proposed will help ensure the people who work in Fishers' downtown can also live there.
"I hope we get our project. I hope it's successful," Fadness said. "We'll continue to progress. We'll continue to be a more dynamic community."
Homes for workers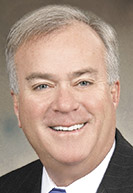 Cook
Westfield city leaders have also taken steps to encourage developers to introduce more affordable housing.
Mayor Andy Cook said he began looking at the issue about six months ago after hearing that many Westfield teachers, city employees and hospitality workers can't afford to live there.
He began talking with developers who were preparing to bring housing proposals to the city to see whether they'd be willing to include moderately priced homes in their plans.
At least one home builder was open to the idea.
St. John, Indiana-based Olthof Homes filed plans to develop 107 acres near the city's new industrial park, NorthPoint. Under the plan, 430 homes would be constructed in a subdivision called Lindley Run. Three hundred would be town houses and duplexes that would start at $150,000 to $200,000.
In approving projects that include affordable housing, the city does have to be open to features it has previously opposed, Cook said. The Lindley Run project will have a higher-than-usual density for Westfield and include homes with vinyl siding. Both choices will make the project more affordable for the developer, but might be less popular among residents.
When the project was introduced to the City Council in September, council members seemed generally supportive, pointing to data that supports the need for more affordable housing.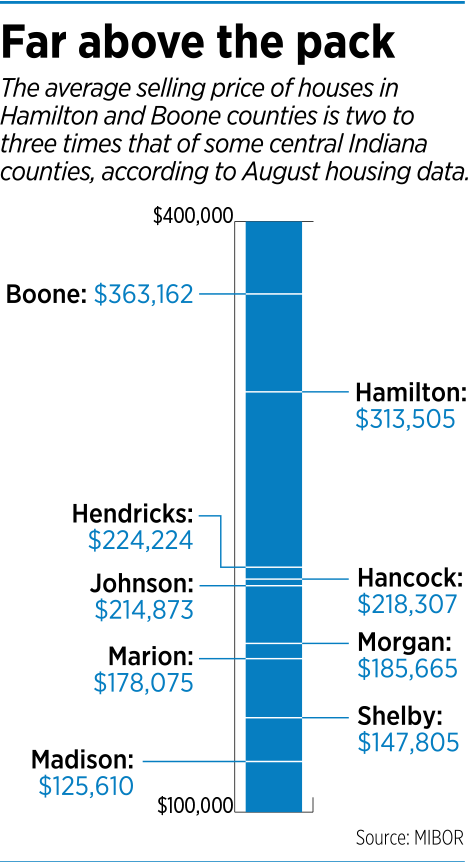 In fact, 41 percent of workers in Hamilton County can afford only a home selling for $200,000 or less, according to statistics from the Builders Association of Greater Indianapolis.
But in Washington Township, where Westfield is located, only 15 homes from $160,000 to $240,000 were listed on Zillow the day Lindley Run was introduced, city officials said.
Cook said more projects similar to Lindley Run are likely to be proposed.
At a Sept. 24 meeting, an attorney representing family-owned Wheeler Farms, which has proposed a massive rezone of 300 acres near Grand Park Sports Campus, said the developer is open to considering moderately priced housing for its project, though few details have been revealed.
Because of the location's proximity to Grand Park, where Westfield's hospitality sector is centered, it has been identified as a good site for lower-priced housing, Cook said.
Not just Hamilton
HAND leaders say Hamilton County isn't the only central Indiana community facing a housing crisis.
The problem is affecting Boone County, too. There, the average selling price for a home in August—more than $363,000—was even higher than in Hamilton County.
Earlier this year, HAND introduced its first affordable Boone County housing project in Lebanon, where it plans to renovate 17 duplexes to create 33 units for low-income residents. The organization hopes to expand its presence in Boone County as funding and land become available, Miller said.
HAND wants to eventually conduct a housing assessment for Boone County as it has for Hamilton County to better understand its needs.•
Please enable JavaScript to view this content.