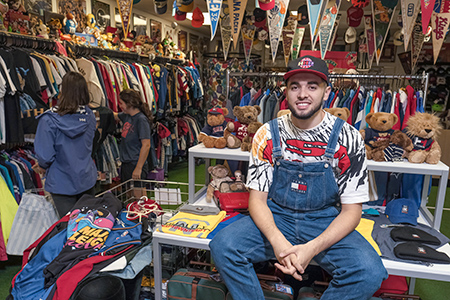 Aaron Marshall has used his passion to fuel his business—and the result is Naptown Thrift, a vintage clothing store he launched three years ago in a closet-size storage unit, serving customers by appointment only.
The store, which specializes in 1980s- and 1990s-era casual clothing, opened a storefront location last month in an unassuming shopping center on East 54th Street, just west of Keystone Avenue. So many customers lined up for the opening that the 1,000-square-foot store couldn't admit them all at once.
"You couldn't even move in here. It was packed with people on our grand opening," said Marshall, a 2018 Butler University graduate and hip-hop artist who owns Naptown Thrift along with his father and stepmother, Matt and Jean Marshall.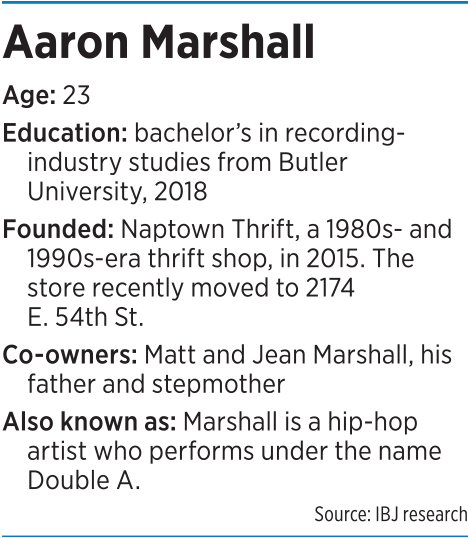 The seeds of the business began in Aaron Marshall's own closet. He had grown up thrift shopping with his father and stepmother and picked up their taste for 1980s and 1990s clothing. The family loved the thrill of the hunt, the nostalgia of vintage items, and the fun of it all.
Marshall's college friends took notice of his thrift-store wardrobe, asking where he had found particular items. Realizing that his hobby might have business potential, Marshall decided to open his own shop.
So, in 2015, he and his parents rented a tiny $50-a-month storage unit on Keystone Avenue, filled it with their thrift-store finds, and spread the word that they were open for business. Since the space was not a traditional retail shop, Aaron Marshall saw customers by appointment as his school schedule permitted.
During those early days, Naptown Thrift served few customers—mostly college friends of Aaron Marshall's.
"I'd be happy to bring one or two guys in there a week," he said.
Most of the merchandise is priced at about $15, though some items cost more. A hard-to-find T-shirt for the band Nirvana, for instance, hung behind the cash register with a $300 price tag late last month.
Since its early days, Naptown Thrift has been able to cover its costs and reinvest profits back into the business, Matt Marshall said. The Marshalls grew the business slowly and have not taken on debt to do so.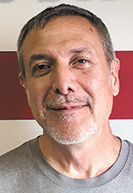 Matt Marshall
"I think it helped us because we took our time and figured it out along the way," Matt Marshall said.
But, thanks to word-of-mouth and social media, business grew enough over time that the Marshalls needed to rent additional storage units. At their peak, they had three units that served as "retail" space, plus another two to house excess inventory. The business, which started with men's items only, expanded later into women's and children's apparel.
By that time, the Marshalls were paying $580 a month in storage-unit rent. That made it harder to cover business costs, Aaron Marshall said. So Naptown Thrift kept two storage units for excess inventory, but the retail space moved to a proper storefront, where it could serve more customers—and make more sales.
The store, decorated to resemble a crowded storage unit, is stuffed full of vintage items: nylon windbreaker jackets; items from Guess, Tommy Hilfiger, Nike and other iconic brands; and sports-team jerseys, to name a few. Hundreds of not-for-sale toys, collectibles and other items fill out the look—sports pennants and ball caps hanging from the ceiling, a collection of teddy bears sitting on a shelf.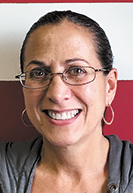 Jean Marshall
Rental costs now are about double what they were before, Jean Marshall said, but sales have been brisk so far.
"We've had people come back three times and we've only been open a week—and they buy something every time," she said in late September.
The shop, which makes about 25 percent of its sales online, has also seen its social media presence swell since the move.
The shop's Instagram page, @naptownthrift, has more than 8,000 followers and is growing. The page, which mostly features photographs of new items, gained 1,000 followers during Naptown Thrift's opening weekend at its new space. A separate page for the shop's women's wear, @miss_naptownthrift, has more than 1,100 followers.
Fashions from the 1980s and 1990s are in style among the younger shoppers Naptown Thrifts attracts, said Aaron Marshall, 23, which helps explain the shop's growth.
But his business savvy also has a lot to do with it.
Marshall performs hip-hop under the name Double A, and he has a degree in recording-industry studies. He's deliberately interwoven his business and musical lives. "They play perfectly off each other."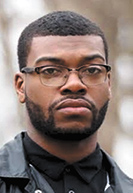 Murdock
For example, Naptown Thrift has served as a backdrop for videos by local hip-hop artists, it's provided clothing for local events, and it counts other hip-hop artists as customers.
In the music world, Marshall said, performers cultivate a signature look to distinguish themselves—and vintage clothing is one way to do that, because the items are eclectic by nature. "A huge part of your brand as an artist is what you've got on."
Naptown Thrift customer Anthony Murdock II, who met Aaron Marshall while both were Butler students, said his friend is "almost flawless" in his ability to blend his musical interests with his retail business, to the benefit of both.
"That's just a great business model—the ability to blend passion and business," Murdock said. "His growth has been nothing short of exponential."
Naptown Thrift has also built a partnership with Massachusetts Avenue retailer Quality, which has hosted in-store concerts in conjunction with Naptown Thrift pop-up stores—short-term retail experiences within Quality's own store.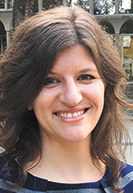 Rousseau
Having that partnership, Murdock said, allowed Naptown Thrift to gain exposure to a crowd that might not otherwise have discovered the store.
Courtney Rousseau, a career adviser at Butler, teaches a career prep course that Marshall took.
"Aaron is definitely the only [student] I've ever known that knew specifically what he wanted so early on," Rousseau said. "He's definitely in a league of his own."
She described Marshall as a "super connector"—someone she frequently refers students to for advice on business-related questions.
"I'm just really proud of him," Rousseau said. "He's going to do great things. He is doing great things, and he's going to continue doing great things."•
Please enable JavaScript to view this content.