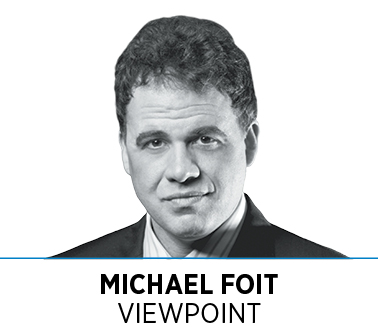 We hear a lot about the increasing need for college degrees. We're told that, because so many of today's jobs require a college education, young people who want good careers must go to college.
Generally, that seems like good advice, but it overlooks two realities: One, our economy relies on high numbers of skilled workers without degrees; and, two, not every young person today wants or needs to go to college.
It's time to change this "everyone should go to college" mindset, along with the attitude that those who do not go to college are limited to low-income jobs (and, by inference, unhappiness).
I don't suggest that this is a challenge we must face for the future. It is a challenge we must face today. Across America, building projects, manufacturing lines and more are lagging because employers can't find enough skilled workers. Nationally, estimates suggest that more than 243,000 jobs await workers in the construction industry alone.
At the same time, we see negative repercussions from our efforts to push everyone into college. For one, record numbers of people drop out. Recent studies show that barely more than half of all students who start college will finish within six years.
But the problem isn't just that these people might have wasted a couple of years or might have suffered unnecessary stress. The problem is that many of those dropouts are leaving school with considerable student loan debt. In 2015 and 2016, 3.9 million students dropped out of school with student debts, with many owing thousands of dollars. In other words, they were worse off than when they started school.
Now consider the alternative: If those same people had entered a skilled-trade training program, they would have earned money while they learned a trade. They would not have student debt hanging over their heads, and they could earn as much as many people coming out of college.
Today, skilled tradespeople earn an average of $60,000 or more a year, and some earn six figures. When people tout the long-term earning potential of people with college degrees, they overlook the cost of degrees and the value of the skilled worker's extra time in the workforce. One recent article suggested that "a dentist will not catch up to a plumber's total net earnings until they are both well into their 30s."
I am not disparaging the value or benefit of a college degree. However, I am suggesting that, in our effort to ensure that everyone has the opportunity to attend college, we have pushed the pendulum so far that we now suggest that everyone must go to college. By doing that, I think we have pushed into college some people who would be happier—and better off—if they learned a skill and entered the workforce.
How do we overcome this problem? For one, we acknowledge that college should be open for everyone but isn't the answer for everyone. Second, we should embrace the value and benefit of skilled trades. Employers who rely on skilled trades should collaborate to make their case to the parents, counselors, educators and others who guide young people to let them know that there is an alternative to college—an alternative that, for the right people, leads to happiness, financial security and long-term fulfillment.
America needs skilled tradespeople, and many Americans need skilled trades. Let's put those needs together for the benefit of people on both sides of that equation.•
__________
Foit is CEO of Apex Energy Solutions
Please enable JavaScript to view this content.