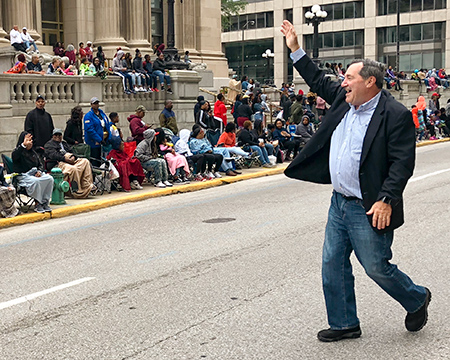 Among St. Joseph County Democrats, Joe Donnelly is known as "Joe Diesel."
Jason Critchlow, the party's county chairman, said that's because he never stops, despite the negative ads calling him "sleepin' Joe" that suggest otherwise.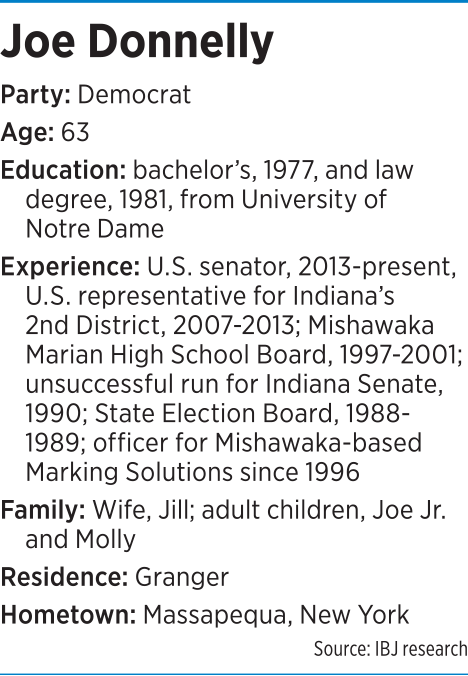 And Donnelly regularly reminds people that he travels to all 92 counties every year, saying he does so because "we get a lot better ideas here than in Washington."
On a recent Saturday in September, Donnelly traveled from South Bend to downtown Indianapolis for the Circle City Classic parade. The rest of his day included lunch in Speedway, stopping to quickly greet volunteers, celebrating the Hendricks County Democratic Party's office opening in Avon and canvassing in Delaware County.
"I get up really early in the morning, work like a dog all day, go to bed late at night and do everything I can to make sure that everything I do makes our state better, makes our country better," Donnelly said. "That's what I do."
That September day started with the parade—an element of campaigning that Donnelly loves because he can reach so many people in a short time.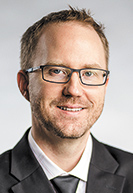 Critchlow
"Joe Donnelly would have to be paralyzed from the waist down to be sitting in a truck in a parade," Critchlow said. "He's out there in the crowd."
Donnelly zig-zagged across the six lanes of Pennsylvania Street to shake hands, wave to parade watchers and pose for selfies. "Have a great parade, everybody," Donnelly repeated.
Most people smiled and waved back or flagged him down to take a photo.
"Joe! Joe! Joe!"
"I'll be there in one second!" Donnelly yelled back.
Others had a specific message for him: "Vote no for Kavanaugh!" "Don't vote for Kavanaugh!"

He just kept jogging from side to side of the street, waving and smiling.
Donnelly—whose tight re-election race against Republican Mike Braun had the country watching his decision—did ultimately vote against U.S. Supreme Court Justice Brett Kavanaugh's nomination. On this day, though, Donnelly hadn't publicly announced his decision.
'Ultimate Rudy'
Donnelly grew up in New York, but came to Indiana to attend the University of Notre Dame, where he received his bachelor's and law degrees.
It's also where he met his wife, Jill.
Donnelly practiced law with Nemeth Feeney and Masters (now Nemeth, Feeney, Masters & Campiti P.C.) until 1996, when he opened a printing and rubber-stamp company called Marking Solutions.
He said his main goal was to have "a job that could pay the bills."
According to his latest personal financial disclosure with the U.S. Senate, his assets are worth between $872,000 and $1.9 million.
He dipped his toe into politics in 1998, when he ran unsuccessfully for Indiana attorney general, and again in 1990. when he ran unsuccessfully for the Indiana Senate.
"I had kind of put that in the rearview mirror," Donnelly said about politics after the 1990 race.
But when he was asked to accept an appointment to the Mishawaka Marian School Board in 1997, he said yes.
Then, in late 2003, he answered a phone call from the St. Joseph County Democratic Party, expecting a request for a donation.
"They said, 'Well, actually we'd like you to run for United States Congress,'" Donnelly said. "I was like, 'OK, um, I'm eating my cereal.'"
Critchlow, who was not chairman at the time, said he thinks the party recruited Donnelly because the community could relate to him.
"He always had that down-home edge to him," Critchlow said. "He's never tried to be something that he's not."
Donnelly lost the 2004 race in the 2nd District to Republican incumbent Chris Chocola, but he ran again two years later in a race that gained national attention.
Chocola had been expected to win. Then-President George W. Bush had won Indiana in 2004, but his popularity had dropped by the midterms. Money from outside groups poured into the state and big names including Bush and then-U.S. Sen. Barack Obama came to Indiana to help the candidates.
Donnelly won 56 percent to 46 percent.
"He is the ultimate Rudy," said Paul Tencher, Donnelly's 2012 campaign manager, referring to the undersized athlete who defied expectations and won a spot on Notre Dame's football team in 1975. "He is always underestimated."
Donnelly easily won re-election in 2008, but in 2010, he faced a threat from Republican Jackie Walorski. Once again, outside groups spent millions of dollars on the race. Donnelly narrowly won 48 percent to 47 percent.
Won't give up
During the summer of 2009, members of Congress were deep into the debate over health care. Donnelly had scheduled a few town hall meetings to hear what Hoosiers thought about it, including one in Kokomo.
Samantha Slater, who worked for Donnelly's office in Congress from 2007-2010, said they were expecting about 70 people, but hundreds showed up—far exceeding the capacity at the venue they had reserved. "I think a lot of members would have canceled it or turned people away," Slater said.
But Donnelly insisted to his staff that they find a way to make it work.
"He was like, 'We'll hold it on the street. I don't care,'" Slater said. "He really just wanted to listen to everyone who wanted to voice their opinion."
He ended up standing outside and used a megaphone to talk to everyone.
Slater said among issues Donnelly has long been passionate about, health care reform and helping veterans stand out. Another project he started in 2007 was opening a VA clinic in St. Joseph County—a big task for a freshman congressman. It finally opened last year.
And Slater said Donnelly never developed the ego that other members of Congress possess.
"We called him Joe. He was just part of the staff, which is also not the norm there," Slater said. "I would say he ruined me for life, because he was like the best boss."
Switching to Senate
New congressional maps proposed in 2011 made Donnelly's district more conservative, which fueled speculation that he would run for U.S. Senate instead of seeking re-election.
Sure enough, in May 2011 Donnelly announced plans to seek the seat held by Republican Richard Lugar. Lugar was running for re-election, but tea party Republican Richard Mourdock was challenging him in the primary.
Donnelly thought Mourdock could win and didn't think Mourdock was the best person to carry on Lugar's legacy.
He said he wanted to make sure Lugar had a strong successor that "would help carry the torch for a lot of things he wanted to do".
"For about a year and a half, I think Joe and I were the only two who believed this would happen," Tencher said. "Joe would have never run against Dick Lugar, even though he got into the race running against Dick Lugar."
Mourdock did win the primary, which set up the general election battle against Donnelly.
Tencher said he'd talk to Donnelly at the end of every day, and Donnelly would ask him if they won that day.
"And I'd say, 'Boss, we won today,'" Tencher said. "That's the coach in him."
Donnelly won the general election, with many political observers attributing it to Mourdock's extreme comments about abortion during a debate just before Election Day.
But Tencher said he hadn't been worried, even before the debate.
"There was never a point when we didn't think we had a good shot to win," Tencher said.
Another term?
During his six years in the U.S. Senate, Donnelly hasn't always voted along party lines, and he's proud of that.
He often talks about how he works with President Donald Trump on some issues, and even featured Trump in a campaign ad in which he thanked Donnelly for his work on the right-to-try legislation. Trump signed the law, which allows terminally ill patients to use experimental drugs not yet approved by the Food and Drug Administration, earlier this year.
The coziness with Trump—Donnelly votes in line with his position about 55 percent of the time—bothers some Democrats, but Donnelly seems to still have the party's support.
"The majority of people here are very pragmatic," Critchlow said. "They don't expect they're going to agree 100 percent of the time."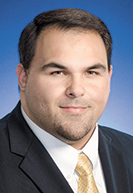 Evans
Indianapolis City-County Councilor Jared Evans, a fellow Democrat, said people will support someone they connect with, and Donnelly connects with people.
"I've always liked Joe," Evans said. "Has he always voted the way that I want? No, but that's OK. Nobody is going to do that."
Donnelly said he's proud of the work Congress has accomplished on health care, jobs and education since he was first elected in 2006. But he acknowledges there is more to do on health care and on training the workforce to fill open jobs.
"We've really set everything up to have an incredible long-term run," Donnelly said. "There's always improvements we can make. There's always things we need to do. But our future is bright."
Tencher said Donnelly would prefer if the Senate could meet in Indianapolis or South Bend, because that's where he'd rather be—driving around in his campaign RV.
"He just looks around and says, 'Can you believe I'm a United States senator," Tencher said.•
Please enable JavaScript to view this content.