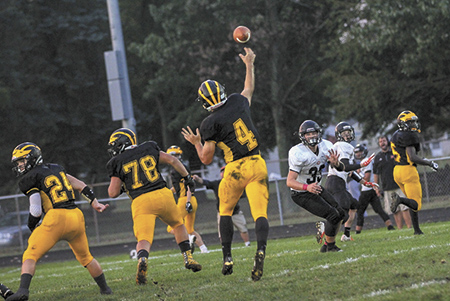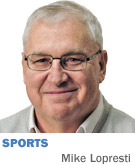 ROYAL CENTER—The sun is setting over Royal Center, population 840—give or take—but no stoplights. It's Friday night, and you know what that means.
The grandstands at the Pioneer High School stadium are full, and the scoreboard is smoking. "Pioneer school, farms and football. Basically, that's it," Athletic Director John Bingaman would mention later about this swath of Cass County.
Elsewhere in Indiana, football is struggling with numbers in these concussion-wary times. Park Tudor just had to cancel a game. Two schools dropped the sport over the summer. Then there's Pioneer, the 25th-smallest football-playing school in the state with an enrollment in the 270-ish range, where nearly one of every three male students is on the team. Where there has been one defeat in three years. Where the average winning margin this season through Oct. 5, was 63-3.
That's why it's worth a visit to Royal Center on a Friday night, to see how this is happening.
Meet Adam Berry. Born and raised here, like his parents and grandparents. Played quarterback. Married his high school sweetheart—a cheerleader, of course. Went to Ball State, but returned to teach, and now he's the head coach, with a 37-1 record. He has six assistants, three of them volunteer. All six played at Pioneer, too.
"It's a big farming community, so we still have a lot of people who don't move away," he says. "After they graduate, they come back here to either help on the farm or get a job in the factory. It keeps us together as one unit. Pioneer football is all I've ever been a part of."
First thing you notice when his Panthers take the field are the winged helmets. Then the band playing the tune "Across the Field." Which means, yes, Pioneer has Michigan-style helmets, but the same fight song as Ohio State.
Then you hear the miniature cannon that gets fired after every Pioneer score. Since the Panthers rolled up 68 touchdowns in their first eight games— while punting only four times—that's a lot of booms. Grant's siege of Vicksburg didn't have this much artillery fire.
Meet Jack Kiser. Senior quarterback/safety/special teamer/civic hero. He's going to Notre Dame next season. How did the Irish recruiters find him in Royal Center? They drove to Winamac and turned left.
"It's special. It's kind of like Friday Night Lights, the movie," Jack says. "We take pride in wearing these wings. We make sure everybody on the team understands the tradition. Everybody wants to be a part of it, so I guess it's just part of going to school at Pioneer."
On his first offensive play this night against Culver, Kiser throws a 52-yard touchdown, the receiver racing toward the end zone in the general direction of the Bob-O-Link drive-in, which is just across the street and is run by Berry's aunt. (Established in 1956, its sign informs passers-by.) Never mind the PAT kick, by the way. The Panthers don't even practice them. They always go for two.
As the lead quickly grows, there is time to study how the sport thrives here. Football is handed down from father to son to younger brother, like a family heirloom—as much a part of this community's lifeblood as the price of corn. Fridays at school, the hallways are filled with jerseys—players wear the color for that night and give the jersey with the opposite color to girlfriends to wear.
"Tonight we're home, the football players are wearing black, so you'll see 41 others wearing a white jersey," Berry says.
Tradition means a lot here, right down to the wing-T offense installed by Mike Johnson, Berry's predecessor, who built the program into a juggernaut surrounded by silos and farmland. Berry has made a few tweaks to the offense, to utilize Kiser's many skills.
"The elementary kids, when they go out and play football at recess or at home, they're not wanting to be Andrew Luck or Russell Wilson," Berry says. "They're wanting to be Jack Kiser. I told the players at the beginning of the year, 'You are these kids' idols.'"
Which is why team members can be found at the elementary school, playing kickball with the students. And why the youth program has been such a vital factor. It takes considerable commitment from the community to coach the elementary guys and get them started. Kiser's father was one of the coaches.
"We run the same system from the time they start in youth league until the time they graduate, offensively and defensively," Berry says. "Youth league players, they dream about getting those wings."
Johnson was the first coach to tap into this, and won the 1997 state championship. The glory days had arrived. The Panthers were 146-24 his last 14 seasons, with a state runner-up in 2014. Berry has added another runner-up in 2016 and the state championship last season.
"I was in fourth grade in 1997 and I thought, 'Wow, this football thing might be kind of cool,'" Berry says. His hero was the team star, Tayt Odom. "I still remember the pep session at the elementary school. He drove down the ramp on his motorcycle.
"He went to Notre Dame, not to play football, but he coached and led his team to [Notre Dame's] intramural championship, running the Pioneer system."
Johnson moved 12 miles down U.S. 35 to coach Logansport in 2016, and Pioneer turned to assistant coach and hometowner Berry. In his first season, the football team had more players—47—than the entire 45-student senior class. "You don't see that very often," Berry says. His one defeat was 34-20 to Linton-Stockton in the 2016 state championship game, the only chance he's had to give a losing locker room speech. "I basically told the guys: Remember this feeling we have right now."
He hasn't had to tell them that since, as the train keeps rolling. But Pioneer football is not immune from today's issues. There has been a drop in youth league numbers. "So far, no, I haven't had any high school parents tell me, 'We're not letting our child play because of concussions,'" Berry says. "I'm not sure at the youth league if that's the reason our numbers are down. But it's not just small schools that are having these problems. I think the big schools are, too."
All he can do is keep working, keep promoting Pioneer football. "I think the future is still going to be great," he says. He hopes, anyway. He has three young sons, and dreams of winged helmets for each.
As for the winning, that never, ever gets old. Except for maybe the teams who face Pioneer and must feel as if they're playing against a stacked deck.
"We feel very fortunate we have the numbers," Berry says. "We're able to practice 11-on-11. A lot of teams we play, they have to get creative because they only have 20 guys on the team."
The game against Culver ends 72-0. In Berry's 38th game as coach, it's the 20th shutout.
"Mind boggling," Kiser says afterward of the statewide stature of Pioneer football. Then he's off to chat with fans. The crowd lingers, but eventually the stadium darkens until the next time, for the little program that wins so big. Save for the occasional semi rumbling through town, Royal Center is quiet.•
__________
Lopresti is a lifelong resident of Richmond and a graduate of Ball State University. He was a columnist for USA Today and Gannett newspapers for 31 years; he covered 34 Final Fours, 30 Super Bowls, 32 World Series and 16 Olympics. His column appears weekly. He can be reached at [email protected]
Please enable JavaScript to view this content.