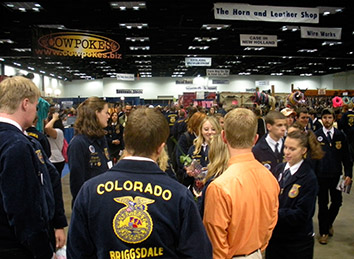 Indianapolis is under consideration for a seven-year contract extension that would keep FFA's giant national convention in the city until 2031—but it's competing for the opportunity with another city.
FFA chief executive Mark Poeschl told IBJ that the organization, which will bring about 70,000 blue-jacket-wearing attendees to downtown Indianapolis this week for its annual event, has narrowed its choice for a new convention contract to two cities: Indianapolis and Atlanta. The winner will host the event from 2025 to 2031.
Indianapolis first hosted the FFA convention, which attracts members from across the country to learn about science and agriculture, in 2006 and kept it until 2012. After losing the convention to Louisville for three years, Indianapolis got the convention back in 2016 and locked it in place until 2024 after FFA negotiated with state and city officials. 
The group is looking for a site with more hotel space for the 2025-31 contract because it will host its centennial celebration during those years and expects increased attendance. 
"As we look at the future of our organization and potential growth, we have an obligation to look at all of our options," Poeschl said. "That should not be viewed as a negative to Indianapolis, merely that we have to make sure we're making the right decision."
Poeschl said that last week's news that Kite Realty planned to develop two Hilton-brand hotels at Pan American Plaza, where the city plans to finance a $120 million addition to the Indiana Convention Center, was "welcome news" to FFA. The project will create an additional 1,400 downtown hotel rooms.
"That certainly plays into the decision we make going forward," Poeschl said.
He said the group has not started negotiations with either of the cities but have made site visits. It is possible the group could land incentives to stay. IBJ reported back in 2015 that the state agreed to provide FFA with $4.5 million in incentives—$500,000 per year—to keep the event in Indianapolis. 
FFA, which used to be known as Future Farmers of America, expects to start the negotiation process in November and choose the final site by mid-December.
Last year, the event attracted 67,000 attendees and had an estimated economic impact of about $40 million.
Please enable JavaScript to view this content.