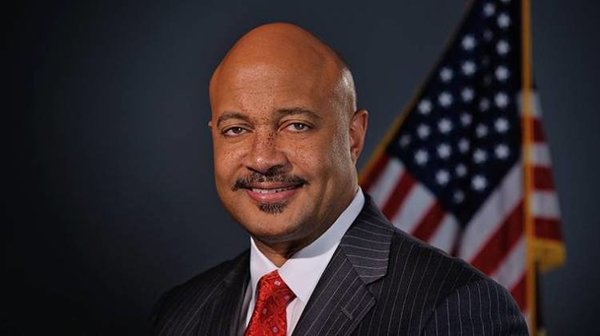 A 25-page report from the Indiana Inspector General released Tuesday reveals how during the early hours of March 15, Indiana Attorney General Curtis Hill became "the talk of the bar" at AJ's Lounge in Indianapolis for his alleged drunken and inappropriate behavior.
And, in addition to the four women who had previously been mentioned in a report on Hill's behavior that night, the investigation from the Inspector General's Office discovered four more women who reported feeling uncomfortable after Hill touched them.
"Multiple eyewitnesses provided statements that Hill's conduct was inappropriate, 'creepy,' unwelcome, and made many of the women at the party uncomfortable," the report stated.
Despite the behavior revealed from the investigation, which included interviews with nearly 40 people who were at the party at AJ's Lounge that night, and more than 50 people in total, Hill reiterated through his attorneys that he does not plan to resign.
And, so far, lawmakers and other political leaders, even those from his own party, have repeated their demands for him to resign, but they aren't calling for impeachment.
"Hoosiers expect better from the people they elect to represent them in state government, especially when the individual involved is the chief law enforcement officer for the state of Indiana," Senate President Pro Tem David Long and fellow Republican said in a written statement. "I called for the Attorney General to step down in July, and I continue to believe that is the right thing for him to do. However, it appears that he has no intention to do so, and that is his decision alone to make at this time. The people of Indiana will have the final say in this matter."
According to the Inspector General's report, Hill, who had already spent part of the evening in question drinking with lobbyists at Capital Grille and 1933 Lounge, continued drinking at AJ's to celebrate the end of the legislative session known as Sine Die.
A majority of partygoers interviewed for the report described the 57-year-old Hill as being intoxicated, although several said they couldn't be sure, and a few said he didn't seem intoxicated. Hill himself admitted to drinking at least two to three glasses of wine, a vodka martini and some Fireball Cinnamon Whisky.
One witness described him as "acting like a freshman at a college frat party."
The reports details accusations of Hill groping a state lawmaker, three legislative staffers in their 20s and four lobbyists without their consent that night.
Democratic Rep. Mara Candelaria Reardon told investigators that Hill put his hand on her back, slid it down to her buttocks, then grabbed her buttocks.
Reardon said she was wearing a backless dress, and she said when Hill's hand reached the part of the dress that scooped in the back, his thumb went inside the dress and touched her upper buttocks. With his hand on the outside of dress, he grabbed her buttocks, she said.
Reardon said she told him to back off, and she removed herself from the situation, but Hill returned to her a half hour later and touched her again.
According to a legislative staffer interviewed for the report, Reardon mouthed, "what the f—" to the staffer and removed herself from Hill again.
Indiana Senate Democrats Communications Director Gabrielle McLemore, Indiana Senate Republicans legislative assistant Niki DaSilva and Indiana House Democrats legislative assistant Samantha Lozano, who had kept her identity confidential until Tuesday, were the three legislative staffers who also experienced unwanted touching from Hill that night.
"All but one of the women who alleged Hill inappropriately touched them were in their 20s and new in their careers," the report stated. "This demonstrates the disparate power, influence, authority, and age that exists between Hill and the women who made allegations against him."
The report also revealed how Hill approached two female lobbyists and draped his arms around them, and put his hand on the back of another female lobbyist as they stood in a group together at the party.
According to the women, two male lobbyists and a male lawmaker who witnessed the interaction, Hill made multiple comments about how beautiful the women were.
"One of the witnesses to this incident, who is a male lobbyist, said, 'Hill was the talk of the bar,'" the report said.
All three women told investigators they were uncomfortable.
In another incident uncovered during the investigation, partygoers said Hill danced with an additional female lobbyist in a way described by one witness as "dirty dancing." That woman told investigators that she didn't think Hill was acting inappropriately, but she did feel uncomfortable enough that she did not want to dance with him again.
Hill, who was not interviewed directly, told investigators in a videotaped statement that he only recalled two incidents of touching and described the bar as being very crowded, making it difficult to move around.
Once, he said he put his hand on the back of a female to help her move closer to the bar to order a drink.
And when speaking to Reardon, Hill said he touched her back and leaned in so he could hear her better in the crowded bar. He told investigators he was "startled" when he realized her back was bare and that he "did not touch her buttocks at all."
The report from the Inspector General's Office was provided to Special Prosecutor Dan Sigler, who was appointed in July to determine whether criminal charges should be filed against Hill.
Sigler announced Tuesday morning that he believed the women to be credible, but he did not think the investigation's findings met the burden of proof needed to pursue a misdemeanor battery or sexual battery charge.
In a statement released by Voyles Vaina Lukemeyer Baldwin & Webb, attorneys representing Hill in criminal matters said they never doubted he "would be clear of any alleged crimes" and confirmed that he will stay in office.
"Mr. Hill will continue to serve the people of Indiana in the capacity for which he was elected as the Indiana Attorney General," the statement from attorneys James Voyles and Jennifer Lukemeyer said.
Please enable JavaScript to view this content.