Not long ago, developers seemed to vie for every square inch of open ground in the vicinity of the just-completed Lucas Oil Stadium.

A gaggle of midsize hotels were in the planning stages. A Dallas-based firm investigated purchasing a section of South Meridian Street property (including the lot upon which Shapiro's Deli sits) for a retail and residential project.

Even more dramatically, a $480 million development called Legends District-SoDo was slated to pack some 500 hotel rooms, 200 condos, a 3,400-seat theater and 175,000 square feet of retail space into the shadow of the football stadium. For a while there, downtown's far-south side seemed set to become a "destination" neighborhood.

What a difference a couple of years—and the worst economic downturn in decades—makes. These days, the entire neighborhood has been pushed, if not into a financial deep freeze, then at the very least to the back of the crisper drawer.

According to Abbe Hohmann, senior vice president and principal at the Indianapolis office of Colliers Turley Martin Tucker, the area suffers from the same triple whammy faced by most development "hot spots" these days: no available credit for projects, a terrible economic environment, and an excess of existing construction stock in practically every category.

Also, there's little demand for the retail, residential and entertainment envisioned for the area, Hohmann said.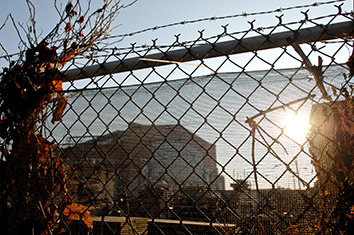 The launch of Lucas Oil Stadium coincided with the sharp downturn in the commercial real estate market. (IBJ Photo/Robin Jerstad)

"We're into a flat environment, as far as new projects going forward," she said. "And that's not just for the area around Lucas Oil Stadium."

Economic conditions likewise have thrown a wet blanket on property values.

"When all this started, a lot of existing property owners kind of got stars in their eyes," said Tim Dora, partner in Dora Hotel Co., which owns several properties, including a parking garage and two new hotels, near Lucas Oil Stadium. "They thought they'd hit the lottery. I don't think that was the case."

One group that's no doubt viewing the situation with more than a bit of trepidation is the planners for the 2012 Super Bowl. The nightmare scenario is that, when the big game rolls around, the area near the stadium will still look like it does now—a mix of single-family housing, rail lines, industrial concerns and vacant lots.

Opportunities exist for additional hotels and possibly retail, said Melissa Todd, director of communications and real estate at Indianapolis Economic Development Inc. However, she said she isn't aware of a formal plan to try to attract the development.

The problem is timing. Anything city planners want online in time for the big game must break ground soon. Trouble is, financing for projects in the high tens of millions remains problematic. Still, Todd thinks something will happen. She just isn't sure what.

"We've heard of some things, we know they're out there, but I don't think there's anything where an announcement is imminent," she said. "As far as I know, everything is still in the planning stages."

Or, more often, in the stand-pat-and-wait-for-better-times stages.

John C. Snell, appraiser, consultant and owner of Fishers-based Snell Real Estate Evaluation Co., said anyone who can afford to is sitting on their properties and waiting for better times.

Another alternative is to move forward with a greatly scaled-back plan. Experts say smaller sums of money (say, in the $5 million to $15 million range) are becoming slightly easier to procure. Plus putting something, anything, on an empty lot can at least generate revenue.

"If you had a grand plan in 2007 and you badly want to develop in 2010, you may come out of the ground with a downscaled project because it meets your need to move," Snell said. "You may do it in phases or simply redesign the project to get something done in the short run."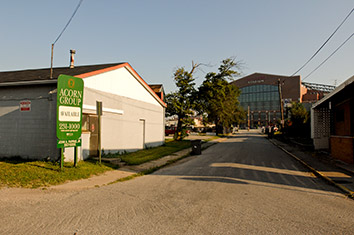 Some observers question whether the location will ever attract much redevelopment. (IBJ Photo/Robin Jerstad)
Ryan Zickler, lead developer for the SoDo project, has elected to neither stand pat nor take the project downscale. Late last summer, retailers and hoteliers got cold feet about the massive effort, stopping the ambitious scheme dead in its tracks. Zickler asserts that he doesn't want to downsize something he calls "an asset for Indianapolis," so SODO Indy LLC, which is owned entirely by Zickler Associates, a company founded by him and his father, Lou Zickler (with co-owner Tim Shrout of Cedar Run Investments), plans to sell off the 6-1/2-acre parcel already assembled for the complex.

Zickler figures it could be five years until something the size of SoDo could be contemplated once more for the Lucas Oil vicinity. And he doesn't rule out the possibility of trying to do it again himself, should the stars align properly.

"I absolutely believe that there will be buildings standing, there will be vibrancy, there will be lit streets and people walking and a pedestrian-friendly, mixed-use district," he said.

Tim Dora is somewhat more circumspect about the area's prospects, economic recovery or no. He never thought Lucas Oil Stadium could be a reliable engine for a retail and residential renaissance.

"Some of it had to do with comparable projects like United Center in Chicago. If you look at how it impacted the neighborhood around it, you really didn't see anything like what was talked about here," Dora said. "Even Conseco Fieldhouse, if you look at how it impacted the surrounding neighborhood, it doesn't seem like it was really the stimulus for any of that [development]. What's around Conseco happened on its own."

Indeed, he thinks the presence of a massive sports venue—and the massive crowds and traffic snarls it generates—hardly qualifies as an attraction.

"It's almost more of a negative than an asset for most commercial uses," Dora said. "Just because of the periodic traffic and noise and crowds. If you lived there, I don't know if the tailgating is going to turn you on, or having people crawling all over your place 10 nights a year."

Still, Hohmann believes the area, with its proximity to IUPUI and the Indiana Convention Center and near-south-side corporate campuses, has potential for long-term growth. It just won't happen overnight.

"But that's not to say that the whole area is in the deep freeze," Hohmann said. "Once the economic problems clear up, all those benefits will still be there."•