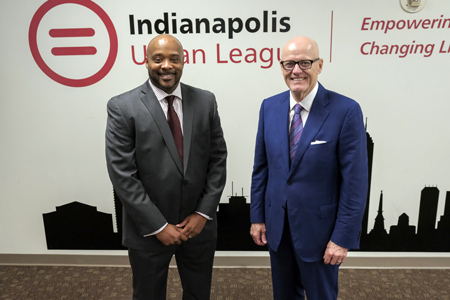 Although Jim Hallett runs a business that sold 5.5 million used vehicles in 120 countries last year, he also knows firsthand what life is like without a car.
"That was the kind of family I grew up in," said Hallett, CEO of Carmel-based KAR Auction Services.
His family lived in Lyn, a small village in eastern Ontario. Hallett's father died when he was a child and his mother didn't drive—not that the family could afford a car, anyway.
Driven by that experience and his entrepreneurial spirit, Hallett, 65, is determined to tackle the transportation problems of struggling Indianapolis residents.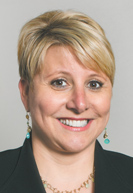 Murtlow
Hallett's idea is to personally purchase and donate a few vehicles to not-for-profits that will use them to connect people with jobs and medical care.
He's working with the Indianapolis Urban League and Community Health Network, which will be the first two groups to receive donated vehicles. The donations should take place by the first quarter of next year.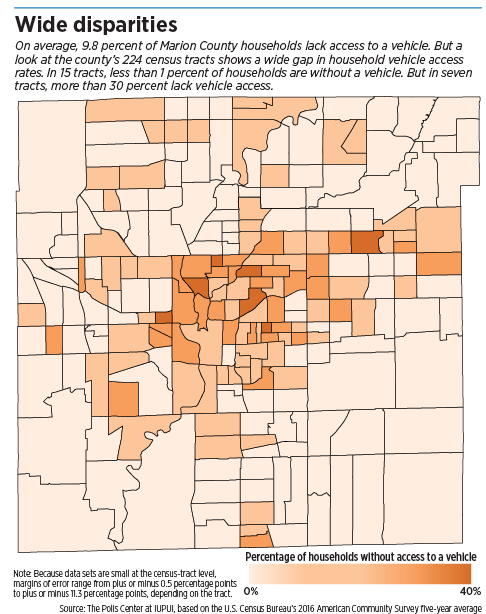 Down the road, Hallett envisions other donors stepping up to provide vehicles to various organizations, creating a mobility fleet that could fill the gaps in the city's existing transportation system.
"I dream about the day we could have 100 or more cars driving around the community," Hallett said.
It's an idea that resonates with Ann Murtlow, president and CEO of United Way of Central Indiana. "There's no doubt that there's a need for this."
Some local not-for-profits own a transit van or two, Murtlow said, but transportation for their clients is still a challenge. At the same time, the lack of reliable transportation can make it hard for individuals to find—and keep—a job.
"This is a huge issue for our employers," Murtlow said.
Linebarger
When his idea was in its earlier stages, Hallett approached Murtlow for advice and she referred him to the Urban League as a starting point.
The Urban League's president and CEO, Anthony Mason, said Hallett's plan is "a major partnership and a blessing" for his organization. "This could be a major opportunity to provide the additional support that's needed to help families transition to self-sufficiency."
In any given month, the Urban League serves 200 to 300 clients and its total caseload numbers in the thousands, Mason said. "A significant number of them either do not currently have transportation, or they ride the bus," he said.
The organization spends thousands of dollars a year on bus passes and gas cards to help address the problem, Mason said. But even that is inadequate. "We all collectively know that, while IndyGo is improving, it's not necessarily going to solve all the transportation issues that our clients face."
With the vehicles Hallett will donate, Mason said, the Urban League plans to establish set routes to transport clients to job sites around central Indiana. Mason envisions possible routes to sites in Marion, Johnson, Hendricks, Boone and Bartholomew counties, and perhaps as far away as Decatur and Tippecanoe counties.
"Much of this is very much in the planning stages," he said.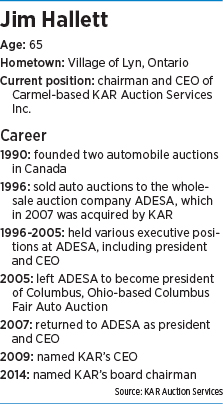 Hallett is not the only one working to address local mobility issues.
A coalition led by the Central Indiana Community Foundation is in the early stages of developing what it's calling the Central Indiana Personal Mobility Network. The project aims to use technology to make it easier for people to access local transportation options.
The effort is one of six projects nationwide that has been selected to receive a year's worth of free consulting services from the Chicago-based Shared-Use Mobility Center.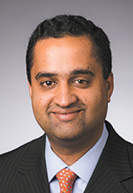 Subrahmanyam
The project's supporters include Cummins Inc. CEO Tom Linebarger, who chairs the mobility network's corporate advisory committee. When Linebarger learned about Hallett's efforts, he invited the KAR executive to join the group. Hallett accepted.
"I look forward to learning more about his model at our next meeting in mid-November," Linebarger said in an e-mail.
Meanwhile, Hallett continues to refine his idea, which he's approaching with an entrepreneurial mindset. He's starting on a small scale that can be launched quickly, even as details are still being worked out.
"You actually figure things out on the fly," Hallett said. "There are going to be a lot of learnings here that we hope to share."
He's tapped Srisu Subrahmanyam, chief operating officer at KAR subsidiary ADESA, to help him with planning and logistics.
"It's simple to say we're going to deploy fleets. The minutiae under that, we need to make sure we can execute," Subrahmanyam said.
For instance: How many vehicles will each agency need? What metrics should be tracked to determine whether the project is having an impact? Will the program need to launch a call center or an app for fleet-management purposes?
Another detail: Hallett envisions Community Health Network using its donated vehicles to ferry patients to doctor's appointments. But because the mobility fleet will be launched on a very small scale, planners will have to set priorities around which patients to serve first.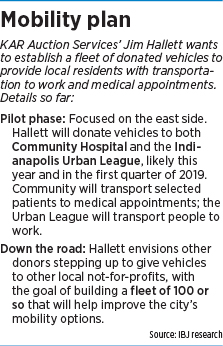 "These are not light decisions we're going to make," Subrahmanyam said.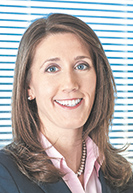 McCaw
Community Health Network said it's premature to talk about the project at this point, and it declined to comment other than providing an email statement from its vice president of business development, Wendy Horn:
"We know that without adequate transportation, many are unable to access health care services. Because Community is committed to enhancing health and well-being, we are actively pursuing ways to address the transportation issue in the hopes of improving the level of health care to all the communities we serve."
Hallett emphasized that the project is his undertaking, not KAR's, and that it is not a revenue opportunity for the company.
"This is not a KAR thing," he said. "This is a personal-interest thing."
That said, Hallett's career experience bodes well for the success of the venture, said Betsy McCaw, chief operating officer at the Central Indiana Corporate Partnership.
Hallett is a member of the CICP board, and he met with McCaw and the group's president and CEO, David Johnson, last summer to help refine his idea.
"He's just really got a kind heart and a smart business mind," McCaw said. "And that combination around this issue seems like a good mix."•
Please enable JavaScript to view this content.