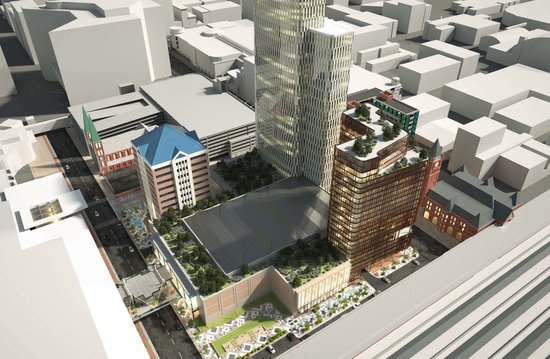 Indianapolis officials are planning a fifth expansion of the Indiana Convention Center plus two attached, privately-financed hotels at Pan Am Plaza, an effort to maintain and expand the city's valuable convention and tourism business.
The city plans to spend about $120 million to build a 50,000-square-foot ballroom and other meeting space, which would be connected by walkway to the convention center. Kite Realty Group Trust is to develop the two hotels — one with 800 rooms and the other about 600 rooms — which would also be connected to the new convention space.
The Capital Improvement Board has given the go-ahead for city officials to work out the final details but it will still be a year before the project could get started. And there are a number of unanswered questions.
Guest host Lindsey Erdody (in for Mason King) talks with IBJ reporters Hayleigh Colombo and Anthony Schoettle about the project, the city's convention business and what remains unknown about the Pan Am Plaza project.
Click here to read more about the project.
Click here to find the IBJ Podcast each Monday. You can also subscribe at iTunes, Google Play, Tune In and now at Spotify. Here are some of our recent podcasts:
IBJ Podcast: Breaking down Indiana's Senate race
IBJ Podcast: Developing a downtown neighborhood from scratch
IBJ Podcast: Why did a hard-core philosopher start a plumbing company?
IBJ Podcast: How an IU student turned her beekeeping hobby into a star startup
IBJ Podcast: Can Indy support its downtown hotel boom?
Please enable JavaScript to view this content.