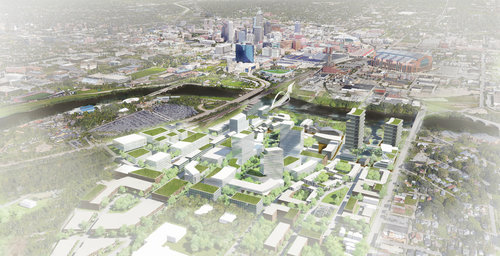 Just west of the White River and south of the Indianapolis Zoo is the site of the former GM stamping plant — 103 acres of mostly concrete that's been waiting for development for years. 
Now, Ambrose Property Group is unveiling more details about its plans for the site, including the project's name.
Still, the firm's president, Aasif Bade, is mum about whether the site is among those across the country that Amazon is considering for its planned HQ2, a $5 billion second quarters that promises as many as 50,000 jobs. 
Instead, Bade tells host Mason King when site preparation could begin, when specific plans for buildings will be unveiled and why the riverfront is so important to the project.
Click here to find the IBJ Podcast each Monday. You can also subscribe at iTunes, Google Play, Tune In and now at Spotify. Here are some of our recent podcasts:
IBJ Podcast: Why did a hard-core philosopher start a plumbing company?
IBJ Podcast: How an IU student turned her beekeeping hobby into a star startup
IBJ Podcast: Can Indy support its downtown hotel boom?
IBJ Podcast: The grape experts behind Indiana's wine resurgence
IBJ Podcast: Park debuts with perch over two interstates
Please enable JavaScript to view this content.