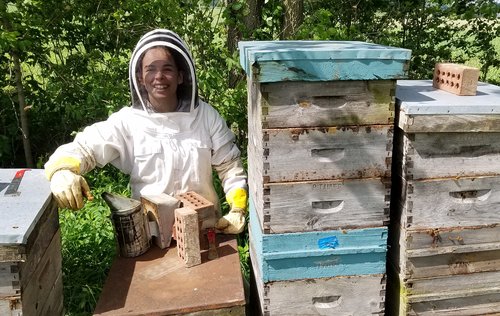 Ellie Symes, a rising star in the Indiana's tech ecosystem, leads The Bee Corp., a data-analytics firm that helps bee keepers and growers optimize the pollination of their orchards and fields.
Symes, who started the company while a student at Indiana University, appeared on stage at the Forbes AgTech Summit in Indianapolis and the company was part of the event's startup showcase. 
She talks with podcast host Mason King about being a young entrepreneur, taking risks and pivoting when you have to to make your company stronger. We also learn she's become allergic to bees! 
Click here to find the IBJ Podcast each Monday. You can also subscribe at iTunes, Google Play, Tune In and wherever you find podcasts. Here are some of our recent podcasts:
IBJ Podcast: Can Indy support its downtown hotel boom?
IBJ Podcast: The grape experts behind Indiana's wine resurgence
IBJ Podcast: Park debuts with perch over two interstates
IBJ Podcast: What will it take to turn the Brickyard 400 around?
IBJ Podcast: Why business execs say the state needs a hate-crime law
Photo courtesy of The Bee Corp. 
Music credit: Boogie da Bee by texasradiofish (c) copyright 2017 Licensed under a Creative Commons Attribution Noncommercial (3.0) license. Ft: Sprezza, tiltededge, Kara Square, ElRon XChile, Stefan Kartenberg, rocavaco, Javolenus, reg7783
Please enable JavaScript to view this content.