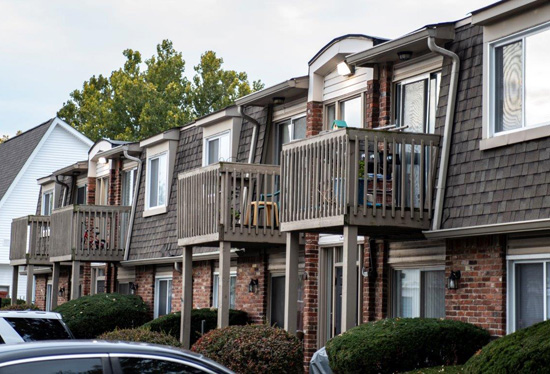 An Indianapolis-based real estate firm that specializes in upgrading apartments has received an assist from the city worth $19 million for rehabilitating a south-side complex for use by low- and moderate-income renters.
Birge & Held, which owns and manages dozens of complexes around Indiana and beyond, expects to spend more than $10 million on upgrades to the 50-year-old Regency Park South apartment community at 5524 Rue Royale.
The 304-unit complex will be converted into one of the largest below-market-rate housing complexes on the city's south side.
Birge & Held's project cleared its final financial hurdle on Oct. 29 when the Indianapolis City-County Council in a 19-3 vote approved issuing $19 million in bonds to Birge & Held to finance the project.
Subtracting the $10 million in renovation work, the balance of the $19 million would help cover the price of acquiring the complex, legal fees and design and financing costs.
With municipal authority to issue bonds, the city essentially acts as a pass-through. Birge & Held in turn will sell the bonds to investors–typically large banks–and will be on the hook for complete repayment of the bonds, according to Deputy Mayor Jeff Bennett.
"We're excited to transform this community into a structure that preserves affordability," Jarod Brown, managing director of Birge & Held, told IBJ on Oct. 30.
"It's no secret we have an affordable housing crisis in this country," Brown said. "This project is a model for our affordable housing initiative which will help alleviate the scarcity of affordable housing for Indianapolis and other markets."
The 17-acre Regency Park South, located a few blocks south of Interstate 465 and just west of U.S. 31 on Epler Avenue, historically has been leased at market rates. However, Brown said, many units are currently occupied by people living below the area's median income level.
It's split between two-story townhouses and one-, two- and three-bedroom flats. The property has seen limited renovations and improvements since it was built in 1968.
Updates to the property are expected to include new roofing, windows, doors, cabinets, fixtures and flooring, as well as updated and energy-efficient appliances, water heaters and furnaces. About $34,000 is expected to be spent per unit, totaling more than $10.3 million.
Exterior improvements will include landscaping and a new, 1,700-foot sidewalk along Epler Avenue to a nearby IndyGo bus stop. Upgrades also are planned to make the complex more accessible for people with disabilities. Work on the project is expected to conclude by the end of 2019.
"This is a significant, deep rehab of a community that needs it, and on a property that, if somebody doesn't spend the money on it, it's going to continue to deteriorate," Brown said.
Birge & Held also applied for a 4 percent Low Income Housing Tax Credit (LIHTC) through the Indiana Housing and Community Development Authority. The credit is expected to be a dollar-for-dollar federal income tax reduction and does not apply to Indiana's income tax.
The project will serve residents who make at or below 60 percent of the area median income, Brown said. He noted that tenants who make more would not be immediately displaced, but that their leases would not be renewed.
Thirty units will be made available to veterans, and another 30 units will be allocated to single parents affiliated with Dove Recovery House, a program for women recovering from substance abuse.
Birge & Held owns and operates more than 8,000 apartment units across Indiana, Ohio, Kentucky, and Tennessee, including more than one dozen large complexes within the Indianapolis area. The company was started in 2008 by Taggart Birge and Andrew Held.
Most of the firm's work, Brown said, has been in the market-rate housing sector. The Regency Park project is the firm's first foray into affordable housing.
Rehabbing low-income housing is significantly cheaper than building new complexes for the same purpose, Brown said.
Please enable JavaScript to view this content.