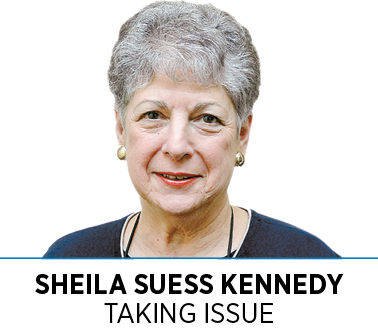 This column is being written in the immediate run-up to the midterm elections, when most of us are understandably fixated on national issues. A couple of recent events, however, triggered my recollection of Voltaire's advice in "Candide" to "cultivate our garden."
There's a limited amount that most of us can do to affect national policy, which is certainly not to say we shouldn't vote, advocate and do our best to persuade our fellow Americans of the value of our positions. But we really can make a difference locally.
Here are just two examples.
I recently talked with Bryan Fonseca about the mission of his new theater, in the River West neighborhood. River West—consisting of four neighborhoods adjacent to downtown and the IUPUI campus—has few amenities and many immigrants, minorities and working-class residents. Bryan wants his theater to give voice to these minority communities through the prism of purposeful theater and opportunities for civic engagement. He intends to offer informational and community-building activities that will empower residents.
It's exactly the sort of endeavor that creates community and brings people together.
Then there's Christian Theological Seminary's "Faith and Action" project. Along with some 3,000 other people, I attended the project's recent event at Clowes Hall, featuring Michelle Alexander. Alexander—author of "The New Jim Crow"—was joined by Michael Huber of Indy Chamber, Angela Carr Klitzsch of EmployIndy and Frank Thomas of CTS.
Alexander was especially powerful. She shared her experiences as a civil rights lawyer, and the incidents leading to her realization that thousands of young people—primarily, but not exclusively, black—are being imprisoned for the same minor, non-violent offenses for which more privileged youngsters escape any significant consequences.
It is not an overstatement to say that, once incarcerated, these young people are viewed as criminals—and considered disposable.
Under skillful probing by moderator Don Knebel, the panel discussion traced the connections between incarceration and poverty, and especially the local impact of that connection.
Ex-offenders face incredible barriers to employment, housing, public services and reintegration into the community. Both Indy Chamber and EmployIndy are working with the City-County Council to reduce or eliminate those barriers and provide access to jobs and entrepreneurial opportunities.
As Alexander and Thomas both emphasized, reform of America's punitive criminal justice system is a moral matter as well as a prudential one. What's encouraging is that lawmakers of both parties have endorsed the necessity of reform; what's discouraging is that—thus far—that verbal recognition hasn't translated into much action.
One "takeaway" from a program filled with them, however, was this: While we wait for national reform of an unfair system, there is plenty we can do in our local "gardens." Businesses can hire ex-offenders. They can support the Chamber's Re-Entry Entrepreneurship Development Initiative, a program that provides business technical assistance in the form of a six-week workshop and one-on-one business coaching to currently and formerly incarcerated individuals. We can volunteer to work with one of the growing numbers of grass-roots organizations focused on the reintegration of ex-offenders (and if we aren't able, we can support those efforts financially).
Most important, we can ensure that our individual gardens make room for even hard-to-grow flowers, and we can pull out any weeds of indifference and bigotry that might be growing there.•
__________
Kennedy is a professor of law and public policy at the School of Public and Environmental Affairs at IUPUI.
Please enable JavaScript to view this content.