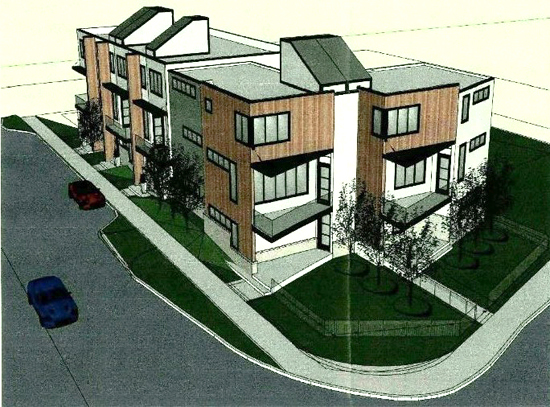 A $2 million townhouse development in a burgeoning north-side neighborhood, initially announced in July, could see construction start by the end of this year.
The project by Indianapolis-based Litz & Eaton Development Co. will add five 2,100-square-foot townhomes to the southwest corner of North Delaware Street and Fall Creek Parkway South Drive, furthering the redevelopment of the Fall Creek neighborhood that has taken place in recent years.
Developer Brad Litz, who also oversees Litz Real Estate, cemented a longstanding working relationship between the firm and custom home builder John Eaton in 2011 with the formation of Litz & Eaton Development.
Work on the Fall Creek Townhomes project is on track to start this year, if it's approved Wednesday – as anticipated – by the Indianapolis Metropolitan Development Commission, Litz said.
"We're expecting our final construction drawings within a week of that (vote)," he said. "Then we'll start the permitting process and … expect to begin work by the end of December."
The three-story townhouses, built on five lots across a quarter-acre property, are expected to have a uniform, contemporary design, with room for  customization to suit each buyer. The houses will be priced from $499,900 to $599,900 and will include a rooftop terrace, giving residents a view of the downtown Indianapolis skyline.
The first floor of each townhouse is expected to include a garage, as well as about 250 to 400 square feet of living space. The garages will be accessible using an alley to the west, at the rear of the property.
The homes are expected to be ready for residents to move in by mid-2019, Litz said.
Four of the five townhomes will have frontage facing North Delaware Street, while the other northern-most house will face Fall Creek. A house to the immediate west of the development, which is owned by another individual, is not expected to be affected by work on the townhouse project.
LItz said the project has seem some modifications in the months since it was first announced, including changes to yards, landscaping, privacy fencing and setbacks. He said the changes were made following extensive discussions with residents of the neighborhood, as well as the Fall Creek Homeowners' Association, the latter of which has voiced support for the project publicly.
The development group bought the land in August 2016 from Paul W. Eckert, for $100,000.
Litz said this development is about making a lasting impression on passersby about the continuing growth and revitalization of the Fall Creek neighborhood. He pointed to roadwork on the Delaware-Fall Creek Parkway South intersection as another reason for the project.
 "With all the new development that's been done in that area … I just really felt like that corner needed to be something iconic and something people remember," he said.
Fall Creek Townhomes isn't the only residential project on Litz & Eaton's agenda. Another high-profile development is planned in the Fletcher Place neighborhood, where the firm is constructing five built-to-suit townhomes priced at $799,900 per residence.
The Portofino project., at Warsaw and East streets, has a similar timeline to that of Fall Creek, though an exact date on which construction will commence hasn't been finalized.
The project was modified from its original count of 10 units to five, despite desires from neighbors to have more affordable, accessible housing stock in the area. Many houses in Fletcher Place have seen drastic price increases in recent years, with those currently on the market priced between $215,000 and $550,000.
Litz & Eaton also has a pair of other high-end townhouse projects planned for the area.
The Herron Morton project in the 1800 block of North Pennsylvania Street will have 13 upscale, three-story townhouses, while Liberty Place at Lockerbie Square will be a gated community consisting of a dozen homes. Those layouts will range from 1,400 to 3,000 square feet.
In its first year in 2011, Litz & Eaton saw annual revenue of about $1 million. The company is expected to bring in about $40 million this year.
Please enable JavaScript to view this content.