In New York, the word September is synonymous with fashion. That's not because fall is a more stylish season than the other three, it's because September is when Vogue debuts its guide to getting dressed for the next 12 months.
IBJ.COM EXTRA
Click here
to view the fashions mentioned in this story.
At 584 pages (skinny compared to past years), it's the thickest edition of the year. And with the publication of this national fashion authority commences fall fashion week, when trends predicted (and sometimes dictated) by Vogue are paraded down the catwalk so the public knows what it should wear tomorrow. Short skirts or long? Baggy pants or trim? Double-breasted jackets or two-button?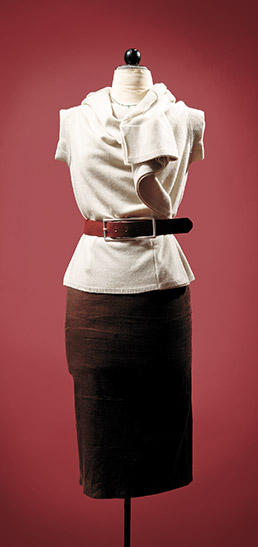 This cashmere shell by Rodriquez is great with a pencil skirt at the office or with a trouser jean for a casual look. (IBJ Photo/Robin Jerstad)

By comparison, September in Indianapolis means cooling temperatures and falling leaves. Local boutiques did not observe Fashion's Night Out on Sept. 10, a Vogue-promoted and supposedly international shop-till-you-drop, forget-the-economy-is-terrible extravaganza. And "The September Issue," a much-anticipated documentary by R.J. Cutler about the making of said magazine, won't open locally until Sept. 25, two weeks after it premiered in the Big Apple. (The moral of the cinematic story is that people who work at Vogue work very hard and, contrary to popular belief, fashion is a necessity.)

A Vogue subscriber since childhood, I can scarcely remember a month going by without ogling the style spreads carefully orchestrated by Grace Coddington, creative director of two decades. I even quoted the 2006 issue in my college honors thesis. But I've never tried reading the trends and immediately shopping them.

This year's guide made me wonder if that's possible in Indianapolis. Are Indianapolis fashion buyers just as hip to what Vogue says is cool—dramatic coats, '40s-inspired attire and textured suits—as anyone else?

I decided to go shopping and find out. Here's what I found in both the pages of Vogue and Indy boutiques:

Coats

• Blush tweed frock coat with metallic thread by Pink Polkadot, $152, at Niche (916 Broad Ripple Ave.) The store has only been open two weeks and I'm already impressed with its modern décor, sprinkled with nods to days past, e.g., carved wood organ-turned-cash register credenza.

• Taupe cowl-neck coat in tropical wool by Gary Graham, $900, at 8 Fifteen (6544 Ferguson St.).

• Boucle coat in camel with bracelet-length sleeves and faux collar by Milly, $640, at Nordstrom at Keystone. Perfect to wear with this season's accessory trend, gloves, this fall jacket is very Jackie O.

• Wool coat in moss green with oversized collar and pewter buttons by Rodriguez, $759, at Frankey's (1300 E. 86th St.)

1940s-inspired

• Short-sleeved wool plaid jacket in shades of brown with bias-cut asymmetrical peplum and leopard print belt, $498, "Collette" jacket by Nanette Lepore at Saks Fifth Avenue. Paired with a pencil skirt and black camisole, it's a modern take on Ingrid Bergman in "Casablanca."

• Navy dress in jersey knit with sharp shoulders and curvy seams at the hip, $1,175 by Temperley at Nordstrom at Keystone.

• Ruffled-front ecru pullover with short dolman sleeves by Rodriguez, $297, at Frankey's.

Textured suiting

• Black wool blazer with removable rabbit lining by Elizabeth and James, $795, at 8 Fifteen.

• Brown & black tweed jacket with black organza overlay by Dolce & Gabbana, $685, at Nordstrom at Keystone.



It took only a single shopping day to find these gems, a pleasant surprise. Things I thought would take a little hunting, like '40s-inspired items, were in some cases displayed on a mannequin rather than the rack.

That's not to say the places I've mentioned are the only shops doing such a stellar job keeping up with the trends. After all, the Indianapolis shopping scene has way more to offer than can be seen in one day, thank goodness.•

__________

If you'd like to share your own style ideas or know anyone who's making waves in the fashion community, contact Gabrielle at gposhadlo@ibj.com. This column appears monthly.