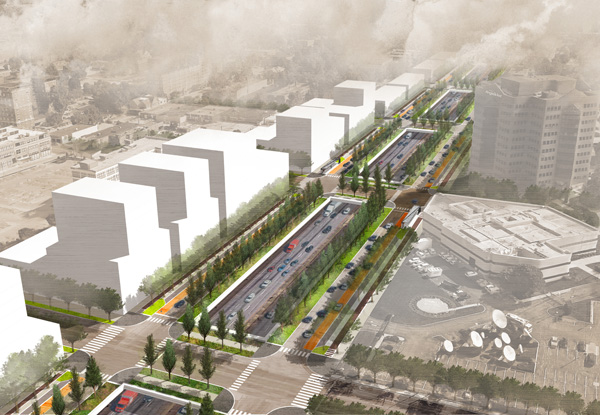 As state transportation officials move forward with a planned reconstruction of the north-split interchange, the Rethink 65/70 coalition says it has come up with an alternative vision for Indianapolis' entire downtown interstate system that would free up 83 acres of current right-of-way land for private development and parks.
The coalition is scheduled to share details of its plan and a report from outside consultant Arup Advisors at a public meeting at 6 p.m. Monday at the Indiana Landmarks Center, 1201 Central Ave. 
Plan details, including a map and an estimate of project costs, were not available Monday morning. But, in general, Rethink 65/70 is advocating a two-level highway system for the north, east and south legs of interstates 65 and 70—the so-called inner loop in downtown Indianapolis. 
Through lanes of interstate traffic would be moved below ground in a kind of open-air trench, while local traffic would travel on street-level lanes that would connect with all cross streets. Less land would be required for public rights of way, Rethink says, and thus the property could be put to other uses.
"In this scenario, approximately 83 acres of new land could be made available and transformed into new mixed-use development or parks and greenspace," Rethink member Paul Knapp said in an email.
Arup's study says those 83 acres includes 37 acres that could be used as parks, and another 46 acres that could be sold to private developers. 
If fully built, the Arup study says, those 46 acres could support 10.4 million square feet of office, residential and retail space, generating between $54 million and $66 million in new property tax each year from land that currently is public and thus generates no tax revenue.
This new tax revenue could be captured through the creation of tax increment financing districts or economic improvement districts to help pay for the road work, the study says. Other potential funding sources, the study suggests, could include public appropriations or grants.
"Full realization of the development potential could take decades," the study notes.
Rethink formed earlier this year to express its concerns with the Indiana Department of Transportation's planned north-split interchange reconstruction, which it first announced last fall.
After about a year of work INDOT released its preliminary plans for the project in September. Those plans, which INDOT refers to as Alternative 4C, won't add extra through lanes of traffic as INDOT had previously considered, which was a major source of Rethink's concern.
But Rethink says that INDOT's plans still don't address two of the coalition's goals—to increase connectivity between neighborhoods and to increase inclusive economic development in areas along the interstates.
"We hope our new design and new economic development facts will give the state pause and really consider these better ideas," Knapp told IBJ in an email. "Specifically, we will ask the state, [Metropolitan Planning Organization] and city to fund a detailed estimate of the cost of to modify INDOT's current plan for the north split to accommodate a depressed highway inner loop system." 
INDOT spokesman Scott Manning said his agency will be glad to review the Arup report, which as of Monday morning he had not yet seen.
But, Manning added, "at this point we are committed to moving forward with Alternative 4C."
As for the inner loop as a whole, Manning said, INDOT will do needed maintenance work. Aside from that, he said, "there aren't really significant major capital projects that are on the horizon for the inner loop, beyond the north split." 
 
Please enable JavaScript to view this content.