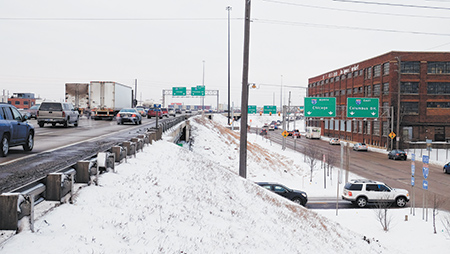 As the Indiana Department of Transportation moves forward with plans for a major construction project at the north split of interstates 65 and 70, a grass-roots coalition of residents with concerns about the project's impact on surrounding neighborhoods is also gaining steam.
INDOT made its first public announcement about the project in September, providing broad outlines of a plan to reconstruct the interchange on the northeast edge of downtown. The project, estimated to cost $250 million and last at least two years, would add lanes on both interstates, widening some bridges and adding others, while reconfiguring I-65 exit and entrance ramps along 11th and 12th streets.
INDOT is still refining its plans, and it will be at least 2019 before construction begins.
But those who live and work near the north split are raising concerns about how the project will affect their way of life. They want INDOT to consider alternative ideas—including some that would be a radical departure from INDOT's current plans.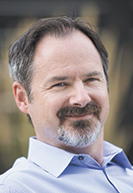 Osburn
One of the people at the heart of the effort is Kevin Osburn, managing principal at urban planning and design firm Rundell Ernstberger Associates. Osburn lives about two blocks north of Interstate 65, in the Old Northside neighborhood. His office is on East Market Street, just two blocks east of the I-65/I-70 leg that will be widened.
Osburn led design of the Indianapolis Cultural Trail and site design for IndyGo's downtown transit center.
"I spend nearly 100 percent of my waking life in downtown Indianapolis. [The north-split project is] a problem that concerns me on many fronts," Osburn said.
He teamed up with Meg Storrow and John Kinsella at planning and design firm Storrow Kinsella Associates to design an alternative vision for the project.
Their idea, which this month began appearing online and on social media posts, proposes turning the existing downtown interstates into what's called a multimodal road that would include space for pedestrian walkways and landscaping. Through-traffic would be routed either onto I-465 or through downtown underground tunnels.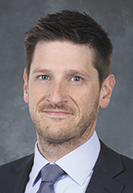 Schickel
The proposal highlights creative highway projects completed in other cities.
"What we're trying to build is a coalition of corporate and community leaders that can get behind the idea of doing something better and are willing to take this idea further up the channel to both the commissioner of INDOT and Gov. [Eric] Holcomb," Osburn said.
INDOT said its plan—and its budget—is focused on reconstructing what's already in place. That means upgrades to existing roads and bridges, reconfiguring some ramps to improve traffic flow, and adding traffic lanes in some areas.
"We're trying to fix an asset that we already have," said Seth Schickel, an engineer for INDOT contractor HNTB Corp.
The work is urgently needed, Schickel said, because the infrastructure has outlived its useful life span, and the interchange was designed to carry far fewer vehicles than the 170,000 that now pass through daily.
Osburn agreed improvements are needed. But INDOT's approach, he said, represents "a doubling down on that 1960s mentality of interstate design" that prioritized traffic flow over neighborhood impact. Some of Indianapolis' downtown neighborhoods, Osburn said, are still working to recover from the fragmentation and economic damage caused by the interstates.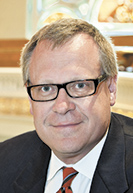 Davis
"We just think there's a better way to do this, and a more progressive and 21st-century-minded way of doing this," he said.
'Great concern'
Another of the coalition's members is Indiana Landmarks, a group that works to preserve historic properties around the state. The organization's headquarters is in the Old Northside neighborhood, on Central Avenue and within eyesight of I-65.
"We have great concern," said Indiana Landmarks President Marsh Davis. If the north-split project goes forward as planned, "we think it will be quite an adverse effect on historic neighborhoods, historic properties, even though they won't necessarily be [physically] touched."
INDOT officials say the agency is trying to complete its work without requiring additional right-of-way—or doing so only minimally. One option is to build up the grass berms on either side of the highway and use that space for additional lanes. INDOT would then install retaining walls that would prevent the need to obtain additional right-of-way for new berms.
But Davis said the walls would be much more obtrusive visually than the grassy slopes.
Indiana Landmarks hasn't taken a position on what the project should look like. At this point, the organization just wants to make sure other ideas get considered, Davis said.
"Some of the preliminary alternatives that have been presented are very conjectural. I think there are other alternatives beyond that that haven't been explored," he said. "We do need to bring in some experts to help us think this thing through."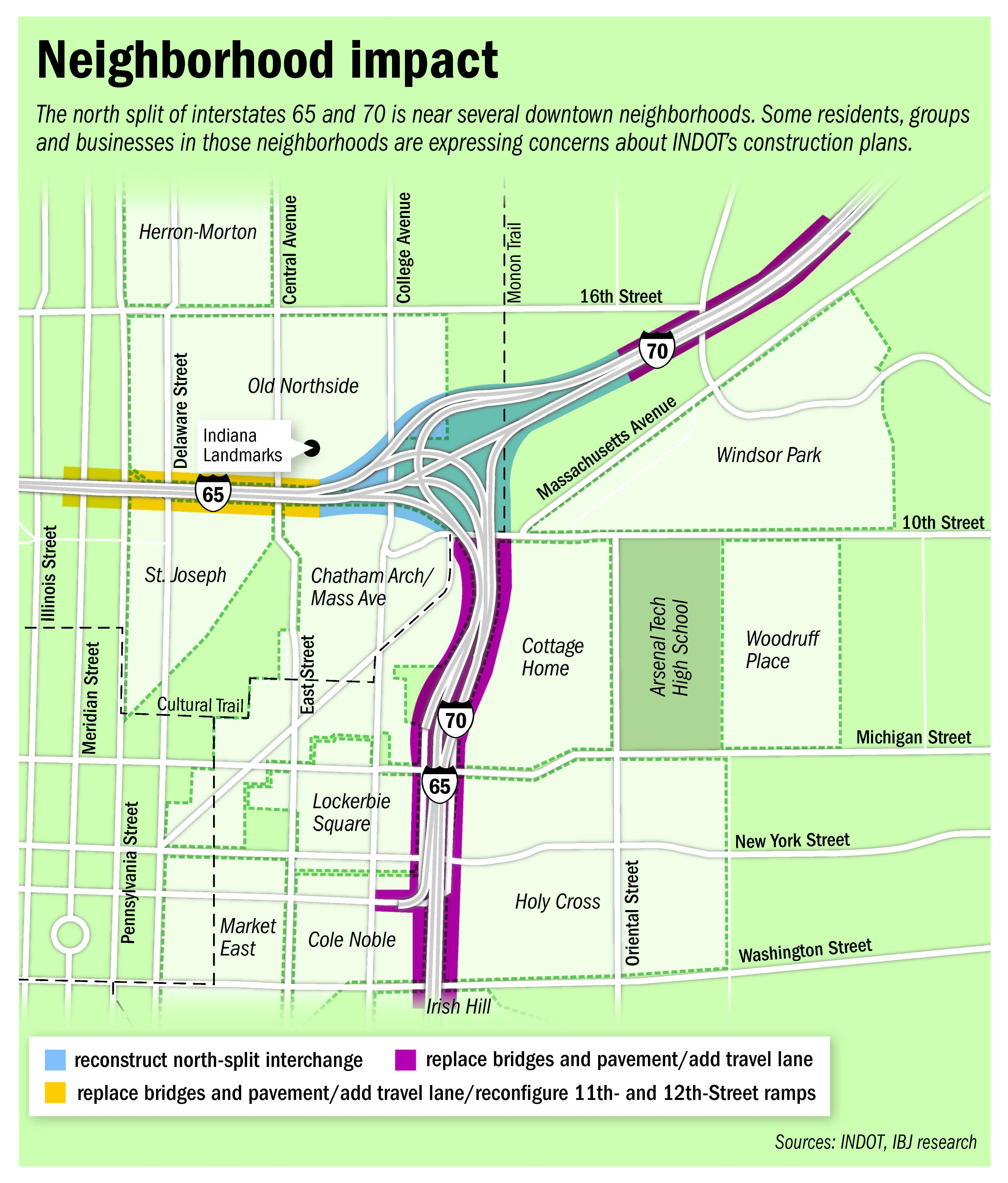 One big unknown of alternative plans is cost.
The plan put forth by Osburn, Storrow and Kinsella does not include financial information. Osburn said determining those costs would be a "next step" that could be part of a larger feasibility study. It's unclear at this point where that money might come from.
"It's clearly more expensive, but how much more is a question," said Bill Taft, executive director of Local Initiatives Support Corp. of Indianapolis. The group, also known as LISC, is a community development corporation that provides financing, advice and support to distressed neighborhoods.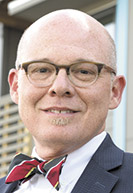 Taft
The extra cost shouldn't necessarily be a deal-killer, Taft said. A double-decker road concept like the one proposed by Osburn would mean the roadway wouldn't need to be as wide as it is now. The state could sell off excess right-of-way property to commercial developers, using proceeds from the land sales to help offset project costs.
"I think there might be some creative ways to approach this," Taft said.
Indiana Landmarks hasn't yet formally met with INDOT officials, but the organization will be part of a project meeting Jan. 26 between INDOT and invited parties. The meeting, a standard part of the federal project-planning process, will focus on the project's potential impact on historic structures and resources.
More creative solution?
Another member of the coalition is Historic Urban Neighborhoods of Indianapolis, or HUNI, which represents the city's 25 historic neighborhoods. About a third of those are adjacent to the north-split area, said Marjorie Kienle, an executive board member and immediate past president at HUNI.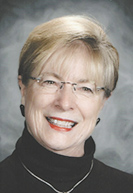 Kienle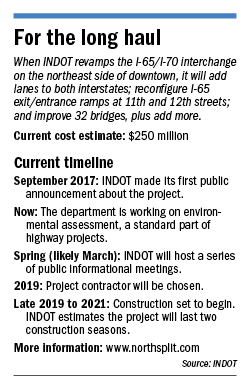 Kienle lives about a block and a half from the interstate, in Lockerbie Square. Vibrations from traffic knock the pictures on her walls askew, she said, and black dust—tiny particles from car tires—accumulates inside her kitchen cabinets.
She worries that the north-split project, especially the additional lanes of traffic, will cause further disruption. As HUNI has shared information about the project with its member neighborhoods, Kienle said, residents and businesses in those areas have also shared concerns.
In the wider picture, she said, a more creative solution could spur economic development and improve the city's quality of life.
"We want a solution that focuses not just on getting traffic through and rebuilding bridges, but making it a livable place," she said. "If it's done right, it can be a real economic opportunity."
HUNI is not advocating any particular solution, Kienle said. Rather, it wants INDOT to slow down and take time to investigate other options.
"Our position is that we would really like the state to take a pause," she said. "We'd like to have time to consider all the possibilities."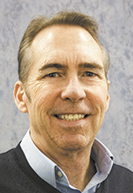 Dietrick
INDOT spokesman Andy Dietrick said the north-split project needs to more forward without delay, especially given the condition of the existing infrastructure.
At the same time, Dietrick said, INDOT's planning process does include room for public input.
"We are more than happy to talk to any group," he said. He added that the agency has met both formally and informally with members of the north-split coalition.
Kienle said she was not encouraged by a coalition meeting with INDOT several weeks ago. "We've asked if they would consider alternatives, and that didn't sound like it was going to happen."
As more people learn about the project and make their concerns known, INDOT might be persuaded to listen, she said.
Osburn said he, too, is optimistic. "We've done this before. A lot of people thought the Cultural Trail was a crazy idea—but we did it."•
Please enable JavaScript to view this content.