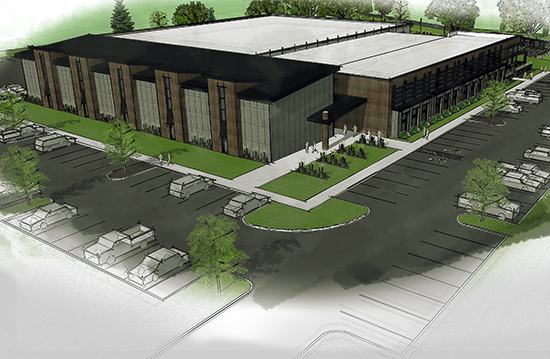 The city of Fishers and two local businessmen on Thursday announced plans to open an 85,000-square-foot design center along the proposed Nickel Plate Trail that will include a showroom, office and warehouse space, and a makerspace for hobbyists, entrepreneurs and students.  
David Decker, founder and CEO of ACo, a kitchen, bath and flooring dealer in Carmel, and Travis Tucker, president of OnPoint Real Estate Solutions, plan to spend $14 million to build Hub and Spoke Design Center.
OnPoint will be the developer for the facility, which will be constructed on 106th Street just west of Interstate 69 along the Nickel Plate Railroad, which Fishers plans to transform into a trail. The city anticipates the center will open in fall 2019.
According to Hub and Spoke's new website, the design center will bring 142 jobs to Fishers.
The city said the Hub and Spoke will be a center of activity for the homebuilding and design industries and will operate alongside a makerspace that is intended to be an educational space for young and adult residents.
Its mission is to "foster a forward-looking environment that supports purpose, innovation, and collaboration," officials said.
Initial tenants for the office space include Battersby Danielson Azbell and Associates, Franklin Window & Door, ACo and OnPoint.
Decker said for about 15 years he's wanted to open a design center like the Indiana Design Center in Carmel that also features a community atmosphere for home building and design entrepreneurs to learn from one another and share resources and customers.
He and Tucker said they intend to leverage Hub and Spoke's makerspace and Community Connect area to grow awareness of career paths in the skilled-trade industry.
Labor shortages in the trade industry have contributed to students' lack of exposure to trade experiences as part of their primary and secondary education, Decker said. Hub and Spoke hopes to eliminate barriers to those experiences and provide students a place to explore trades as a career.
The center will work with college institutions and Hamilton Southeastern High School to support students seeking degree-required careers such as construction management, architectural design and engineering.
As part of the partnership with Decker and Tucker, the city has agreed to waive city fees associated with building the project, and the Fishers City Council will consider a 10-year real property tax abatement at Monday's meeting, city spokesperson Ashley Elrod told IBJ.
The city has also agreed to hold the master lease for the office space, while also leasing the makerspace, she said. Details of the leases are still being worked out.
"David and Travis' entrepreneurial stories are inspiring," Fishers Mayor Scott Fadness said in written comments. "Hub and Spoke deepens Fishers' commitment to entrepreneurs of all industries. We're on a mission to connect residents to their passions, and David and Travis' leadership in our community will help us bring that mission to fruition."
Please enable JavaScript to view this content.