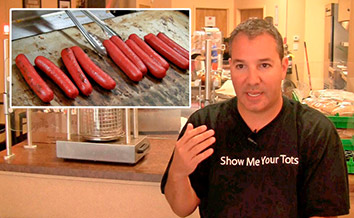 The owners of King David Dogs plan to close their downtown eatery, 12 years after they revived an Indianapolis hot dog brand with the restaurant's opening.
Brent and Hannah Joseph said Wednesday on Facebook that they will shut down their location at 135 N. Pennsylvania St., on the ground floor of BMO Plaza, on the day before Thanksgiving.
"We are sad to announce that the downtown Indianapolis King David Dogs location will be closing on Wednesday, Nov. 21, 2018," the owners said. "We have loved serving Indy our one-of-a-kind, all-beef, kosher-style hot dogs since 2006, but the time has come for owners Brent and Hannah Joseph to focus on new projects."
Brent Joseph said he is working on a Carmel-based private catering and events business called Mercenary BBQ, which specializes in smoked meats.
Hannah Joseph will continue her work representing small businesses and entrepreneurs as an attorney at Indianapolis-based Katz Korin Cunningham PC.  
King David's quarter-pound dogs are made using a recipe that dates to the 1940s, when Brent Joseph's grandfather and great uncle started Indianapolis-based Hene Meat Co. after immigrating to the city from their native Germany. Located at 16th Street and Capitol Avenue, the company offered a wide array of meat products, but the most popular was the signature "King David" hot dog that also sold in area grocery stores. Hene Meat Co. ceased operations in 1993.
Brent and Hannah Joseph resurrected the brand in 2006 by opening a 24-seat restaurant at 15 N. Pennsylvania St. Brent Joseph found the original recipe for the franks in a family attic—written in the original German—and cut a deal with Milwaukee-based Usinger's Famous Sausage to produce the hot dogs.
The restaurant moved to its present 70-seat location in 2011.
The King David Dogs location at the Indianapolis International Airport, which opened in 2008, will remain open. An airport concessions firm operates that location under a licensing agreement with the Josephs.
In addition to the airport, King David hot dogs will continue to be sold by Mercenary BBQ, and by Piazza Produce in wholesale packs.
Early last year, the Josephs teamed with Carmel-based CZ Growth Strategies LLC to franchise kiosk-sized versions of the restaurant that could fit in a convenience store, but the plan has yet to take off.
Please enable JavaScript to view this content.