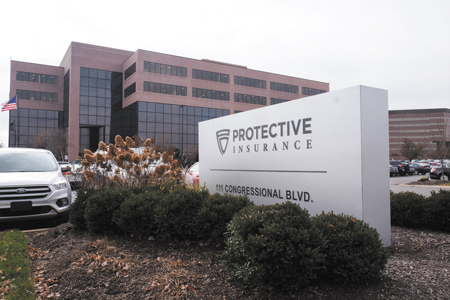 One of central Indiana's oldest public companies—a trucking insurer long known as Baldwin & Lyons that recast itself as Protective Insurance Corp. this summer—has skidded into red ink and now is pursuing "potential strategic partnerships or transactions."
The phrasing often means a company has put itself up for sale. Officials with the Carmel-based insurer—which has more than 500 employees and annual premiums topping $505 million—declined to comment on its intentions or its recent performance problems.
Protective in recent months has seen a rash of executive and board departures, including CEO Randall Birchfield and Executive Chairman Steven Shapiro—turmoil capped by the Nov. 7 announcement that it lost $12.3 million in the third quarter.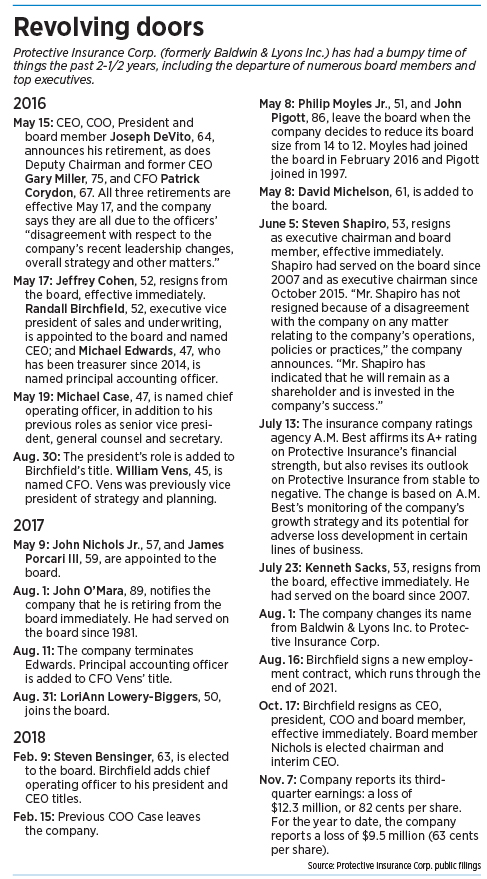 Birchfield resigned abruptly in mid-October, only two months after signing a new employment contract that would have kept him at the helm through 2021. Shapiro, whose Chicago-area family has been a major shareholder of the company for decades, stepped down in June.
On the same day it revealed Birchfield's departure, Protective announced that its board had formed a committee to "explore opportunities to maximize long-term shareholder value" that could include "potential strategic partnerships or transactions."
Protective disclosed the developments in a series of public filings, but it declined IBJ's request to provide additional details and explanation.
"At this point, we have no comment and will let stand the public notices that we have previously issued on the various topics," said Matt Thompson, Protective Insurance's executive vice president of sales and marketing.
A message IBJ left via LinkedIn for Birchfield, 53, was not returned. Nor was a phone message left for Shapiro, 53.
Protective—which dates to the founding of the H.C. Baldwin Insurance Agency in Indianapolis in 1930—has maintained a low profile through most of its history. Founder Harry Baldwin was joined in 1944 by Voris Lyons, and together they steered the company into providing insurance coverage for trucking fleets. The firm went public as Baldwin & Lyons in 1969.
The company blasted into the headlines in May 2016 when three longtime executives, including then-CEO Joseph DeVito, resigned in protest over leadership changes and strategy issues. DeVito had been with Baldwin since 1981. The three together had been with the firm 124 years.
In an emotional resignation letter, DeVito said he had felt increasingly hamstrung since the appointment of Shapiro to the newly created position of executive chairman seven months earlier.
"The elevation of Steve Shapiro to the position of executive chairman and subsequent actions and decisions made by Steve have significantly reduced my authority, and thereby my ability, to properly and appropriately run the company," he wrote.
"This is not intended to be a criticism of Steve as a person, however, in my opinion, he does not have the necessary background or experience to serve in that capacity. I believe he was assigned that position, not due to any qualifications or background that would merit the appointment, but rather as a result of his family's ownership of stock."
Since then, public filings show, nine additional company leaders, both executives and board members, have left the company for various reasons. In a June press release, Birchfield suggested Shapiro was stepping aside because his work was complete after helping the company through "a period of management transition" and assisting with development of a plan "to grow the business and increase shareholder value."
The company, which has a market value of about $321 million, has yet to see that spike in shareholder value. Protective's shares have been roughly flat over the past five years—a span when the overall stock market, as measured by the S&P 500, has risen more than 50 percent.
Shapiro continues to own shares of the company, and his father, Nathan Shapiro, and uncles, Robert Shapiro and Norton Shapiro, remain on the board. Members of the Shapiro family and associated business interests own 49 percent of Protective Insurance's Class A stock and 20 percent of the company's Class B stock, according to public filings.
Gunning for growth
The company has seen rapid growth over the past few years—which one outside observer familiar with the company sees as part of the problem.
"They grew much, much faster over the last couple of years than they did in the last 10. … and that was really, really stupid," said Jeffrey Bronchick, a former Protective Insurance investor who is founder, principal and portfolio manager at Los Angeles-based Cove Street Capital.
The company's gross premiums written rose $101 million, or 25 percent, in 2017, reaching $505 million. That was a huge change from past practice. Over the prior five years, gross premiums written increased a total of only $62 million.
But as Protective wrote more coverage, its claims experience deteriorated. Losses incurred on insurance coverage swelled to $248 million in 2017. In 2016, the last full year DeVito was at the helm, it was $186 million.
Through the first nine months of 2018, Protective reported gross premiums of $430 million, up 19 percent from a year earlier. But the company reported losses incurred on policies of $244 million and an overall loss of $9.5 million. It had earned $1.8 million in the same period a year earlier.
"This is like a giant red flag," Bronchick said.
He interprets the performance as indicating that Protective achieved rapid growth by loosening underwriting standards, raising the risk of paying more out in claims. And once a policyholder submits a claim on an accident, the insurer is potentially on the hook for the losses, even if it terminates the policy.
The New Jersey-based insurance-rating firm A.M. Best also has expressed concern about Protective's growth.
In July, A.M. Best affirmed Protective's A+, or superior, financial strength rating, while also revising its outlook on the company from stable to negative.
A.M. Best said in a written statement at the time that its revised outlook "reflects the ongoing adverse loss development that it experienced in 2016 and 2017 and its rapid expansion into lines of business, which has driven this adverse development."
Between 2008 and 2013, Protective launched several new products, including professional liability insurance and property insurance.
In its 2017 annual report, the company said it had discontinued those products after experiencing "significant adverse loss development" in 2016 and 2017.
'Disappointing'
In an earnings call with investors this month, John Nichols Jr., who is board chairman and is serving as interim CEO, called Protective's third-quarter results "disappointing" and said the company needs to raise rates in response to rising costs stemming from claims that end up in litigation.
"These cases are taking longer to settle because they're seeking higher damages, they're spending more time on accident reconstruction, they're spending a lot more money pursuing these higher limits and these have judgments. … And we don't expect it to abate anytime soon," Nichols said during that call.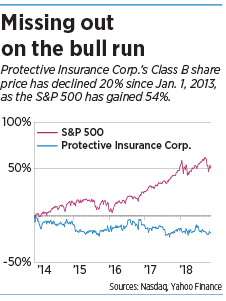 In response to this trend, he said, the company plans to be more aggressive in instituting rate increases.
"We have historically been more cautious in applying rate increases, gradually blending them in over two or three renewal periods rather than all at once. This approach has not worked and will be changed," Nichols said.
Although Bronchick used to be a Protective investor, he said that, as things stand now, "I would not buy this stock for any amount of money."
But a current institutional investor has a different take.
"It may be that some of these newer products that they've gotten into, they're not as good at as they are with the other products," said a representative of a large shareholder who spoke on condition of anonymity.
The representative also pointed out that part of the reason Protective has grown so rapidly is that the trucking industry is booming, in part because of the rise in e-commerce.
Memphis-based FedEx Corp. is Protective's largest single customer—the logistics company itself, and many of the independent contractors who drive its local routes.
The firm is on a growth tear and is in the midst of a $1.5 billion upgrade of its Indianapolis hub to support the expansion.
The investor said that, rather than putting itself up for sale, Protective might be exploring other options, including partnerships with other companies, acquisitions or a buyout of the Shapiro family's shares.
During Protective's earnings call this month, when an investor asked whether Protective had received offers or interest from outside parties, the company was tight-lipped.
"I have nothing to share in that area. So we've established the committee, we're evaluating alternatives, and we're going to evaluate how they apply to the business," interim CEO Nichols said.•
Please enable JavaScript to view this content.