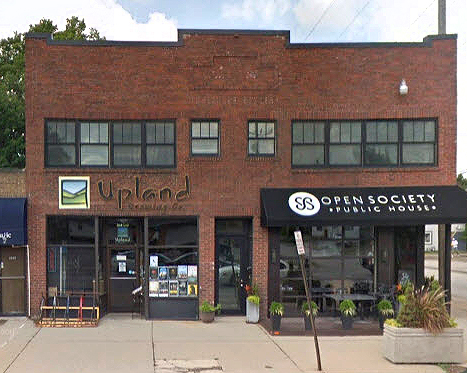 On the heels of an extensive summertime renovation, Upland Brewing Co. has announced plans to pair its College Avenue tasting room with a space next door that previously housed a restaurant and bar and will serve as an eatery
Upland opened the tasting room at 4842 College Ave. in 2009 as its first venture outside its hometown of Bloomington. As part of the latest plans, the tasting room will take over the former location of Open Society Public House on the southwest corner of 49th Street and College Avenue. The addition will debut by year's end.
The new eatery space, open to all ages, will increase capacity to about 150, including a new private event space for meetings and small group gatherings. And Upland will introduce a seasonal menu with locally-sourced, Midwestern cuisine.
The fare will include children's portions and plant-based foods. The Upland facility also will carry a three-way liquor license to allow patrons to order craft cocktails.
The expansion also will bring more of the thing for which Upland is best known: beer. Remaining 21-and-up, the tasting room will add more beers, as well as nitro coffee and cocktails.
"Slated for a New Year's Eve grand opening, the two spaces will allow for a more authentic Upland experience including seasonal food menus, expanded beverage options and live music," the brewery said in a news release.
Open Society Public House opened in 2016 and featured mostly American cuisine, although it initially offered a South American-inspired menu. The locally owned restaurant closed in September.
The entirety of the 4,200-square-foot building will be occupied by Upland, which rolled out an open-concept layout to its existing tasting room space in July. Changes to the dog-friendly bar at that time included a modified layout for more seating and an increase in draft lines from six to 10.
The modified 21-and-up space allows for more tastings and educational programming opportunities, according to the brewery.
Upland has another venue in the Indianapolis area—the Carmel Tap House, 820 E. 116th St.—and multiple brewpubs and restaurants in Bloomington and Columbus. A new, 13,000-square-foot Fountain Square location is also in the works. That project is expected to include a brewery, restaurant, beer garden, drinking hall and bike shop and is planned for a spring 2019 opening.
Upland launched in 1997 and features a variety of beers including sour and barrel-aged varieties. Its brands include Wheat Ale, Dragonfly IPA and Champagne Velvet.
Please enable JavaScript to view this content.