The Indiana Alcohol and Tobacco Commission has voted to deny liquor and wine permits for Southern Wine & Spirits of America Inc., the nation's largest liquor distributor, citing concerns over a track record of anti-competitive behavior.

The commission last year had informed the Miami-based company's local subsidiary, Southern Wine & Spirits of Indiana Inc., that it wasn't eligible to distribute liquor in Indiana "due to the owners being from out of state."

But the commission offered a new rationale for its formal denial on Sept. 15, after the Indiana Attorney General's Office issued an opinion that the state's arcane residency requirement for liquor distributors violates the commerce clause of the U.S. Constitution and would not stand up to a pending legal challenge.

Opponents of a permit for Southern fear the company would poach brands from existing Indiana-based distributors and launch a regional model, using hubs in Chicago and Louisville to serve markets here, thereby eliminating hundreds of local jobs. They also say booze prices for consumers would rise if Southern, which already distributes in 30 states including Illinois, Ohio and Kentucky, could wrest control of the Indiana market.

The company that stands to lose the most from Southern's entering the market, locally based National Wine & Spirits Inc., has fought most vigorously to stop it.

CEO James LaCrosse told the commission that Southern would put his company—Indiana's largest wine and spirits distributor, with more than 550 employees and 8,500 customers—out of business. He pointed to recently settled trade-practice violations by Southern subsidiaries in Illinois and New York.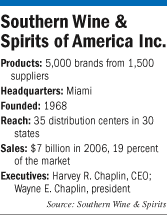 And he expressed concern over a joint-venture arrangement between Southern and Texas-based Glazer's Distributors, which in 1998 added Olinger, Indiana's second-largest wine and spirits distributor, as a subsidiary. The local owners maintain majority ownership, avoiding a violation of the residency restriction.

"What they've done is eliminate the competition for suppliers," LaCrosse said. "Southern is the 800-pound gorilla."

The state dropped its residency restrictions on beer and wine distribution several years ago, but liquor distributors lobbied to retain the requirement because they have more to lose. While beer distributors have franchise agreements with beer brands that give them perpetual exclusive rights, liquor brands can switch distributors without financial consequences.

Residency rules are a remnant from the end of Prohibition, when states sought to protect consumers by tracking the origin of all alcoholic beverage offered for sale.

An attorney for Southern, Byron Leet of Louisville-based Wyatt Terrant & Combs LLP, offered only a brief defense of the company's track record, apparently anticipating the commission's denial, which came in a unanimous vote.

"The sky is not falling," he said. "Southern is a very reputable company."

Southern, which distributes about 20 percent of the nation's booze, didn't wait for the formal denial to challenge the state in court. It sued the Indiana Alcohol and Tobacco Commission in December in the New Albany division of the U.S. District Court for the Southern District of Indiana, blasting the residency requirement in particular. The company successfully challenged a similar law in Texas, getting a federal judge to overturn it in May 2007.

"The effect of the resident ownership provisions is to protect Indiana residents currently holding liquor wholesaler's permits from out-of-state competition," the suit says.

Opponents of a permit for Southern describe the residency issue as a distraction. The real problem, they say, is Southern is quietly trying to build a monopoly through its joint venture deal with Glazer's.

Small retailers in particular would feel the pain of higher booze prices since they don't have the negotiating power of national chains, said John Livengood, president of the Indiana Association of Beverage Retailers.

"The losers are the local retailers and consumers," he said.

But an IU law professor who has followed the debate sees it differently. J. Alexander Tanford says allowing Southern Wine to enter Indiana could benefit consumers by offering more choices.

"Indiana is an underserved market," he said in February. "Southern Wine has much more product in their catalog they can distribute."•