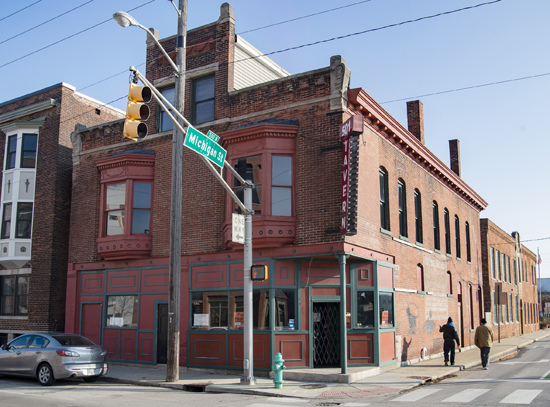 Efforts to restore a century-old building downtown are expected to start next week, with plans to turn the property into a mixed-use space featuring a high-end butcher shop and brewery tasting room.
The nearly 3,000-square-foot, two-story building at 501 N. College Ave. has been owned by Oak Bridge Properties since 2016. The development partnership, operating as 501 College Investors LLC, bought the property for $1.3 million.
Oak Bridge principal Will Zink told IBJ that he and business partner John Sweet explored options for redeveloping the former home of 501 Tavern, a gay bar that closed in 2016.
The solution: A partnership between Columbus-based Savory Swine butcher shop and Indianapolis' Cannon Ball Brewing Co. that will bring a combination of retail, dining and lounge space to the growing College Avenue corridor.
"We really wanted someone that would appreciate the building, and it worked out well," Zink said. "It's a good partnership between them, and I think it will be a great amenity to all those who live in the area."
He said that while the exterior of the building will be updated and portions will be painted, the property will retain the classic look it has had for the past several decades. The building was constructed in 1900, according to Marion County Assessor records.
The inside will include a full-service butcher shop and beer tasting room, along with offerings of charcuterie, wines and cheeses. The Savory Swine will also offer deli-style sandwiches and other food for customers, who can dine in or take food to go.
A lounge within the building will be like "a Starbucks but with beer," Zink said, noting customers will be encouraged to work or spend leisure time in the space.
While the exact layout of the building hasn't been finalized, Savory Swine owner Lisa Abendroth said she and Cannonball owner Mark Swartz are "combining business models" to make a unique experience for guests.
The spaces, she said, will be split between two levels, with table seating on the first floor and the lounge space most likely operating upstairs.
The design firm for the building's interior is Indianapolis-based Parallel Design, while Peterson Construction will be the general contractor on the build-out of the space and the building's exterior.
Work on the exterior—including tuck-pointing and other structural improvements—is expected to start sometime next week, with hopes the Savory Swine and Cannon Ball could begin working on the interior early in 2019. The space could open as early as March.
Zink said the Indianapolis Historic Preservation Commission has given the green light for the exterior work and that all permits related to construction have been approved.
"It's my life, it's everything," Abentroth said. "I've been doing this down here for almost seven years now, and I can't wait to open that second (location) up there. … I'm all in."
Both Abentroth and Zink declined to share their expected investments in the project. Swartz said it was "too early" to announce a partnership with Savory Swine.
Oak Bridge Properties has been involved in the redevelopment of other properties along the thoroughfare in recent years. They include the Livery restaurant building at 720 College Ave. and renovated apartments next to the Savory Swine-Cannon Ball project, at 505 College Ave.
Please enable JavaScript to view this content.