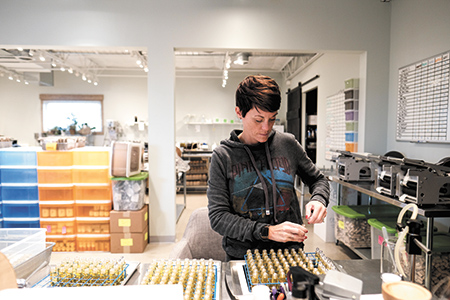 Ambre Blends, an Indianapolis-based cosmetics company founded two decades ago by then-massage therapist Ambre Crockett, is racking up big sales gains as its handmade products gain a national following among high-end clientele.
"We've been in a really solid growth pattern," said Adam Crockett, Ambre's husband and the company's director of operations. "We're focusing on growing our brands—specifically our direct-to-consumer online store—and also focusing a lot on infrastructure."
There's a lot on Ambre Blends' plate. For the last six years, the privately held company has grown about 27-1/2 percent annually, with 2017 turning in an expansion rate of just under 31 percent. The company declined to disclose revenue, but there seems to be quite a market for its line of handmade, all-natural scents and toiletries, from deodorant to body creams to spritzers—all produced in Indianapolis.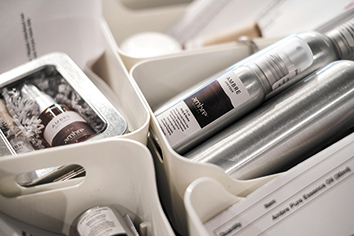 Its success also creates a potential problem. Ambre Blends' high-end customers like that its products are handmade in small batches. But how does a mom-and-pop morph into a big company without losing the hands-on mojo that made it popular in the first place?
"At the rate we're growing, eventually the game is going to change," Ambre Crockett said. "People ask us all the time what we're going to do, and I don't know."
The company's roots go back to 1997, when Ambre, an Indianapolis native, was living in Colorado and studying to be a massage therapist. She also worked with an herbalist, which inspired her to develop her own compounds using plant extracts, including lavender and chamomile grown in her garden. She used natural oils to create natural fragrances—unlike standard perfumes, which can use chemicals and synthetic ingredients. Thus, Ambre Blends (named after her and because the main ingredient in its products is amber oil) came about.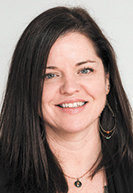 Harris
"My dad named me Ambre because he wanted it to be different, so he used the French spelling, even though I'm not French," Ambre said.
She returned to Indianapolis in 2001, where she met Stephanie Harris, who became a partner in the business in 2007 and took over sales and marketing. The company grew slowly—so slowly that it started out in Ambre's Broad Ripple home, where she also worked with massage clients.
"In between clients, I would run downstairs and help out," Ambre recalled. "I had to keep massaging for a few years to put that money into Ambre Blends."
In 2009, Adam Crockett was brought aboard as both Ambre's husband and director of operations. The company moved to another Broad Ripple location, then to space in the couple's new north-side home, and finally to its current quarters, a formerly 4,000-square-foot building on the north side that in 2017 was expanded to 9,000 square feet.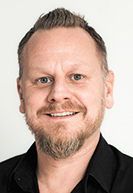 Adam Crockett
Expansion
The expansion came just in time, because the customer base is building steadily.
"As of today, we are in about 450 retail locations across the country," Ambre said. "We used to get into a few new places a month, and now we're getting into about 20 places a month."
The company's website offers body creams, spritzers, natural deodorant, lip balms, soaps and candles, all available in five scents: Ambre, Invoke, Solace, Unmasque and Ahnu (which debuted last year). A 6-ounce bar of soap costs $24, and a 0.5-ounce jar of lip balm costs $18.
"Their distribution is all over the place, from Alabama to Wyoming," said Jeb Gleason-Allured, editor-in-chief of Global Cosmetic Industry magazine. "And they're online, which is the key to shrinking the barrier to entry. This gives them an advantage, because most brands are really trying to up their digital business."
But the Crocketts and Harris like to place their goods in tony spas, boutiques and salons, because that's where their online customers often first experience them. When you're selling fragrances—particularly those with less-than-descriptive names such as Invoke and Ahnu—it helps to position them in brick-and-mortar locations where potential customers can get a whiff.
"We have an online store that used to be 5 percent of our business that's now over 60 percent of our business," Ambre said. "It's our retail stores that help us get our brand out there, but our online store is our bread and butter."
Ambre Blends is only a tiny sliver of the $464.8 billion global beauty and personal care market. While its products reside in approximately 450 smallish retailers nationally, you won't find them in places such as Target or Macy's. Which is by design.
"It doesn't make us beholden to any one, large retailer," Adam said. "You might put all your bread in one basket, and if it goes south, that could be bad for the company."
"We did work with a couple of big corporations, and we found that it wasn't optimal for our product," Harris said. "Smaller entrepreneurs will take the time to educate customers about our product, and often with big corporations, it's only about the bottom line."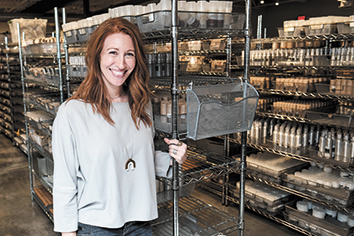 In Ambre Blends' early days, founder and co-owner Ambre Crockett mixed compounds in between appointments with massage clients.
Protecting the brand
The Ambre Blends brain trust seems remarkably circumspect about the proper way to increase its own bottom line. Up until now, Adam said, they've gotten along great by plowing profits back into the company and eschewing rapid or speculative expansion that required big loans. They've also turned down chances to either sell out or take on new partners.
"We recently turned down investors," Ambre said. The offer "was such an honor, and they were great people. But they wanted to take the company and blow it up into something huge really quickly. It was a compliment, but we knew that would change the game."
And changing the game could be dangerous for a company whose idiosyncratic manufacturing processes are what give Ambre Blends its mystique. For instance, Ambre and Harris still personally mix the fragrance formulas for all their products. Every single batch.
Far from sporting a state-of-the-art production line, the biggest piece of equipment in their production area is an industrial mixer similar to the ones used to knead bread dough in pizzerias. Employees at individual workstations are charged with making particular products, by hand, from start to finish.
It's unusual, but not as unusual as it used to be. These days, Ambre Blends has plenty of company in what's called the "artisanal" niche of the cosmetics industry. Just as with everything from beer to bikes, small companies are rolling out handmade, locally produced, ecologically responsible alternatives to the stuff at department stores.
"Fragrance and beauty are no different from any other category where consumers are looking for more of that human touch," said Gleason-Allured, the Global Cosmetic Industry editor.
And just as with other markets, big, established players are buying some of the niche companies to serve as an entree into artisanal sales.
The Ambre Blends team claims not to feel the increasing competition. While the newcomers are desperately trying to establish street cred, Ambre Blends has offered natural stuff for two decades. In essence, staking out the artisanal niche before anyone thought to call it that.
"We don't worry about those people because they don't have the historic brand recognition that Ambre built for years while working out of her house," Adam said. "We have maintained that brand integrity, and that has won out."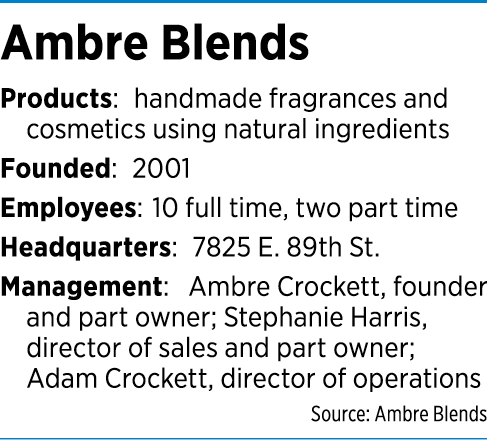 Hanging on to hands-on
But as orders mount up, that hands-on approach could become a challenge—one that Ambre Blends executives approach with trepidation. A few years ago, they experimented with handing off some production to an outside contractor, but the quality wasn't up to snuff.
Adam worries about the huge capital investment involved in automating production, while Ambre and Harris fret about whether such a move would destroy the reputation of a company that makes a great deal of marketing hay from the word "handmade."
There's also the concern that going big will destroy the ambiance of the 12-employee operation, where, on Tuesday at 11:30 a.m., production stops while everybody takes an hour-long yoga class.
Harris and the Crocketts say they see their employees as family. This holiday season, for instance, they're shuttering the place Dec. 22-31 so everybody can spend time with their loved ones.
"I'm going to get hippy-dippy here, but, when people visit, they can feel the energy of the place," Ambre said. "Everything's clean and bright and airy, and they can feel the fun and the joy that people have working here. I know that sounds crazy, but that all goes into the product."
Perhaps, Ambre said, simply expanding ad infinitum isn't the way to go. She knows that, at some point, growth will bring the company to a difficult crossroads.
"We're going to be like, 'OK, this is changing; it's bringing on more stress; it's not as fun as it used to be. We need to talk about capping it.'"
Fortunately, although business is booming, the time for hard choices hasn't yet arrived.
"We're just cruising along," Adam said. "For the foreseeable future, we're all enjoying what we're doing and committed to being here. Our vision, for at least the next 15 years or so, is that we'll just continue on this path.
"Who knows what the future holds."•
Please enable JavaScript to view this content.