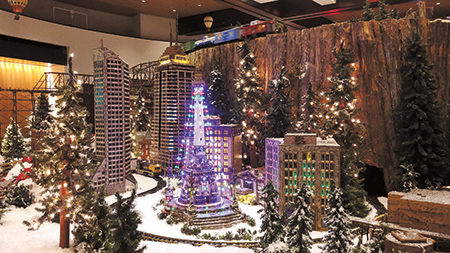 Thomas Bromstrup remembers trekking downtown with his family to see the holiday window displays at L.S. Ayres, Blocks and other department stores—dynamic exhibits that kept kids and their parents and grandparents coming back year after year.
Those window displays have been gone for years—and the department stores have disappeared, too.
But Bromstrup, 76, believes it's that same desire for a family, holiday tradition that has fueled the popularity of Jingle Rails, a miniature train display at the Eiteljorg Museum of American Indians and Western Art.
Volunteer Thomas Bromstrup is considered the exhibit's chief engineer. (IBJ photo/Lesley Weidenbener)
More than 35,000 people last year came to the downtown museum to see G-gauge trains travel across wooden trestles, through replicas of the country's Western national parks, and around a miniature version of downtown Indianapolis, complete with models of the Soldiers & Sailors Monument, Salesforce Tower and Lucas Oil Stadium, all made from sticks, bark, acorns, honeycomb and other natural materials.
Bromstrup, an Eli Lilly and Co. retiree, was on hand to greet nearly all of those visitors. The volunteer—he's known better as the exhibit's chief engineer—has been working Jingle Rails since it launched nine years ago. Since then, he's made sure its trains (which number nine this year, all on separate tracks) run on time—literally—through the exhibit's two-month run.
He starts the trains almost every morning (there are a few days when he works an afternoon shift) and listens and watches for possible problems. When a problem crops up—most often, it's what Bromstrup calls a "finger derailment"—he's usually the one who fixes it.
He has plenty of experience. He and his father started working on model trains after World War II, and he worked 12 years at a hobby train store—Trains Express—that closed years ago. And he still loves it.
"I love the setup. I love the display," he said. "It's all wonderful."
Mostly, though, Bromstrup loves watching the people—the multiple generations whose faces fill with awe at the twinkling lights and the elaborate scenes that remind them of vacations to the Grand Canyon, Yellowstone or Glacier National Park or inspire new ones to Aspen, Mount Rushmore or Yosemite.
The national park scenes—created by craftsman Paul Busse and his team at Applied Imagination in Alexandria, Kentucky, just south of Cincinnati—make up the core of the exhibit and have been on display, with few changes, from the first year.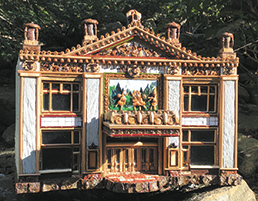 So has the replica of downtown, which includes an Eiteljorg museum made largely of cork, and a monument decked out with lights. New this year is a replica of the Hilbert Circle Theatre, which sits between the Salesforce Tower and the Indianapolis Power & Light building, complete with its Christmas tree light display.
Scenes have been added over the years, including one that features the glitz and glam of Las Vegas and the Hoover Dam. Others are sometimes subtracted: A Hollywood display new last year was on loan and is now delighting viewers elsewhere.
New this year is a Route 66 exhibit that's a little more colorful and whimsical than most of what you'll find in Jingle Rails. It includes an iconic Steak n Shake from Springfield, Missouri; the Blue Whale of Catoosa in Oklahoma; the Blue Swallow Motel in Tucumcari, New Mexico; and an operational, lighted Ferris wheel from Pacific Park Pier in Los Angeles.
(Bromstrup hasn't made up his mind about the kitschy display. "I need to get used to it," he said.)
The new Route 66 display. (IBJ photo/Lesley Weidenbener)
New additions can cost $25,000 to $50,000, depending on their detail, said Eiteljorg CEO John Vanausdall, and are funded with private donations.
The goal of the exhibit is not to make a lot of money, Vanausdall said. "It's about getting families coming to the Eiteljorg to see everything we do."
And this is a good time to do just that. Jingle Rails' opening on Nov. 17 came as the Eiteljorg was reopening its newly renovated Western art galleries, featuring "Attitudes: The West in American Art." The space—made airier by the removal of walls—includes some of the museum's most recognizable pieces as well as new acquisitions, such as the oil-on-canvas painting "The Golden Mountain, Arriving San Francisco, 1865" by Mian Situ.
Visitors can also check out Reel West, which runs through Feb. 3 and explores the impact of Hollywood Western movies and TV shows on American culture.•
Please enable JavaScript to view this content.