Locally based Broadbent Co., one of the city's biggest retail developers, has sued two of its banks, charging they're wrongly attempting to restrict its access to a $50 million credit line.

The lawsuits, filed last month against Huntington National Bank and National City Bank, are symptomatic of rising tensions between nearly all developers and their lenders, financial experts say.

Successful developers used to have substantial leverage over banks, which wanted to build long-term relationships that could yield a stream of financing deals. If developers didn't like the terms on the table, companies could shop around for credit.

The recession has shifted the fulcrum. These days, banks are most concerned about remaining financially sound, and credit is scarce. Banks are questioning or calling loans, even if the borrower has never missed a payment.

In Broadbent's case, Huntington and National City are rolling back how much of the credit line the developer can tap in connection with the renovation of its 362,136-square-foot Greenwood Place Shopping Center at U.S. 31 and Stop 11 Road.

The property lost two of its anchors after being damaged by a 2002 tornado. The banks originally appraised the redevelopment project in May 2006 at $27.4 million and agreed to lend 85 percent of that value, or $23.3 million.

But Huntington and National City have advanced only $20.9 million, refusing to tender the $2.4 million remainder. The lawsuit doesn't specify the grounds, though banks sometimes take such an action if they think the appraised value of a property has fallen.

In an effort to gain access to the full $23.3 million, Broadbent sued both banks Aug. 11 in Marion Superior Court.

Work on the renovation is complete, but the company still wants the $2.4 million, said Broadbent's attorney, Erick Ponader, a partner with Taft Stettinius & Hollister LLP. He wouldn't say how the developer intended to use the money.

The same day it sued over the Greenwood project, Broadbent filed a separate lawsuit against the same banks in Marion County over Fleming Island Shoppes, a 42,582-square-foot strip mall it recently built in Jacksonville, Fla.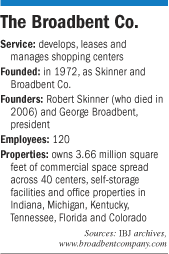 Broadbent contends the banks had promised to lend $10.7 million for construction, but have refused to advance the last $1.3 million.

Broadbent, through its attorney, declined to comment directly on the lawsuits. Huntington also declined. Pittsburgh-based PNC Bank, which acquired National City last year, did not respond to IBJ's inquiry.

Broadbent isn't alone in its struggles. Many banks are using the regulatory and economic environment as an excuse to purge their lending portfolios of any borrowers they deem risky, said Henry Efroymson, an Ice Miller partner who chairs the firm's creditors rights and bankruptcy practice group.

Even if payments are current, he said, banks now often cite "covenant defaults," such as the depreciation of real estate value, as the trigger.

"I'm seeing borrowers whose circumstances really have not changed dramatically, but out of the blue they receive contact from their bank the loan is in some sort of technical default, even though all payments have been made," said Efroymson, who's not involved with the Broadbent dispute.

"Ordinarily, there would be criticism for being too aggressive with borrowers and a lender could lose business because its reputation was tarnished," he added. "In this environment, there's less of it, because everyone is doing it."

According to court papers, Broadbent's loan for Greenwood Place was originally slated to mature May 5, but the company claims it validly exercised an option to extend the maturity date 60 months, to 2014.

Broadbent tried to do the same for Fleming Island, but the banks denied the request on grounds that the appraised value of the Florida strip center had declined $3.3 million.

Banks and commercial property owners increasingly are at odds over valuations because there's little solid data available for comparison. What's obtainable often involves distressed properties sold well below market value, said Somerset CPAs principal Michael Fritton, who leads his firm's Real Estate Team.

Fritton also noted that many tenants are beginning to take advantage of the distress in the commercial real estate market. If they're anywhere near the conclusion of a lease, he said, tenants are renegotiating for lower rents. Their leverage is the glut of space available for relocation.

"If there are opportunities for a tenant to move just down the road and cut their rent from 20 bucks a foot to, say, 12, without affecting sales, they're going to take that," he said.

Both of the shopping centers involved in the Broadbent litigation are showing weakness. Broadbent's Web site lists 41,400 square feet available at Greenwood Place, more than 11 percent of the total. The strip mall is anchored by Flower Factory, Lifestyle Family Fitness, Shoe Carnival and PetsMart.

The smaller Fleming Island Shoppes is in much worse shape. Broadbent has 18,579 square feet of space vacant there, nearly 44 percent of its total. Broadbent began preleasing Fleming Island Shoppes in 2006.

The projects are just two of the 40 properties in Broadbent's portfolio, and others are doing well, said Ponader, the developer's attorney.

"It's a very successful company, and we expect it to continue to be so," Ponader said. "Broadbent has relationships with many, many lenders, not just National City and Huntington."

"Generally, there are some challenges in the retail market in connection with lending for retail projects," he added. "But I'd also say that the market is getting better."•