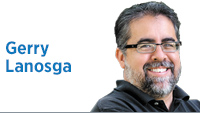 Have you heard about "smart cities"? The idea that cities can make innovative use of data, algorithms and automation to improve services has been around for a while, but it seems to be gaining traction.
Earlier this year, City Journal magazine described the "glowing futuristic predictions" in the steadily increasing number of news articles about the smart-cities movement: "Data-driven cities could help fight climate change, cut poverty, reduce sprawl, and even end America's love affair with the car, the press enthused."
I was invited to participate recently in a Smart Cities Week panel discussion on open government, and I have to admit it all sounds great. Who wouldn't want our cities to operate in smarter, more efficient ways?
The problem is that many cities are not smart enough about the data they already have. Before we even start talking about big data collected by smart technologies, we need local officials to embrace a set of best practices for transparency and open data in general.
While state governments have made some strides in proactive disclosure—making data and documents available via online portals—city governments tend to lag way behind. Of course, they are required to follow state public access laws, such as the Access to Public Records Act in Indiana. But for most of them, transparency is a mere reactive reflex.
A few cities have taken it on themselves to adopt their own progressive initiatives to ensure robust citizen access to the records and data their taxes support. San Francisco, for instance, has its own Sunshine Ordinance that requires a public records index identifying all the types of information and documents maintained by the city and county.
And Atlanta's new mayor campaigned and delivered on a promise of major transparency reforms, creating an office to oversee public records compliance, a website to track records requests, and penalties for noncompliance by officials. All city officials are also required to take mandatory training on public access.
Cities and towns in Indiana would do well to follow such examples. Local officials should create and make available exhaustive and searchable data and records inventories. Everything from local campaign finance reports, health inspections, officials' calendars, licensing and publicly owned assets can and should be proactively disclosed.
And that kind of commitment to open government should be the default approach when it comes to smart-cities initiatives. Public officials need to be as bold and creative about public transparency as they want to be about innovation in technology.
For starters, as the Sunlight Foundation has suggested, they should be transparent about smart-cities proposals themselves. Openness about data collection must be built into the process from the outset. Also, it should be clear that data about the public ultimately belongs to the public—not, that is, to private contractors whose technology is used to compile it. It follows that there should be a plan for making accumulated data accessible to the public as well.
Occasionally, there will be a misfire in building a culture of proactive disclosure, such as when the city of Bloomington published an interactive map pinpointing the exact addresses of fatal overdoses over the past 10 years. That data is undoubtedly public, but the display was insensitive. City officials responded to criticism of the map by discussing the issues surrounding open data—at a closed-door meeting!
Ah, "smart" cities. As Gandhi reportedly said when asked what he thought of Western civilization: I think it would be a good idea.•
Click here for more Forefront columns.
__________
Lanosga, a former reporter, is a journalism professor at Indiana University and president of the Indiana Debate Commission. Send comments to ibjedit@ibj.com.
Please enable JavaScript to view this content.