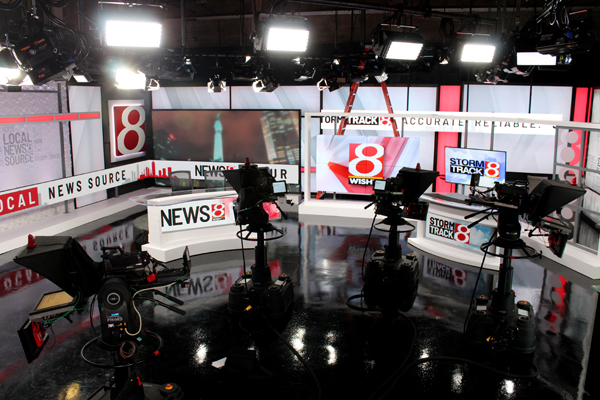 WISH-TV Channel 8 is losing two morning news personalities.
Station officials on Tuesday confirmed that reporter Brittany Lewis is departing. Anchor Lauren Lowrey, who has been on maternity leave since late August, also is leaving, according to several industry sources. WISH officials declined to comment on her status.
On her Facebook page, Lewis said she is relocating to Milwaukee, where her husband is starting a new job. WISH officials said her last day will be Nov. 30, and noted that her replacement has already been hired.

Brittany Lewis
"While we are excited to be much closer to family and to explore a new city, a huge part of my heart will always be in Indy," Lewis said in a post on Facebook.
"Brittany has been one of our news warriors on the 'Daybreak' team. She is a master of telling difficult, emotional stories with true compassion and humility. Her daily editorial contributions and tremendous dedication to the WISH-TV family will truly be missed," News Director Al Carl said in a statement.

Randall Newsome
Her replacement, Randall Newsome, is coming from Nexstar Media Group sister station, KTVE-TV in West Monroe, Louisiana. Newsome is a graduate of Texas Southern University, where he studied communications and broadcast journalism. He was also the captain of the Texas Southern University football team. From there, he attended the University of Southern California, where he received his master's degree in Specialized Journalism.
Newsome will join WISH's morning newscasts on Dec. 17, station officials said.
Lewis joined WISH in April 2016 after stints at WRTV-TV Channel 6, WQAD-TV in Moline, Illinois, and KAAL-TV in Rochester, Minnesota.
Lowrey stopped appearing on the station's in-house TV promotions this fall and was recently removed from the station's online staff listing. A WISH spokesman declined on Tuesday to discuss Lowrey's future with the station.

Lauren Lowrey
An industry source with a professional relationship with Lowrey told IBJ on Tuesday that she was leaving the station, and two other media sources confirmed the information. One said that she was joining WSMV-TV Channel 4 in Nashville, Tennessee, as a weekday evening anchor for the NBC affiliate.
Lowrey will be replacing Nashville broadcasting legend Demetria Kalomidos, whose contract with WSMV expired at the end of 2017 and was not renewed.
The Emmy-winning journalist joined WISH in June 2011 as weekend morning anchor before being promoted to weekday anchor at the end of that same year. During her time at WISH, she made several appearances singing the national anthem at Indiana Pacers, Indiana Fever and Indianapolis Indians games.
Before joining the WISH-TV team, Lowrey served as morning anchor for WTOL-TV in Toledo, Ohio. She began her local television career in February 2006 as a reporter for WPDE-TV in her hometown of Myrtle Beach, South Carolina. In October of that same year, she was promoted to morning anchor at WPDE.
Please enable JavaScript to view this content.