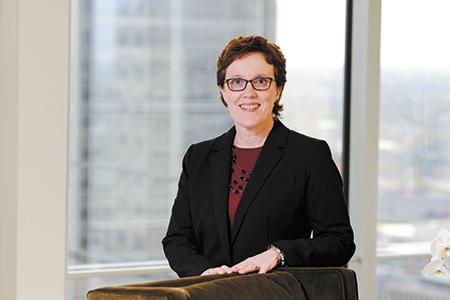 Laurie Schrader helped lead Faegre Baker Daniels and its more than 1,600 employees (including a 70-member finance team) to six consecutive years of growth in revenue and profitability. She was also at the forefront of the firm's efforts to adopt mobile time-entry technology. In addition, she engaged the Faegre team in a competition to push for timely billing and collection of fees, and built a reputation for transparent leadership. After a stint away from the firm, she returned and eventually took over the CFO role, guiding Faegre steadily through a period when law firms have seen volatile swings in business.
Education: "I guess you might say it's in my genes," Schrader said of her interest in finance. She recalled rolling coins on her living room floor with her father, who was particularly focused on savings. No surprise that her older brothers are a math teacher and a CPA. She joined them in the numbers world by earning a bachelor's in accounting from Indiana State University.
Career path: Two firms have dominated her career. Joining BKD (then Geo. S. Olive & Co.) as an auditor and financial adviser, Schrader moved to the controller position at what was known then as Baker & Daniels and then back to BKD (still known as Olive at the time) as central operations manager … then back to Baker & Daniels. Settling there, she rose through the ranks, from financial team project manager to director of financial analysis to director of finance. When the firm merged with Faegre & Benson in 2012, becoming one of the 75 largest law firms in the United States, she was promoted to CFO of the new entity.
Major company achievements during her tenure: Schrader helped combine the operations of merging firms by avoiding an "us or them" approach. Instead, she "followed a third and better way. This took more time and effort, but created a better platform for the future. Since the combination, we have experienced annual increases in revenue and profit."
Recent business challenge: Just over a year ago, Faegre lost its director of finance to brain cancer. "The loss of an important colleague and friend was difficult personally and professionally," she said. "The finance team pushed forward in what we called the 'year of getting it done' and many stepped up. While this was challenging and heartbreaking, the response from the team was inspirational and encouraging."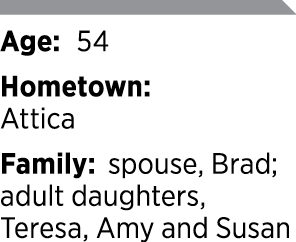 Unique challenges in the legal field: "It's a highly competitive market with declining demand for legal services," she said.
Givebacks: Schrader is an active member of St. Lawrence Catholic School and Parish, most recently co-chairing, with her husband, its "Making All Things New" capital campaign, which raised more than $1.6 million for building repairs.
Downtime: "Walking with my husband and/or daughters," Schrader said, "and a slow sunset cruise on our pontoon boat."•
Check out more CFO honorees..
Please enable JavaScript to view this content.