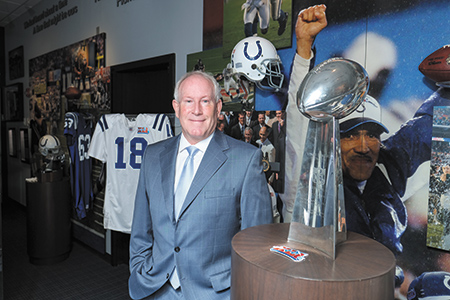 "We have approximately 200 employees and do more than just play football games," Kurt Humphrey said. "We are a 12-months-a-year business." As CFO, he's instrumental not only in keeping the games going, but also in the Colts' community involvement, which devotes millions of dollars to charitable causes annually.
Education: "My Muncie North high school guidance counselor and my mom suggested I go to an accounting club dinner at Ball State my senior year in high school," Humphrey said. "I had no idea what I wanted to major in and had no idea what accounting was." But the speaker, the head of the Ball State accounting department, impressed him. "I babysat his two sons all the time, but had no idea what he did." While earning his bachelor's in accounting from Ball State, Humphrey interned in the accounting department of his godfather's car dealership. "I loved it, and that confirmed accounting was what I wanted to do for my career."
Career: Stints with Ernst & Young and then Baldwin & Lyons led to his hiring by the Colts in 1984, when the franchise moved to Indianapolis from Baltimore.
Major company achievements during his tenure: Humphrey points to on-the-field achievements —"a World Championship Super Bowl victory in 2006 and a team that had seven consecutive seasons with 12-plus victories, nine consecutive seasons with 10-plus victories"—as well as the behind-the-scenes ones—"negotiating the club's 30-year lease with the city of Indianapolis, which included the plan to construct Lucas Oil Stadium."
Unique challenges in professional football: Tax laws and changes in federal and multiple state and city income tax laws. "Keeping track of these individuals' duty days and estimated annual income to estimate their taxes to withhold for only one to two days they are in those states—coupled with the different tax laws and rates in each municipality—can become a challenge."
"Our local accountants audit us three different times during the year, not counting a 401(k) audit, related to the preparation of our financial statements for different purposes," Humphrey said. "We prepare normal GAAP financial statements. From those statements, we prepare financial statements that conform to the way the NFL wants all 32 teams to present them for comparison purposes. We also prepare statements from the GAAP statements that reflect only revenue and player costs, which are the basis of the future years' salary cap."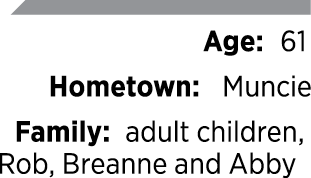 Givebacks: In addition to supporting several families he has met in the Philippines and Vietnam, Humphrey has been on the Noble Inc. board, investment committee and audit committee since 1986.
Downtime: "I love traveling, sightseeing, making new friends and learning new languages." (He isfairly proficient in Tagalog, the Philippines' main language, and is learning Vietnamese.)
My job would be a lot easier if … "tax laws and accounting rules never changed and there was no NFL salary cap."•
Check out more CFO honorees..
Please enable JavaScript to view this content.