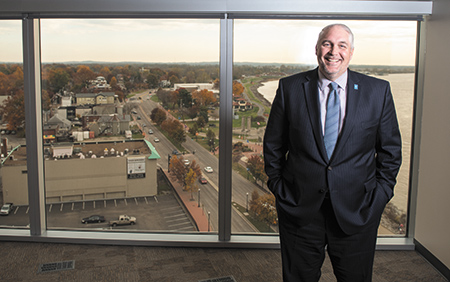 Since Jim Ryan became Old National's CFO in 2016, the Evansville-based bank has entered the Minneapolis/Twin Cities market with two acquisitions. That should take Old National's assets to about $19.5 billion. Further, Ryan said, net income and earnings per share are up 86 percent and 36 percent, respectively, since the first quarter of 2016.How? "By becoming more efficient and effective, consolidating branches," he said, "selling our insurance business and exiting certain markets that didn't fit our long-term growth strategy."
Education: Ryan earned his bachelor's in business administration from Grand Valley State University, majoring in finance. "I really didn't enjoy my accounting classes," he said. "Thankfully, I have a strong group of accountants today who enjoy their jobs."
Career path: When passing out midterm exams, Ryan's teacher—the finance department chairman—asked, "How would you like a well-paid internship with a bank?" Ryan answered, "Yes. Sign me up!" He worked at Old Kent Bank in Grand Rapids, Michigan, and, when it merged with Fifth Third, left to take on the role of assistant treasurer and then treasurer at Old National Bank in Evansville. "I knew that my entire career had been spent in finance roles at headquarters, so eventually I volunteered to take on a business role in one of our newly acquired markets in South Bend. While in South Bend, I took on new and uncomfortable roles that stretched my skills." He then crafted a job description that didn't exist at Old National: director of corporate development. "Our CEO liked the idea and asked me to move back to Evansville and report directly to him." Nine acquisitions later, the company was transformed from primarily a southern Indiana and western Kentucky bank into a bank that entered many Midwest markets, growing from $8 billion to $13 billion in assets.
Recent business challenge: "When I became CFO," Ryan said, "I realized that the biggest part of my job was communication—to board members, executive management, associates, investors, potential acquisition partners, ratings agencies and regulators. My team and I operate under the mantra of, 'No surprises.' … The more collaboration, the better the decision we make."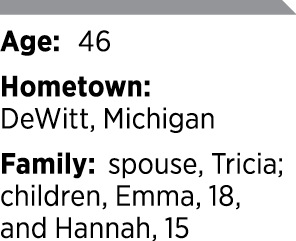 Givebacks: Ryan is chairman-elect of the Economic Development Coalition of Southwest Indiana, secretary and treasurer of the Southwest Indiana Regional Development Authority, and serves on the board of Deaconess Hospital Inc. and on the advisory board of the University of Evansville's Schroeder School of Business.
Downtime: boating and spending time on a beach
My job would be a lot easier if … "I had more time to spend with our leaders to find ways to grow revenue and improve effectiveness and efficiency. … The job of a public company CFO requires you to wear many hats, which can sometimes take you away from helping the day-to-day business operations."•
Check out more CFO honorees..
Please enable JavaScript to view this content.