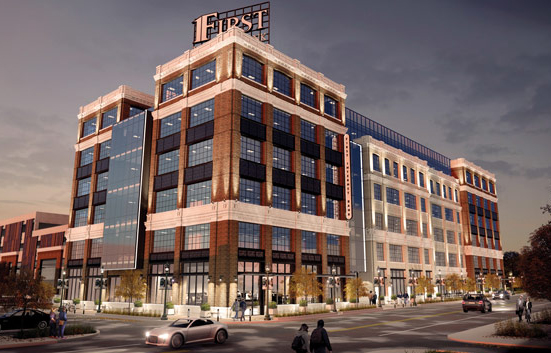 The city of Fishers and developer Browning Investments announced plans Tuesday for $157 million mixed-use development that would transform 116th Street in the Nickel Plate District.
The project is slated for the north and south sides of 116th Street in downtown Fishers and will include residential, retail, a boutique hotel and a six-story office building.
The development follows Fishers' master plan for the Nickel Plate District, the city said in a news release Tuesday morning. The industrial-inspired campus will be bound by Nickel Plate Road, North Street, Maple Street and South Street.
The north end of the development will be built by Indianapolis-based Browning and Carmel-based CRG Residential. That section—along 116th, North and Maple streets—is slated to feature a five-story apartment building with 241 units, 10 town homes and a parking garage, as well as office and retail space.
The downtown buildings along the north side of 116th Street that currently are home to Nickel Plate Bar and Grill, the Roman and Leo clothing boutique, Fishers Barber Shop, Sure Shot Coffee and State Farm Insurance will be preserved, but their exteriors and landscaping will be updated.
The south side of the development will be anchored by a 168,000-square foot, six-story office building with ground floor retail space alongside a 110-room boutique hotel and a parking garage.
The project incorporates the former Archer's Meats and Catering property and nearby parcels, which Fishers and First Internet Bank purchased for $10 million in August with plans for redevelopment.
 
First Internet Bank, currently headquartered in a 52,000-square foot building at 11201 USA Parkway in Fishers, plans to relocate to the office building. First Internet employs nearly 200 workers at its existing Fishers headquarters.
"Locating our company where our employees want to live, work and play is an important factor in our talent strategy," First Internet founder and CEO David Becker said in written comments. "And the fact that Fishers is known for being a smart, entrepreneurial city is a terrific complement to our brand and our award-winning corporate culture."
Fishers plans to provide incentives for the project valued at $35 million. The incentives, which will be introduced at the Dec. 17 Fishers City Council meeting, would cover the cost of constructing a 750-space public parking garage on the south side of 116th Street and a 256-space public parking garage on the north side, as well as fee waivers, land costs and the transfer of two city-owned parcels to First Internet Bank.
If the project isn't built, the land would revert back to Fishers, the city said in its news release.
On twitter Tuesday night, Mayor Scott Fadness, without revealing details of the project, said it would be "truly transformative."
 
"We had a unique opportunity in downtown Fishers to bridge our past, with institutions such as Archer's and Nickel Plate Bar and Grill, with our vision for the future," Fadness said in Tuesday's news release. Browning Vice President "Jamie Browning and team took that opportunity and delivered a great vision for the future of our vibrant downtown."
 
Construction is expected to begin in the spring 2019 and be complete by the fall of 2021.
Work will began with demolition and infrastructure improvements to address drainage and to relocate utilities on South Street. The project will include sidewalk improvements and the extension of South Street from Fishers Point Boulevard to Lantern Road
Additional right-turn-only lanes to be installed at South Street and Lantern Road and at Lantern Road and 116th Street.
Another developer, Fishers-based Boomerang Development LLC, tried last year to develop 4 acres on the south side of 116 Street, including the former Archer's Meats' property, but was unsuccessful. It put land under contract but was unable to move forward.
Please enable JavaScript to view this content.