Construction will finally begin this month on 16 Tech, the $160 million, 60-acre project nestled between the White River and Fall Creek that aims to create the area's first major tech-focused live/work community.
Developers of 16 Tech—a consortium of offices, laboratories, housing and retail space—believe the campus will become a powerful economic engine by fostering collaboration and innovation.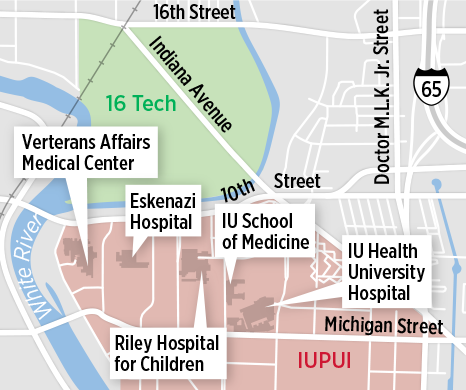 Within a decade, they say, it could employ more than 3,000 highly skilled workers and boast more than 1 million square feet of office and lab space, in addition to parks, walking paths and other amenities. Groundbreaking on the first office building will be Dec. 12.
The development—just north of IUPUI and several major hospitals—will rely on key players in the Indiana biosciences, engineering, medical and tech sectors to anchor the park and stimulate growth of startups, business incubators and accelerators.
"These companies know that innovation is essential to their future, and that innovation is increasingly a collision sport that involves partnerships with others outside your organization," said Robert W. Coy Jr., CEO of 16 Tech Community Corp., a not-for-profit helping to spearhead the project.
"They also know that [an area] like the innovation district like we're describing will help them to attract and retain talent."
16 Tech Community Corp. is partnering with Indianapolis-based developer Browning Investments, which will own the first four buildings. Three of those will be new construction and the other will be a reuse of the former Citizens Water headquarters, which closed three years ago when the city bought the property from parent Citizens Energy Group.
Building One, which will be 120,000 square feet and cost $30 million to construct, is expected to open by mid-2020. The five-story structure is fully leased and will house small, tech-oriented companies, as well as two major biosciences groups.
The Indiana Center for Regenerative Medicine, part of the Indiana University School of Medicine, will be on the fourth floor, while the Indiana Biosciences Research Institute will take up much of the first three floors. IBRI is already headquartered on 16 Tech property, in the Biotechnology Research and Training Center at 1345 W. 16th St. IBRI researchers collaborate with private firms and academia on a variety of high-impact, long-term projects.
The top two floors of Building One will house the Central Indiana Corporate Partnership and its affiliated organizations, such as BioCrossroads, Conexus Indiana and TechPoint. The groups promote a variety of fields, including life sciences, logistics and technology.
Coy, 62, who was CEO of a seed-stage investment organization in Cincinnati before coming to 16 Tech in mid-2017, said the development also will become a magnet for residents, with as many as 750 apartments expected to be constructed by 2030.
Work on a 250-unit apartment complex is expected to start early next year.
Financial backing
Innovation districts has been gaining ground nationwide for decades; plans for 16 Tech were announced here in 2011. The city of Indianapolis helped turn the talk into reality in 2015 by providing $75 million for infrastructure funding. A plethora of fundraising efforts through businesses, development groups and philanthropic organizations have contributed to the launch.
Indiana University is investing $20 million over five years, through its Grand Challenges program, to help outfit its upper-level part of Building One.
Lilly Endowment gave $38 million in grants to 16 Tech, most of which will be used for infrastructure upgrades, including a new bridge spanning Fall Creek. The bridge will connect the 16 Tech campus to IUPUI, the IU School of Medicine and four hospitals. The grant will also help pay for green spaces and art displays, plus a bicycle and pedestrian path connecting to the Indianapolis Cultural Trail.
John Hirschman, Browning Investments principal, said he is eager for work on the project to begin. "The district itself is conceived as being the front door for the state of Indiana and the city of Indianapolis for advanced industries to come work and collaborate together," he said.
Browning also is helping to develop an innovation district attached to Purdue University's campus. Work on the 400-acre Discovery Park District—a partnership between Purdue, the city of West Lafayette and private investors—is well underway, but likely won't be completed until the late 2030s. That project is expected to cost $1.2 billion.
A key aspect of 16 Tech will be the presence of researchers from the IU medical school and the Indiana Biosciences Research Institute.
IBRI was formed in 2013 through a large collaboration that includes key players Indiana University Health, the city of Indianapolis, Eli Lilly and Co., Roche Diagnostics, Cook Medical and Dow AgroSciences (now known as Corteva Agriscience).
"[Helping to anchor] 16 Tech, in the long term, will help bring us in proximity to companies that we want to collaborate with and hopefully be a magnet for newer companies to come into the central Indiana region," said Jay McGill, IBRI's chief operating officer. "We want to bring industry and academia together in a setting that otherwise wasn't possible."
Building Two, like the first, will have about 120,000 square feet. It will sit east of Building One.
Coy said 16 Tech has non-binding letters of intent from two companies, and strong expressions of interest from two others, to locate in Building Two. The building will also include restaurant and retail space, though those tenants aren't expected to be nailed down until at least mid-2019. Construction on the building is expected to start late next year, with a projected opening of early 2021.
'Full life cycle'
Renovations on a third building—the 100,000-square-foot former headquarters of Citizens Water, west of Building One—will begin in the coming months. Plans call for turning that space into a co-working and collaboration area for startups and other small companies.
Plans call for converting an open-bay garage area into maker space. The building also will include flexible office space to allow for company growth. "We want them to be able to have a full life cycle within the district," Hirschman said.
Hirschman and Coy also see potential for existing large Indiana companies to house satellite offices in the district, though none has yet announced plans to do so.
In total, plans call for construction or renovation of nearly two dozen buildings, including several for Phase 2.
In addition to attracting new residents and employers, 16 Tech hopes to boost surrounding neighborhoods, many of which are pocked with vacant industrial and office buildings.
Last month, 16 Tech announced it had established a Community Investment Fund, which the city will seed with $3 million in tax-increment-financing funds.
At full buildout, the fund is expected to generate about $400,000 annually, through donations and a 20-cents-per-square-foot fee assessed to tenants.
The fund will be used to generate grants for nearby communities, Coy said. The first round will go toward workforce development programs, job opportunities, education and professional certifications for residents living near 16 Tech.
"We have an objective to work with communities surrounding our campus on initiatives that will help those residents benefit from the growth of the district," he said.
To lead the neighborhood-revitalization effort, 16 Tech recently hired longtime community development leader Starla D. Hart as director of community initiatives.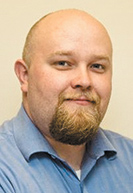 Gifford
16 Tech includes the southern third of the Riverside neighborhood. Hart said the innovation district will give Riverside residents access to new restaurants, shops and public spaces, as well as job opportunities.
"Doing a development such as this helps to revitalize and bring vibrancy back to a space that hasn't been what it could be for quite some time," she said.
Aleksandr Gifford, president of the Riverside Civic League, is eager for the development to come to fruition.
Gifford said each tenant that leases space in the innovation district will make a commitment to share details about its openings with neighborhood residents.
"Our neighborhood sees it as a really incredible opportunity to bring jobs back into an area that has not seen any sizable job increase in about 80 years," he said.
"We've been very happy, and we're very anxious for it to get going and getting our people to work."•